FIRST Alumni Spotlight: Kristin Weiss
Jun 12, 2017
by Kristin Weiss FIRST Alum
We caught up with FIRST Alum Kristin Weiss, 2013 Dean's List Award Finalist, from FIRST Robotics Competition Team 4468 Fernbank LINKS Robotics in Atlanta; who's now a biomedical engineering students at Georgia Tech.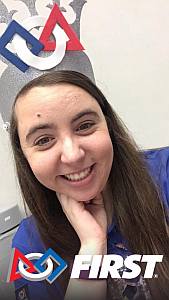 What are your future plans?
For now I am studying biomedical engineering at Georgia Tech with the hopes of graduating in four years. I also work in a bio molecular nano engineering lab at Emory University working with DNA origami. My goal is to go to grad school and get involved in some sort of research.
How has your FIRST experience impact your post-graduation life?
FIRST is the reason I wanted to study engineering and ultimately ended up at Georgia Tech. Through volunteering at events and staying involved as a mentor, I am been able to improve my real life engineering skills as well as network with executives at major companies all over Atlanta.
You've continued to be involved with FIRST as an Alum; what have you been up to?
I am currently the assistant lead mentor for my former FIRST Robotics Competition Team 4468, Fernbank LINKS Robotics. I am also a project judge at the regional, super regional, and state level of FIRST LEGO League in Georgia, and actively volunteer at FIRST Robotics Competition events all over Georgia.
You've had mentors, or mentored others, through FIRST; what advice do you have to share with others?
When my team first got involved in FIRST Robotics Competition, we had the help of many other teams in Georgia who we still have great relationships with today. Personally, I have always looked up to the older students on both my team and other teams and tried to model myself after them while I was trying to get into college. Now, I mentor my old team and try to help my kids stay out of trouble and gain as much as they can while in high school.
What is the best piece of advice the you've received?
The best piece of advice that I have received is to not be afraid to fail. In school we are always taught that failure is not an option, but in the real world, you learn from your mistakes which means you cannot learn without failing.
Keep an eye on www.firstinspires.org/alumni for more FIRST Alumni Spotlights! And share your story at https://goo.gl/forms/kqlCemQfFQpGYsfO2 and you may be featured next time!