FIRST Alumni Spotlight: Ashray Reddy
Feb 02, 2017
Written by Ashray Reddy FIRST Alum
We caught up with FIRST® Alum Ashray Reddy from FIRST Robotics Competition Team 835; The STING! from Beverly Hills, MI.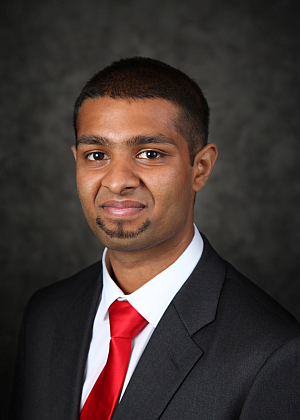 How has your FIRST experience impacted your post-graduation life?
My FIRST experience continues to have an impact on my post-graduation life in more ways than I could have imagined. FIRST gave me a taste of what a real job would be; high expectations, not enough time, and too little resources. Having that experience made me realize that despite these challenges, you can still succeed by getting creative, staying focused and working hard. These integral life skills have travelled with me since graduation. FIRST played an instrumental part in getting my job at Rockwell Automation.
With Rockwell Automation being a Strategic Partner with FIRST, it fostered a connection with Rockwell Automation and I related to it on many common values with Rockwell. Being a part of FIRST opened the door for me with Rockwell Automation and allowed me to show Rockwell Automation who I really am. Being a FIRST alum gave me a leg up in comparison to other candidates, no doubt.
Perhaps most importantly, my FIRST experience has given me an outlet to give back to STEM education. With my experience with FIRST, I have been able to inspire students, teachers, parents, Rockwell Automation, and my community about the power of STEM education. As a living example of how STEM can impact someone, my message about STEM education is that much more powerful because of my early exposure to FIRST.
Have you continued to be involved in FIRST since you graduated high school? If so, how? 
Shortly after graduating, while in college over winter break, I would volunteer for my old team, 835 The STING! After graduating college and joining Rockwell Automation, I knew that I wanted to give back to FIRST, an organization that has been so instrumental in my life. Now that I was an adult it was my turn to send the elevator back just as people had done for me through my life. Upon moving to San Francisco, I used the FIRST forums to connect with a parent of a student in a local middle school and with the help of the middle school science teacher, we started a FIRST LEGO League Team. From there, we have expanded to 2 different schools sponsoring 5 FIRST LEGO League Teams. In addition, I am part of our STEM initiative at Rockwell Automation and help with our STEM education and FIRST exhibition at Rockwell Automation's Automation Fair.
What is the best piece of advice you have received? The best advice that I ever received was actually a question. "Would the five-year-old version of you look up to the person you have become?" It is something that I try and live my life by and be that hero I would have looked up to. It is how I approach many aspects of my life from career, to family, to relationships, to volunteering. I want to be a person that, if I was a kid today, I would look at that person and say "I want to be like him one day." It helps me put life into perspective and has guided me in making the right decision throughout my life.
What does an average day look like for you? By day I am an Account Manager at Rockwell Automation, where I am the interface between our clients and the automation solutions we have at Rockwell Automation. Every day is a little different, my day spans from meeting with clients who are in Water wastewater, Data Centers, or Government facilities to strategizing new business development initiatives. My time is spent between helping client do pre-engineering work for upcoming facilities or modernizations, generating proposals which define client's objectives and business goals for an upcoming project, doing project management for current projects and making sure that our clients are happy with our progress and we are addressing any of their concerns. I also ensure our clients are satisfied with our solutions and deploying the necessary resources if they need assistance. It is an exciting job, because I am able to utilize my technical background, while experiencing the business world. Dealing with different clients, different projects, and different problems, ensures my day is never the same and there is never a dull moment. Like what you've read about Ashray's experiences at Rockwell Automation? Check out their internship opportunities at www.firstinspires.org/alumni and apply now!
By night, I am a YouTube partner with my YouTube Channel, Food Flipped (youtube.com/c/foodflipped), where we create beautiful, easy to follow recipes, encouraging everyone to pick up a pan, flip some food, and create tasty meals to share with those around us.  I spend a few hours a night between recipe creation, video shooting, video editing, or social media marketing so that I release at least one video every week.
 
Keep an eye on www.firstinspires.org/alumni for more FIRST Alumni Spotlights! Share your story and you may be featured next time!