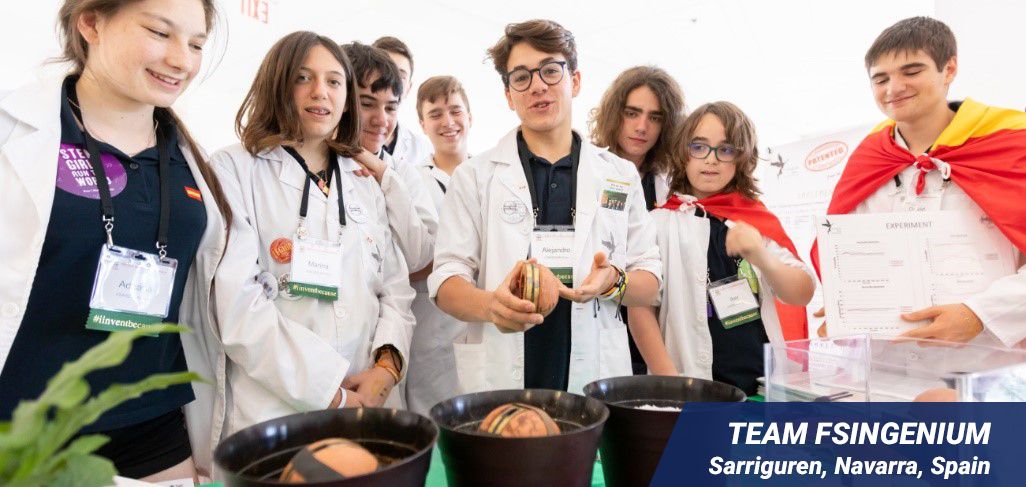 Innovation at FIRST®
From engineering and coding to design-thinking and community outreach, solving challenges with science, technology, engineering and math (STEM) is behind everything we do in the FIRST® community. FIRST programs provide the essential hands-on education, experiences, and inspiration young people need to be driven and build a better world.
Beyond game-play and team challenges, students are expanding their curiosity and confidence to create a better future for themselves and their communities through observing opportunities to real-world problem-solve for improvements, innovation, and inclusion.
To help all FIRST students take their innovations further, we've compiled a list of tips and resources for the innovation process and intellectual property.

From improvements to the water cycle and making space duration more accessible to innovative solutions in waste management and parent-to-school communications, FIRST students have brought their inventions to market, received patents, and incorporated as businesses. Check out recent FIRST team and alumni innovation stories and updates:
Congratulations to the 2022 FIRST LEGO League Global Innovation Award presented by Qualcomm winner, runners-up, and finalists!
FIRST LEGO League – Innovation Project
As part of the CARGO CONNECTSM season, FIRST LEGO League Challenge teams participating in the Innovation Project will identify a problem related to improving the transportation journey of products, research the problem, and design a new piece of technology or improve an existing one.
Students will collaborate on their ideas and must consider efficient design for their user, possible barriers to implementation, document the evaluation of their invention, and validate their design with professionals working in STEM.
Participating teams can learn about the nomination process, the Global Innovation Award rubric, and Global Innovation Award guidelines here.
For questions about the FIRST LEGO League Innovation Project, email FIRST LEGO League.
FIRST LEGO League Global Innovation Award
On June 21-23, 2022, the FIRST community celebrated the next generation of innovators who will change the future during the FIRST LEGO League Global Innovation Award presented by Qualcomm at Union Station in St. Louis, MO, USA. The award was open to participating FIRST LEGO League teams in more than 110 countries.
Twenty finalist teams advanced to showcase their research and inventions, and present to industry leaders during the FIRST LEGO League Global Innovation Award event. Teams participated in workshops designed to develop knowledge and skill sets, have individualized mentorship, and more. Awards were given live on FIRSTtv in front of a global audience of peers, sponsors, and industry leaders.
Participation in 2022 FIRST LEGO League Global Innovation Award provided students with the unique skills and expertise to become tomorrow's leaders and address the challenges that face our world ahead.
Learn more about the CARGO CONNECT season's innovative solutions and the event.

Past Winners & Innovation Ambassadors