4 Tips to Celebrate National STEM Day with Remote Learning
Nov 05, 2020
By Tammy Pankey and Lori Birch, FIRST Education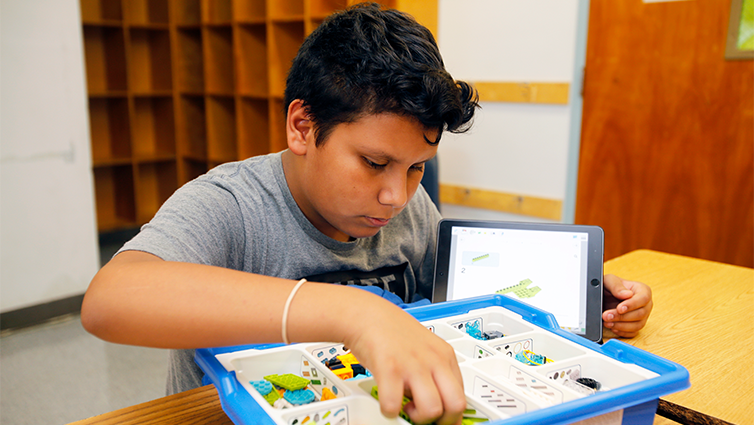 Students need social and emotional connection to their peers and mentors now more than ever. Doing hands-on learning with FIRST® provides social collaboration and community for students. The pandemic has limited many students' opportunities for hands-on learning, creating a lack of meaningful engagement and a disconnect from relevance in their learning. FIRST is about helping student learn to solve problems, overcome obstacles, and persevere in the face of challenges – including those posed by remote learning.
STEM has always been the catalyst that can drive change, inspiring young people to go on to better our world. Just as we inspire students to innovate and solve problems, we're doing the same by adapting our programs and opportunities to remote and hybrid learning environments, so students can continue to participate in FIRST and benefit from the opportunities it provides, despite the pandemic. FIRST participants celebrate their accomplishments, form lifelong friendships, and gain the experience and support system that they need to be successful.
FIRST programs make a positive impact on student learning through project-based learning that creates authentic learning opportunities relevant experiences provided by our programs, both competitive team and classroom-based opportunities. Our longitudinal study data show that experiencing just one year of FIRST has a positive impact on STEM outcomes for students. These outcomes are demonstrated by this program's rigorous and relevant content that incorporates relationships within a team and the larger community. One of the most valuable elements of FIRST are the life skills it instills in students in the face of challenges.

Four Ways to Explore STEM Remotely with FIRST:

Explore remote STEM activities with free FIRST @ Home lessons
We've created free and flexible FIRST @ Home lessons to support the continuation of learning and skill development. These lessons represent an opportunity to build a variety of technical skills, career preparedness, and holistic skills to prepare for life - ranging from high tech, to low tech, to no tech. The FIRST @ Home activities can be used in a full remote environment with supplies that students can find a home. They offer hands-on STEM learning to help students keep engaged when they may not have access to other supplies such as robots. The continuation of their hands-on learning will help them to stay engaged and progress in STEM skills that will help them throughout life.

Use our remote program guidance to host remote FIRST team meetings
FIRST has created guidance on how to implement our programs and embrace the "sport of the mind" in a remote or hybrid setting. This guidance includes remote meeting ideas and how to support the students and their parents and guardians in these settings. There are many creative ways to engage teams and classrooms in the FIRST programs outlined in the guidance provided on our COVID-19 impact page.

Support parents and guardians at home
Parents and guardians take on an even more critical role in students' lives during remote instruction. While many parents monitor their children's play and schoolwork, they may not realize the learning and developing that happens through hands-on STEM and play. As educators, you can guide your students' families and provide additional opportunities for parents to play and build with their children. We have resources for parents on our FIRST @ Home page as well to help parents guide their students in project-based learning, along with other great resources to help parents balance the challenge of parenting and at-home teaching.

Get creative!
Creativity is a key to face challenges and overcome obstacles, and this includes being creative with your own situation and the challenges you face. The tools available in the FIRST @ Home activities help create opportunities for playful creativity to increase hands-on learning and keep students engaged in a FUN way that allows them to explore their passions and interests.
Giving students the opportunity to solve through real-world problems is an invaluable gift that will help prepare them for their future. FIRST inspires creativity, communication, collaboration, and critical thinking building their future workforce skills.

---
We've extended the FIRST season and developed remote engagement solutions for all of our programs. Head over to the FIRST Dashboard to register your team, or if you're new to FIRST – click below to find out how to get started.
It's time to be GAME CHANGERS!
---
If you have an inspiring story or piece of wisdom that you've picked up through your experiences in the FIRST community, please reach out to us at inspire@firstinspires.org and inquire about becoming a guest contributor for Inspire.