Celebrating Black History and Game Changers
Mar 12, 2021
By Dr. Janell N. Catlin, Director of Equity, Diversity & Inclusion, FIRST
Representation in STEM fields and celebrating our differences is critical for building the next diverse, equitable and inclusive workforce. At FIRST®, we know creating access to opportunity for all young people is necessary for designing creative and innovative solutions for the world's challenges. During Black History Month and Women's History Month, we have an incredible opportunity as a society to reflect more deeply on that impact and how we together raise up voices and experiences that too often are unseen.
Driven by the FIRST Core Values, we are inspired to celebrate our differences and what makes each of us, "us", as part of building an inclusive culture in our community. Furthermore, driven by our mission, we strive to help uplift science and technology leaders and innovators, past and present, as part of who we celebrate and remember as a society. "[Black History Month to me is] an opportunity to learn, teach, and discuss the history and accomplishments of African Americans past and present," notes Terrell G. Burch, a FIRST volunteer and Manager OSP Planning & Engineering Design, AT&T Technology Operations. "Within the past twenty years it has expanded beyond the normal classroom curriculum of Martin Luther King Jr., Rosa Parks, and Frederick Douglas to include Tuskegee Airman, Mae Jemison, and Lonnie Johnson."
Since joining the team at FIRST a few months ago, I have been so inspired by the students of FIRST. So many youth within the FIRST community are committed to raising awareness of ED&I (equity, diversity, and inclusion) and ensuring that their peers on teams have a sense of belonging. These students take action not only within FIRST community, but within their own communities. They are the true "Game Changers" because they know that inclusivity is essential to one's well-being and essential for the greater good of society. This makes me incredibly hopeful for our future.
Being a STEM leader or a leader in any field, is a delicate life narrative of success and challenge. Some of the most innovative and great discoveries were realized through an experience of several failures. I want students to know that perseverance and determination will carry them through to pursue and achieve their goals, and to never give up, because the vitality of an amazing world depends on their success.
My FIRST colleagues and I are invested in their success through our goal of ensuring access for all students and embodying ED&I as a mindset in order to meet that goal.

Celebrating Game-Changing Voices in Our Community
In recognition and celebration of Black History Month, FIRST has been amplifying voices within our own community. Below, meet some of the people in the FIRST community who are changing the game and inspiring young people to build a better world. They shared thoughts on mentorship, Black history, and more.
FIRST
alum
Melissa Smith
, a Senior User Experience Researcher at Google and the first-ever alum to serve on the
FIRST
Executive Advisory Board, reflected on a person from Black history that has impacted her journey:
"An inspiring person from Black history for me is Mae Jemison, the first Black female astronaut in space. Her story is inspiring because she had a passion for both science and dance growing up and was able to find ways to express and partake in both of these fields while being a trailblazer. Advice I have for the next generation is to lean into your strengths and what makes you unique; those interesting intersections of different fields tend to be from where true innovations emerge."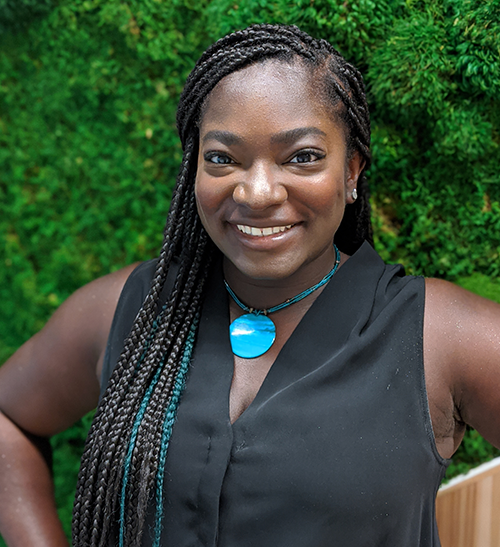 JT Moore
, a Cyber Defense Professional at Motorola Solutions and a
FIRST
alum from
FIRST
Robotics Competition Team 1739 "Chicago Knights," reflected on the role of mentorship:
"We mentor not only to show our students how much they are capable of when given a chance, but also because the lesson of "making the best out of what you have" goes so much further than robots."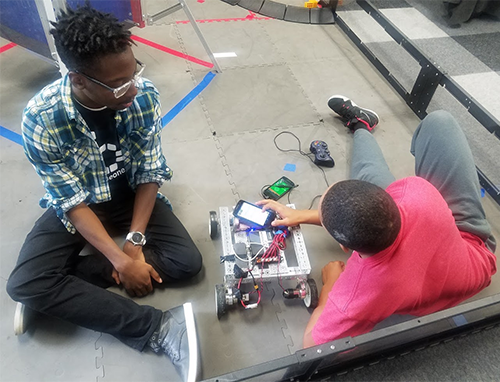 Medinah A
., Lead Systems Engineer for
FIRST
Robotics Competition Team 7514 "EVE Robotics" and a high school senior, reflected on the impact of her role model,
Lonnie Johnson
:
"I come from an area where STEAM resources are scant. Fortunately, I happened to live in the same city as inventor and former NASA engineer, Lonnie Johnson who holds more than 144 U.S patents. Mr. Johnson is passionate about giving back to future engineers. He has provided over 20,000 square feet to robotics teams composed of underrepresented students. I'm inspired by his body of work and his philanthropy. The example he set motivated me to start an all-girl robotics program in my community. Above all else, Mr. Johnson has taught me the power of perseverance."
2019
FIRST
Volunteer of the Year
Terrell Burch
, Manager of OSP Planning & Engineering Design at AT&T Technology Operations, reflected on the perspective he brings to discussions around race relations at work:
"At work, I try to bring a different perspective when discussing race relations at work. We have to realize that we are all the same, but our life experience is what makes us different. Everyone deserves respect regardless of our differences. For example, we had a diversity call to discuss everything that has happen the past year and discuss how to improve race relations at work. I had a chance to discuss some of the things that have happened to me, such as being stopped for no reason (driving while Black) and subordinates being acknowledged as the manager when you are."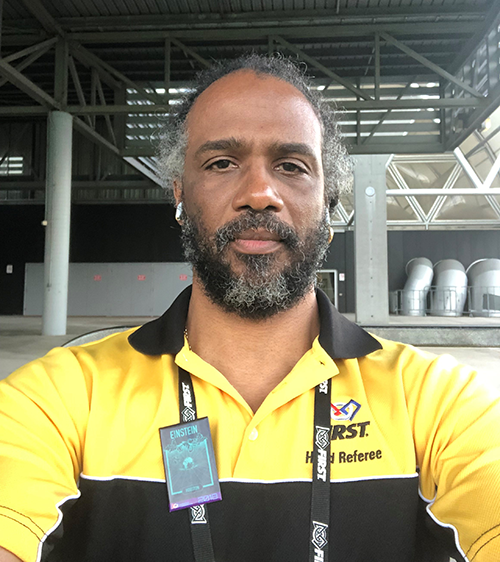 Randall C. Phillips
, who has been working with
FIRST
for over 12 years and uses his experience as an Electronics Engineer as a
FIRST
coach and
FIRST
Senior Mentor for the Western Tennessee, Eastern Arkansas & Northern Mississippi region, reflects on what sparked his interest in electronics and inspires him to mentor:
"Being educated as an Electronics Engineer in Technology (with Robotics within), has led me into working in multiple capacities with FIRST for more than 12-years, including mentoring an FIRST Robotics Competition team of two African-American high schools. Your dreams, your education, and your ambitions will lead you into your ideal job where you can have fun and it will not seem like work. My Innovation started in 7th grade with an African-American math teacher that introduced me to electronics for the 1st time in my life. You have to go forward alone until you find your place in the sun, because we do not go into our careers in pairs nor in groups. We follow our career paths single-file, by each person's knowledge base and eagerness to progress into the future of Technologies!"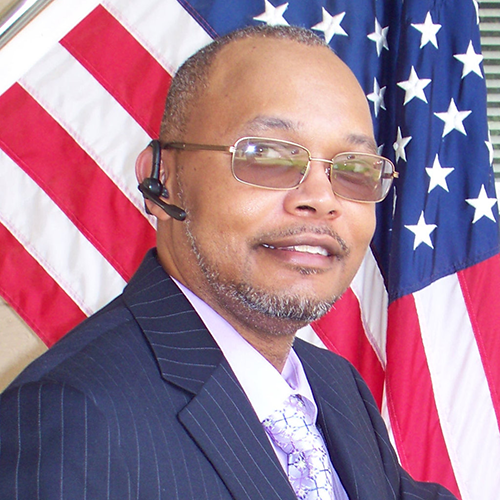 Veonicca Wesley
, Principal Systems Engineer at Raytheon, highlighted the importance of Black History Month in recognizing Black excellence while appreciating the past and progressing toward the future:
"Black History Month is a time to reflect on and appreciate the many trailblazers whose footprints are guiding strides still being made today. It is a time where we can recognize Black excellence on local, state, national, and international platforms. The present and past accomplishments of the Black community are celebrated, and individuals from all races and ethnicities are able to learn more and share in this experience. Black History Month is "Sankofa" in its greatest form, which is the ability to appreciate the past while still progressing toward the future."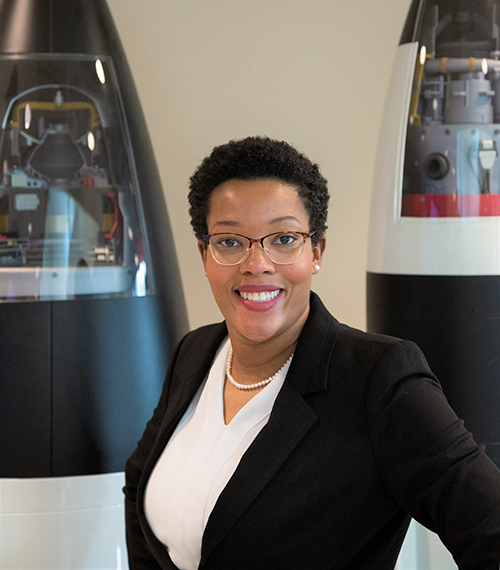 Bridgette Powell
, a Software Engineer at Industrial Light & Magic who has been inspired by many Black STEM individuals including NASA mathematicians Katherine Johnson, Dorothy Vaughan and Mary Jackson, reflected on the importance of celebrating achievements during Black History Month.
"Black History Month to me means highlighting and celebrating the achievements that people in the Black community have gifted to the world. And those achievements can come from anywhere. All contributions have significance. It can be a neighbor who started a community art space. It can be a celebrity who has recently donated laptops to low-income schools. It is also a chance to learn about a contribution that someone has made, that you previously didn't know about."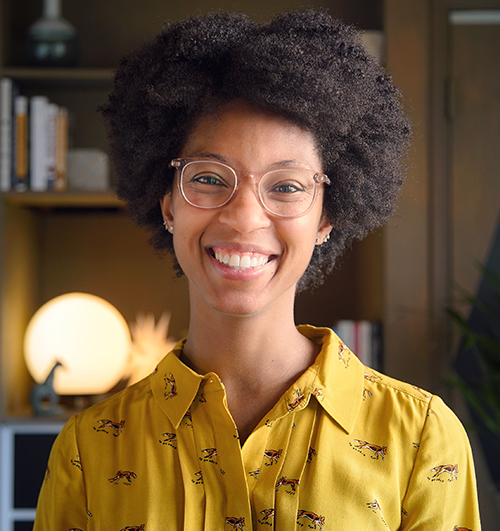 D'Yanna Craighead
, Sr. Manager of Guest Experience Technology for Disney Parks, and her colleague
Angel Price
, Attractions Engineering Services Manager for Disney's Hollywood Studios, reflected on the importance of celebrating moments of success as Black Women in Technology, such as the moment captured in this photo:
"We love to show that there are Black Women in STEM making Magic here in our parks. D'Yanna was one of the Technology Managers that delivered Virtual Queue at Star Wars Galaxy's Edge in both Disneyland and Disney World and still support it, and also delivered Digital FastPass in Tokyo the same summer this photo was taken. Angel helped build the Falcon and Rise of Resistance attractions as an engineer. We want to be sure that other young Black girls know our contributions, not as a hidden figure behind the scenes, so that they can see themselves being able to accomplish something like this."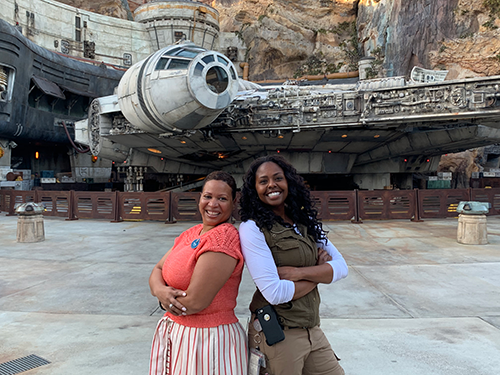 Thank you to all our contributors and to our FIRST Equity, Diversity, and Inclusion sponsors who helped us share these stories. Follow FIRST on Instagram for more reflections and stories from voices within our community throughout Women's History Month and beyond.
As part of our commitment to creating a diverse, inclusive, and equitable community for all our participants, we have partnered with leading organizations to create complimentary trainings on how you can inspire the youth voice, create a sense of belonging, and more. Learn more and take our trainings.

---
If you have an inspiring story or piece of wisdom that you've picked up through your experiences in the FIRST community, please reach out to us at inspire@firstinspires.org and inquire about becoming a guest contributor for Inspire.