FIRST Student Recognized as Michigan's Miss Juneteenth
FIRST® Community Spotlight: Nialah Crosby, FIRST® Robotics Competition Student; Miss Juneteenth
Sep 15, 2020
By FIRST staff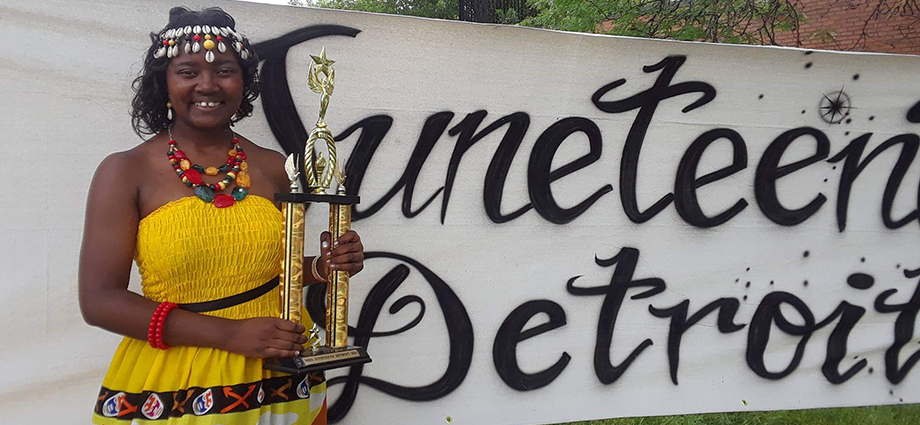 As a young African American woman, FIRST Robotics Competition student Nialah Crosby recognized the underrepresentation of people who look like her in STEM fields first-hand. Determined to be a Force for Change and help transform the statistics, she has dedicated her time to growing her STEM skills while advocating for Black rights and making her voice heard.
"Nialah's impact on our community has been life changing for her and those who have met her. She speaks for the Detroit Girls in Aviation Day every year and has even been invited to speak for the Macomb County Michigan Lunch & Learn Series where she taught on the history of Juneteenth," says Sophia Crosby, Nialah's mother.
Because of her commitment to seeing more girls of color in STEM, Nialah was crowned the very first Miss Juneteenth in Michigan. She shared her experience with the FIRST Robotics Competition community on Facebook to further inspire young women like her. We asked Nialah to share more about the influence of her mentors in her participation in FIRST and her strategies for recruiting more girls to her team.
FIRST: What inspired you to get involved with FIRST during your freshman year?
Nialah Crosby: I was inspired to get involved with FIRST for three major reasons. My mentor Colonel Lawrence Milben was the first African American to graduate from my school, Davis Aerospace. He was a coach for the team and encouraged me to join, knowing that robotics would enhance my mathematical skills. Secondly, knowing my Algebra teacher Ms. Janine Scott was a mentor for the team, I was enthusiastic to join! Ms. Scott always encourages her students to have fun while we learn. Thirdly, attending a high school named after Benjamin O Davis, the Commander of the Tuskegee Airmen, and having original Tuskegee Airmen in my life, I saw it as an honor to be a part of a team that carries on their legacy.
FIRST: You said you were the only girl on your team when you started but that has changed. How has your team evolved since you joined?
Crosby: When I first started on the team, I was the only girl, but I did not feel alone because I had mentors all around me. I was not afraid because, even though I was only 14 years old, I had already started copiloting airplanes in the Tuskegee Airmen Young Eagles Program at the age of 11. The boys on the team treated me with respect and thought it was "cool" to have a girl on the team who was also flying airplanes! Having my mom at every after-school session and competition was also very important. She and my grandmother had me research women and girls in robotics from around the world, and together we created poster boards and started going around the school to help the team recruit more girls. Now we have girls as safety captains, builders, coders, and drivers.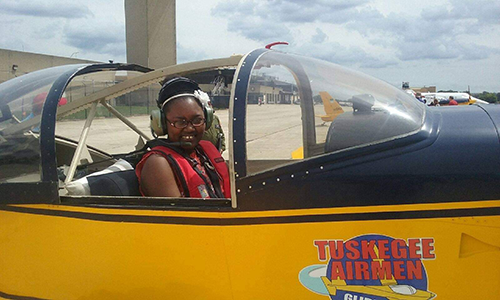 FIRST: Based on your team's experience, what advice do you have for other teams on building a more equitable, diverse, and inclusive team?
Crosby: My advice to other teams on building a more diverse and inclusive team would be to consider the world when you build your team. Our world works better when we come together using all our talents and gifts to accomplish goals. When you are not inclusive, you miss out on the strengths that your team could have had. I was once asked to be a part of an amazing STEM program and my mom asked if they had female mentors. The recruiter's response was, "That is not very relevant because we have a great track record of success for our students." My mom and I decided that I would be a part of FIRST instead because of the diversity.
FIRST: How have the women mentors/leaders on your team inspired you?
Crosby: The women mentors and leaders are the "backbone" of our team. Our mentors Ms. Scott (Algebra teacher), Ms. Minor (SAT/ACT Prep teacher), Ms. Sang (Biology teacher), and Ms. Russell (Geometry teacher), have been amazing at teaching us teamwork and accountability. We have had amazing female mentors from the Michigan Institute of Technology (MIT) and have received training in building and coding from awesome women at the Michigan Engineering Zone (MEZ). Only 19% of robotics engineers in the world are women, while 81% are men. There is no way we can continue to change those numbers unless girls like me see mentors who look like us. Because of these mentors, we learn that we can be beautiful and brainy! That's real "girl power."
FIRST: What does it mean to you to be a "Force for Change" as Miss Juneteenth and a member of the FIRST community?
Crosby: I try to live my life being a "Force for Change" as a member of FIRST and as the first to be crowned Miss Juneteenth in the State of Michigan. Juneteenth is our celebration of freedom from slavery on June 19, 1865, 2 years after the Emancipation Proclamation, and is celebrated with songs, dance, parades, and family fun all over the United States. I was crowned by a team of community leaders from The New Community, Juneteenth Detroit, and Jefferson Chalmers Riverside Development Corporation. Usually, Miss Juneteenth is an adult. Why did they crown me? I was crowned because, despite my young age, I am a "Force for Change." Less than 1% of pilots in the world are African American women, but I am changing that. 19% of robotics engineers are women, but I am changing that. Sometimes I wear my dress and crown and teach STEM workshops to kids, and sometimes I wear my Civil Air Patrol Uniform and teach on our four core values of Integrity, Excellence, Volunteer Service, and Respect.
I ended this month speaking at an event that honored women of color who have lost their lives due to the negligence of those who were supposed to protect them. It was called "Say Her Name." It was about unity and included elected city officials, law enforcement, and U.S. Congress Representatives. They allowed speakers to set up a table which showed our community work. It was a great opportunity to showcase women in STEM, robotics, and aviation around the world to children and their families. Often, I am the youngest to speak at these events, but it's all about being a "Force for Change."
If you're looking for an action to take right now to support Equity, Diversity, & Inclusion within the FIRST community, we encourage everyone to be engaged in ongoing conversations and use our free online trainings developed with the National Alliance for Partnerships in Equity (NAPE), Kids Included Together (KIT), and our ED&I Youth Advisory Committee.
---
If you have an inspiring story or piece of wisdom that you've picked up through your experiences in the FIRST community, please reach out to us at inspire@firstinspires.org and inquire about becoming a guest contributor for Inspire.