How to Reengage Students by Reinvigorating Your FIRST Program
American Rescue Plan's Education Funding Supports STEM Engagement
Oct 05, 2021
By Libby Simpson, Director of Education, and Vinnie Rodino, Director of School Engagement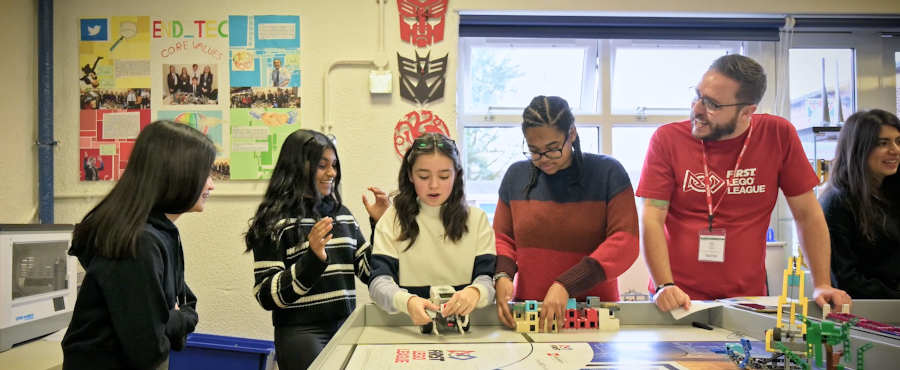 Educators and students in many areas have returned to the classroom this school year after a difficult year of remote and hybrid learning environments, which interrupted learning. More than "catching up" on any one particular school subject, education leaders are calling for a renewed focus on social-emotional learning alongside career readiness while preparing for further interruptions driven by spread of the Delta variant of COVID-19. Students themselves note their mental health and rebuilding relationships as a top priority, and they're also demonstrating increased interest in pandemic-relevant STEM (science, technology, engineering and math) careers such as health care and IT. Our decades-strong youth robotics challenges equip students with critical STEM and social-emotional skills to fulfill both those needs.
Preparing Young People for the Future
Students are not just learning STEM skills, but experiencing the challenges of teamwork, setting goals, and coping with the frustrations that lead to meaningful growth and development.
It's our collective duty to prepare all students for the future. Through hands-on, minds-on learning in a mentor-guided, team-based environment, FIRST prepares students for their next steps, whether college, apprenticeship, certification or other pathways into careers. Students learn transferable workforce skills while incorporating the FIRST ethos of Gracious Professionalism® and Coopertition® and commitment to the FIRST Core Values. Students are not just learning STEM skills, but experiencing the challenges of teamwork, setting goals, and coping with the frustrations that lead to meaningful growth and development.
Part of a successful recovery strategy for students returning to formal learning environments is establishing routines. With FIRST, routines are incorporated through fun, inclusive activities and interactions with adult mentors, coaches, and teachers in a peer-learning environment. The unique connection of STEM and project-based learning frameworks combined with FIRST Core Values creates a uniquely positioned series of programs that address learning loss and close the achievement gap crossed various student populations. Whether in the classroom or after school, FIRST programs and our community help meet students where they are.
American Rescue Plan Funding Supports Value of Evidence-Based STEM Engagement Programs
COVID-19 interrupted hands-on education for many students across the world at a time when it has never been more important to inspire young people in STEM.
As part of continued efforts to safely reopen schools and support students, American Rescue Plan Elementary and Secondary School Emergency Relief (ARP ESSER) funding is available in the United States for learning and enrichment programs. The funding can be used for classroom-based and after-school robotics and STEM clubs. Each local educational agency received federal funds based on a formula distribution of low-income schools, and are required to spend a percentage of funds on programs to combat learning loss from COVID-19. They may have also received state-level funds for afterschool and summer programs that can be used for FIRST programming. PreK-12 FIRST programs align as evidence-based interventions as Tier 4 programs under Every Student Succeeds Act (ESSA). Read more about FIRST alignment to evidence-based strategies.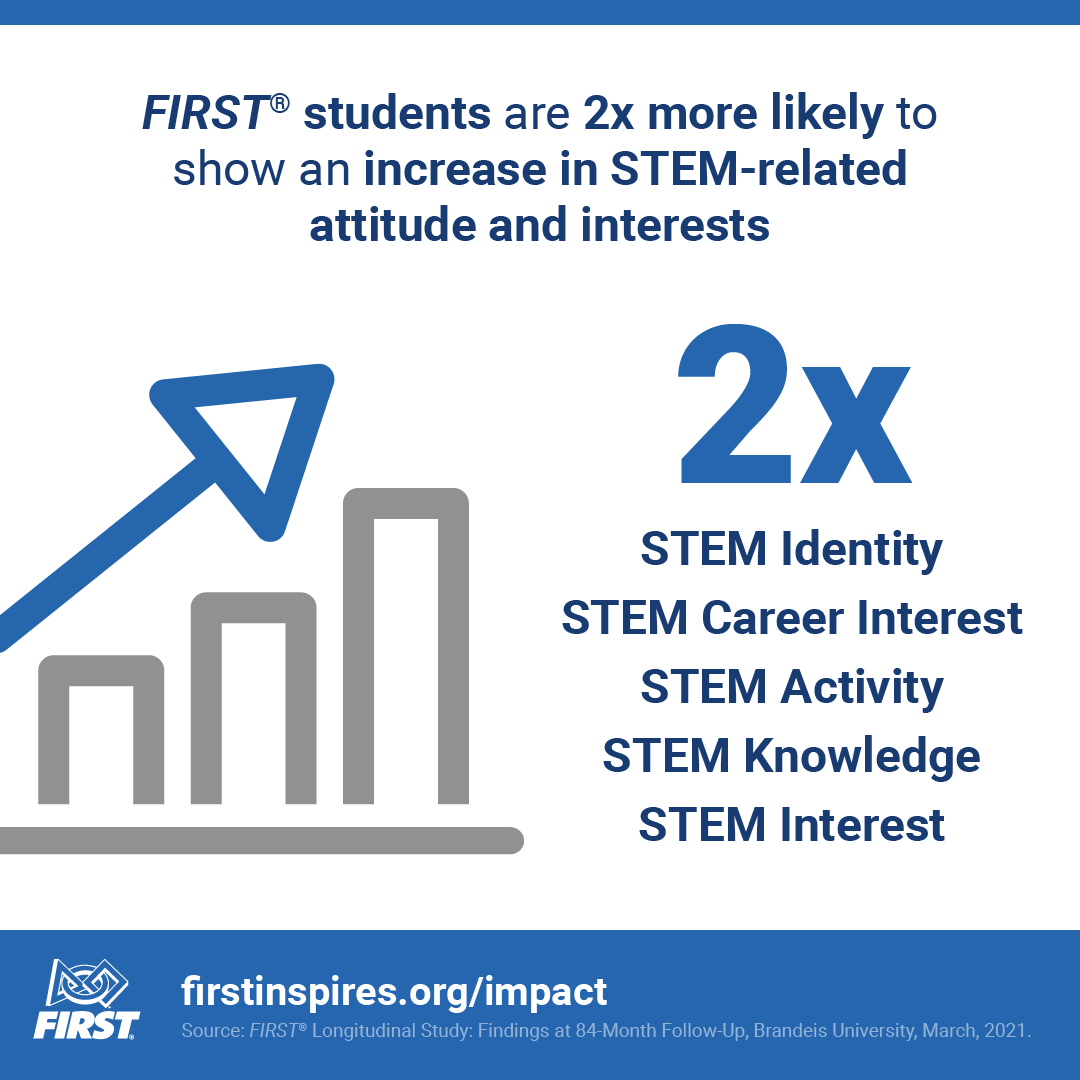 Evidence from the ongoing FIRST Longitudinal Study, conducted via a multi-year partnership with Brandeis University, shows FIRST students are significantly more likely to show gains in STEM outcomes and persistence in STEM in college than comparison students.
Our evidence-based, hands-on programs serve students from pre-kindergarten through high school and involve using mentor-supported challenges in coding, robotics, and engineering to solve real-world problems. FIRST curriculum and program guidebooks are developed using a project-based learning pedagogy and align to national and local education standards. Learn more about standards alignments, scope and sequence options, and skills progression. Additionally, FIRST Certified Professional Development has been developed as an immersive learning experience that helps educators acquire or strengthen facilitation skills for project-based learning and 21st century skills such as creativity, problem solving, and teamwork in an active learning environment.
How to invigorate FIRST programs in your school
In line with students' lost or disrupted access to school, some students lost access to FIRST programs. Though our programs could be continued remotely with modifications, educators and parents were overtaxed in time and limited in resources. Still, educators who carried out modified programs used FIRST to inspire students in STEM and to provide students a sense of normalcy and build connections.
This school year, we remain committed to working with educators, parents, and community leaders to deliver FIRST programs and help more young people find belonging and prepare for the future while continuing to offer COVID-19 modification options. Here are a few ways to grow or reinvigorate FIRST programs in your school or community:
---
If you have an inspiring story or piece of wisdom that you've picked up through your experiences in the FIRST community, please reach out to us at inspire@firstinspires.org and inquire about becoming a guest contributor for Inspire.