Teaching the Future: Christa McAuliffe's Legacy

Introducing a New Spotlight Series on the Educators Who Teach the Future, Inspired by the "Teacher in Space"
Mar 17, 2021
By FIRST Staff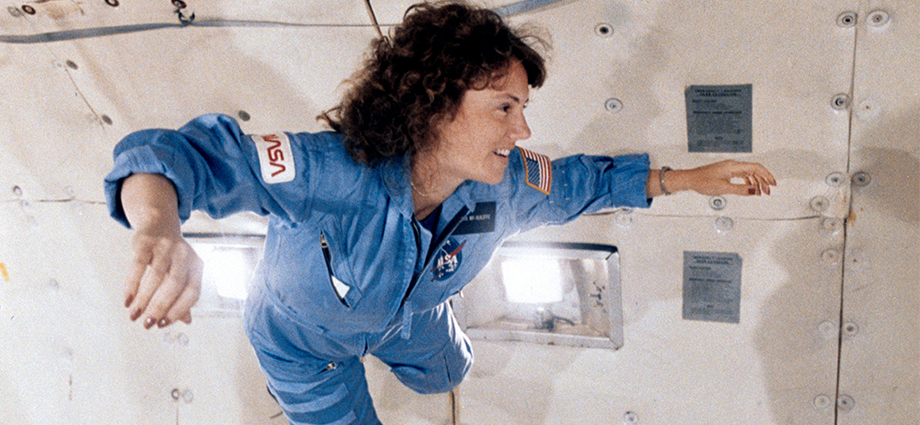 "I touch the future. I teach." –Christa McAuliffe

In 1984, U.S. President Ronald Reagan announced the NASA Teacher in Space Project with the intent to inspire interest in science and space exploration and recognize the impact of teachers. New Hampshire-based high school social studies teacher Christa McAuliffe was the first teacher selected to go to space and would teach lessons filmed aboard the Space Shuttle Challenger.
McAuliffe never got to teach those lessons. On January 28, 1986, the Challenger lifted off from Kennedy Space Center and suffered a malfunction, tragically ending the lives of McAuliffe and six other crew members, Michael Smith, Dick Scobee, Judith Resnik, Ronald McNair, Ellison Onizuka, and Gregory Jarvis.
McAuliffe, who was born in Boston on September 2, 1948, lived her life dedicated to serving young people. After receiving her Bachelor of Arts from Framingham State College in 1970 (and later her masters in education from Bowie State College), McAuliffe taught 7-12 grade American history, English, civics, economics, and social studies at schools in Maryland and New Hampshire. She was teaching at Concord High School in Concord, N.H., when she was selected for the NASA Teacher in Space Project and instantly became a national icon, especially for children who saw their own teachers in her.
On her journey to becoming the first teacher in space, McAuliffe taught us so much about courage, facing uncharted territory, and what it means to believe in yourself. Her legacy is a reminder of the incredible impact teachers have on students – and therefore, the future – and she inspired countless people to pursue knowledge and careers in education, space, STEM and more with the same infectious enthusiasm and pioneering spirit.
Carrying Forward Christa's Legacy
Many have helped carry on McAuliffe's legacy over the past 35 years, such as the McAuliffe-Shepard Discovery Center memorial museum and Christa McAuliffe School in New Hampshire. Documentaries like Netflix's "Challenge: The Final Flight," and the teachers who have since gone to space, including her "Teacher in Space" program backup, Barbara Morgan, and educators-turned-astronauts Joe Acaba and Ricky Arnold, who eventually taught the lessons Christa intended to in space, have carried her story forward with new generations.
Among those she inspired is New Hampshire-based inventor Dean Kamen, who just a few years later founded FIRST to inspire young people to be science and technology leaders and innovators. Around 1990, Kamen also asked his father, artist Jack Kamen, to draw a commemorative coin design honoring McAuliffe as a teacher, recognizing it would make a powerful statement about how teachers inspire their pupils.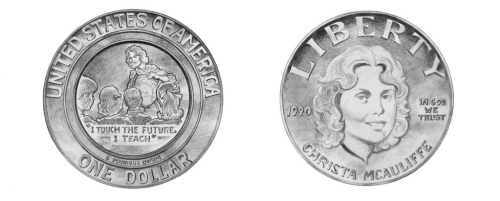 "I thought that if we could create a coin that would be a national recognition of a teacher, of a woman that went into space, it would be the perfect way to demonstrate that we could inspire an entire generation of kids to appreciate science and technology," Kamen said. "We formed FIRST for the singular purpose of creating inspiration in science and technology, and Christa McAuliffe the teacher is all of that."
McAuliffe has forever embodied the FIRST spirit through her dedication to educating young minds. Since then, Dean has advocated for a U.S. coin to be minted in her honor and has inspired many in the FIRST community to join him. In 2019, students and volunteers from FIRST contacted their representatives in support of the U.S. Christa McAuliffe Commemorative Coin Act (introduced by Sen. Jeanne Shaheen (D.-N.H.) in the Senate and Rep. Fred Upton (R-MI) in the House), and it became law later that year, directing the coin to be minted and proceeds to go to the FIRST mission.
Representing All Teachers
The official coin design of the 2021 Christa McAuliffe Silver Dollar, which went on sale this week, depicts McAuliffe in a traditional profile based on a photo taking during her training for the flight. The reverse side depicts Christa in her critical role as a teacher alongside the FIRST logo and seven stars representing Christa and her lost Challenger colleagues. In both depictions, McAuliffe is looking to the future.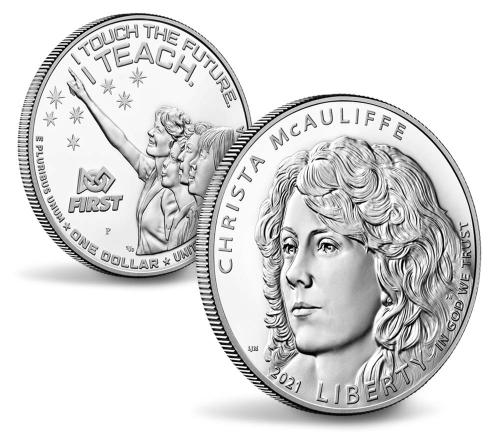 Judge Steve McAuliffe, widower of Christa, spoke at a ceremony unveiling the final coin design about how Christa would want the coin to represent all teachers, as her role in the Teacher in Space program had. "If you are a teacher, were a teacher, are going to be a teacher, this coin is for you, this coin represents you, and it represents the incredible work you do for our country and the incredible work you do for our children," he said. "That's the way she'd want you to look at it."
In that same spirit, and as an organization serving PreK-12 students and teachers, we're inspired to use our platforms to spotlight the next generation of Christa McAuliffes and those she inspires. Subscribe to the Inspire blog for our upcoming interviews with the teachers, educational administrators, and others who are inspiring young people to look toward the future.
Related posts in "Teaching the Future" Blog Series
---
If you have an inspiring story or piece of wisdom that you've picked up through your experiences in the FIRST community, please reach out to us at inspire@firstinspires.org and inquire about becoming a guest contributor for Inspire.