Three Lessons for Robotics Parents from "black-ish"
How Parents Can Encourage Their Kid's STEM Exploration
Feb 27, 2020
By FIRST Staff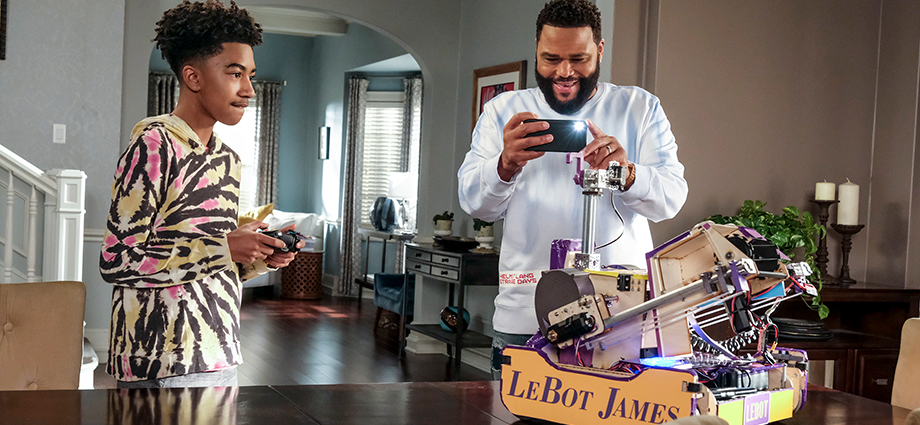 The FIRST community was honored to be included in a key storyline on this week's episode of ABC's "black-ish." If you missed it, you can stream the "You Don't Know Jack" episode via ABC.com, the ABC app, or Hulu. We're thankful for the team at "black-ish" for recognizing the "Super Bowl of robotics" in telling this story. A big thank you to the LA-area FIRST teams who supported the filming of the episode with their robots and Gracious Professionalism: FIRST Tech Challenge Team 3526 "Marlbots" and FIRST Robotics Competition Team 597 "The Wolverines," Team 4201 "The Vitruvian Bots," Team 207 "METALCRAFTERS," Team 4 "Team 4 ELEMENT," Team 1836 "The MilkenKnights," and Team 3309 "Friarbots."
In the "black-ish" episode, Jack Johnson joins a FIRST robotics team to the surprise and delight of his parents, Dre and Bow – until Dre begins to worry about the impact it could have on Jack if he doesn't succeed. It's a concern parents sometimes face, especially for parents who are new to STEM or a sport like robotics. Here are three lessons Dre learns in the episode that can help other parents support their kid's exploration and dreams:

You don't have to be an expert to encourage your kid's STEM exploration.
Many parents worry when their kids enter new experiences where they are likely to be truly challenges, and the Johnsons are no exception. Earlier this season, Jack got cut from his school's basketball team and realized his childhood dream of joining the NBA may not be in the cards. Jack was disappointed, but his parents encouraged him to find something else that lights a fire in his eyes. When Jack joins a FIRST robotics team, Bow (a doctor) and Dre (an advertising exec) want to support his interest, but Dre soon worries Jack is in over his head and that as parents, they don't know the first thing about building and coding robots to help Jack succeed.
Yet, often all kids like Jack need from their parents as they embark on something new is support, encouragement, and a little bit of breathing room. This was true for FIRST founder and prolific inventor Dean Kamen, who shared his experience in a special cameo in the episode: "When I first got into inventing, my parents didn't get it either. But they supported it and that meant the world to me," Dean tells Dre.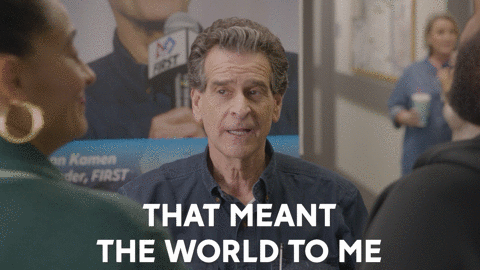 These ideas were echoed by parents and fans watching the episode, who encouraged Dre to give Jack time:
One of the toughest things to do as a Parent is to let your children do things on their own. To just sit on the sidelines and cheer them on. Hoping for the very best outcomes possible for them. #blackish

— Elsa (@Elsa050467) February 26, 2020
Yessss go Jack!! See, you got to let him learn from his experiences. Either he will grow into a career of robotics or he will learn it isn't his thing and try somthing new. Let him live Dre. #blackish

— AswiDFebruary 26, 2020
what she said #blackish https://t.co/zSoK0y9pP9

— Miles Brown (@MilesBrown) February 26, 2020

You learn more from your failures than successes.
When Dre worries that the fire may go out in Jack's eyes forever if he fails at robotics, Dre tries to "manage" his expectations – and ends up hurting Jack's feelings. Luckily, Jack knows when to ignore the "haters" and proudly displays his competition medal. After Dre apologizes and admits he was just scared, Jack shares a wise lesson he learned from building his first robot: "Robotics was scary for me too, in the beginning, but then I saw you learn more from your failures than you do from your successes… and it made me realize I can apply that to everything."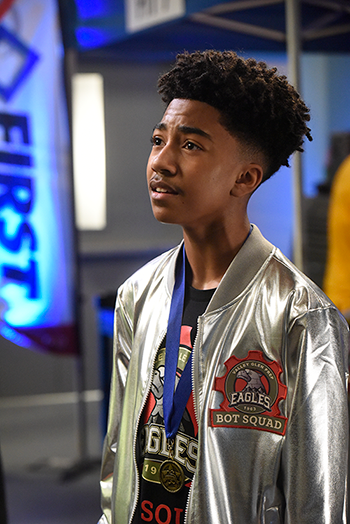 There's no one prouder than a robo-parent:
FIRST helps prepare young people for the future, instilling self-confidence in STEM and valuable workforce skills that open pathways for young people to become leaders and innovators in any industry. It's the only sport where every kid who participates meaningfully can "go pro." When you're a parent of a robotics student, it's exciting to imagine the possibilities for their future. Bow and Dre wonder if Jack will enroll in an engineering college (there's a FIRST Scholarship for that!), become the "black Bill Gates," build a NASA rocket ship… or secure them a spot on the apocalypse bunker?

If your child joins a robotics team, there's a lot robo-parents can do support the team's success. In the episode, Dre uses his eye for branding to help the team get slick silver track suit uniforms. Parents can contribute their technical OR non-technical expertise to mentoring or coaching the team on programming, mechanics, developing a team brand, fundraising, or presenting to judges. They can also volunteer at a competition event to help it run smoothly. There's a role in the FIRST community for everyone. If you're inspired by the Johnsons, we hope you'll join us!

---
If you have an inspiring story or piece of wisdom that you've picked up through your experiences in the FIRST community, please reach out to us at inspire@firstinspires.org and inquire about becoming a guest contributor for Inspire.