2022 Woodie Flowers Grant Recipient Announced
Feb 04, 2022
Written by FIRST Staff
The late Dr. Woodie Flowers loved FIRST®, and in return was loved by the FIRST community. He was a gifted and beloved professor who championed and implemented a hands-on learning philosophy that reshaped engineering and design education at the Massachusetts Institute of Technology (MIT) where he taught for thirty years. And it was his ethos of Gracious Professionalism® that shaped the ethos of FIRST.
Woodie, as he was affectionately known to FIRST students everywhere, collaborated with Dean Kamen to develop the FIRST® Robotics Competition and was key to establishing the ethos of FIRST by coining the term Gracious Professionalism and modeling its meaning in his every action. Encouraging all to enjoy a meaningful life, Woodie empowered us to fully contribute to our world and was exceptionally skilled at communicating how we can all work together to meet our common goals – even as competitors.
To honor his legacy, the Woodie Flowers Memorial Grant awards one initial, renewable grant of $10,000 to a student selected from the prior year's FIRST® Tech Challenge and FIRST Robotics Competition Dean's List Award winners.
2022 Woodie Flowers Memorial Grant Recipient: Megan Volkening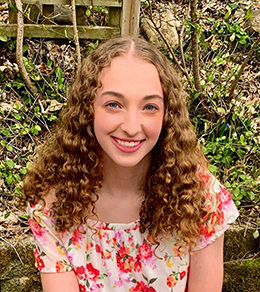 "
We had yet another outstanding group of Dean's List Award winners and deciding on a recipient for the Woodie Flowers Memorial Grant was not an easy task. This year, the committee selected Megan Volkening as the grant recipient.
Megan is a six-year participant of FIRST® LEGO® League, FIRST Robotics Competition, and FIRST Tech Challenge. A Dean's List winner from FIRST Tech Challenge Team 18367 "GRAFFITI" in Wisconsin, Megan is a passionate FIRST advocate, participating in both the Wisconsin and FIRST Advocacy Conferences.
Megan intends to pursue electrical engineering and political science when she heads to college in the fall and is looking forward to supporting local FIRST teams as a mentor/coach and event volunteer.
Woodie's wife and a Scholarship Committee member, Margaret Flowers had this to share about Megan's selection:
"Knowledge can lead to wisdom and influence can lead to power to make changes in our world. The judges were very impressed with all of the candidates' accomplishments and plans for the future. We believe that with her education, Megan will acquire further wisdom which she will use to build upon the influence she has already exercised for FIRST to make changes at the local, state and national level to raise funds, train mentors, create awareness, and encourage young women to join. Megan's energy, passion and attention to detail will be a force for good for FIRST for the years to come so that more may enjoy a meaningful life."