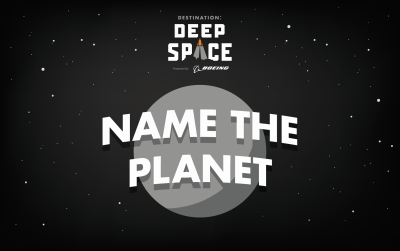 DESTINATION: DEEP SPACE Presented By The Boeing Company brings us to a planet in deep space that is as mysterious as it is inhospitable. This lifeless planet presents many challenges: Its atmosphere is toxic, its ever-changing landscape is dangerous and unpredictable, and...it has no name. Would you like to name it? Now is your team's chance to influence our story, and be forever known as the team that gave our planet its name!
Enter our "Name the Planet" contest today. If you are the winning team, YOUR entry will be featured in our teaser for the 2019 season of FIRST Robotics Competition. Have a great idea? Consult with your teammates and coaches, and enter your team's submission today - only one submission per team, please. Hurry: The contest deadline is 11:59PM EDT on Wednesday, August 15, 2018!
By submitting your entry into this survey, you irrevocably grant to FIRST and its assigns, licensees, and successors the right to use your submitted Planet Name in all forms and media including composite or modified representations for all purposes, including advertising, trade, or any commercial purpose throughout the universe and in perpetuity. You also waive the right to inspect or approve the use of the Planet Name for publication or other written copy used in connection with the Planet Name.