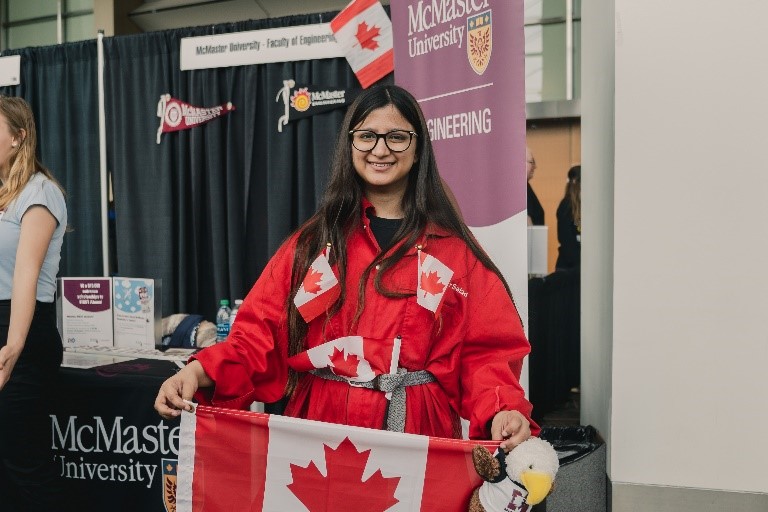 The Faculty of Engineering at McMaster University, located in Hamilton, Ontario, Canada, is offering ten $15,000 FIRST Robotics scholarships to American, Canadian, and international FIRST alumni. Ranked among the world's top 75 universities, McMaster University is also ranked second in the world for Global Impact and in the top 100 in the QS Graduate Employability Rankings.
McMaster University was the only Canadian institution on Scholarship Row at FIRST Championship Detroit 2019 – be sure to watch our highlight video from the event! We hope to see you at this year's Championships in Houston and Detroit.
Eight McMaster Engineering FIRST Alumni Entrance Scholarships and two ArcelorMittal Dofasco FIRST Robotics Entrance Scholarships are available this year - for a total of ten (10!) awards. Meet first year Engineering student Angela Tollis, winner of a $15,000 FIRST scholarship in 2019.
The deadline to apply to your FIRST Robotics scholarship is approaching fast! Apply here by Friday, February 14th to ensure that you don't miss out on this amazing opportunity. McMaster's Faculty of Engineering is not only offering ten $15,000 FIRST scholarships, but over $1,000,000 total in entrance awards. You only have to submit one application to be considered for all the awards for which you are eligible.
The exciting news does not stop there! McMaster Engineering scholarship winners will also receive an Engineering Research Experience Award. This is a guaranteed research opportunity in the summer after first year, currently valued at $6,000. Visit our website to learn about all the different ways our summer researchers have gained valuable experience working with professors, researchers, and entrepreneurs across campus!
In addition to offering ten FIRST scholarships, McMaster Engineering has been a strong supporter of FIRST since our inaugural FIRST Robotics District Competition in 2017. Since then, we have hosted a #FIRSTatMAC event every year for FIRST Robotics teams and their teachers, mentors, parents, and sponsors. Learn more about the 2020 event here!
Call or email us if you have any questions, or just want to chat!
Recruitment Team
Faculty of Engineering
McMaster University
1280 Main St W
Hamilton, ON L8S 4L8
phone: (905) 525-9140 x 27174
email: thinkeng@mcmaster.ca
web: www.eng.mcmaster.ca/future