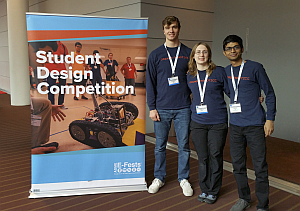 Hello from Syracuse University!
I hope you're enjoying the Rover Ruckus competition or looking forward to the upcoming Destination: Deep Space season! I'm a junior mechanical engineering major at Syracuse University, and FIRST was a big part of my life in high school. I was the Mechanical Lead for FIRST Tech Challenge team #9244 Lenape Valley Robotics in Stanhope, NJ. My experiences with FIRST inspired my strong interest in robotics, which I have continued to pursue in college.
At Syracuse, I am the President of our Orange Robotics team. We recently participated in the "Robot Football" game at the American Society of Mechanical Engineers (ASME) Student Design Competition. We designed and built three robots that operated as a team to play soccer against other teams. It was a great experience and – similar to FIRST competitions – we connected with other students from around the U.S. and around the world.
The Syracuse Engineering Student Machine Shop has played a crucial role in the design and construction of our robots, and the Director of the Shop has provided important guidance in understanding the possibilities in the world of machining. The Student Machine Shop is available exclusively to engineering and computer science students and offers an array of tools from manual machines to CNCs to a wide assortment of 3D printers. We have a cool MakerSpace on campus, too.
Outside of my classes and robotics work, I let off steam by going to the gym. Syracuse is currently building a brand new gym that will open next fall. I'm super excited about that! I have to spend time at the gym, because I have a serious weakness for Chinese food. If it's been a hard week, I'll order a whole bunch of General Tso's chicken, lo mein, and beef dumplings to decompress!
Syracuse has been a really great experience for me, because I'm getting an excellent education in engineering, while having a fun time, too. I've been bass fishing a number of times at lakes near campus, and I enjoy going on the school's ski trips in January and February to Toggenburg Mountain. I love snowboarding, and it's a great way to relax.
Syracuse offers $25K scholarships to FIRST students that are renewable for four years. You can find the scholarship form on the FIRST website, and you can learn more about SU at www.syracuse.edu. We just posted short videos about each engineering and computer science major on the school's YouTube channel, too.
Feel free to contact me if I can help you with any questions about the opportunities at Syracuse!
With Gracious Professionalism,
Nate Kuhl '20
Mechanical Engineering
Syracuse University
nrkuhl@syr.edu