In 1996, WPI offered the first ever full-tuition FIRST scholarship from a university. In 2007, WPI launched the nation's first Robotics Engineering program at the undergraduate level and later became the first university to have both a Robotics masters and undergraduate program.
In 2012, WPI hosted the first NASA Centennial Challenge robotic competition held at a university.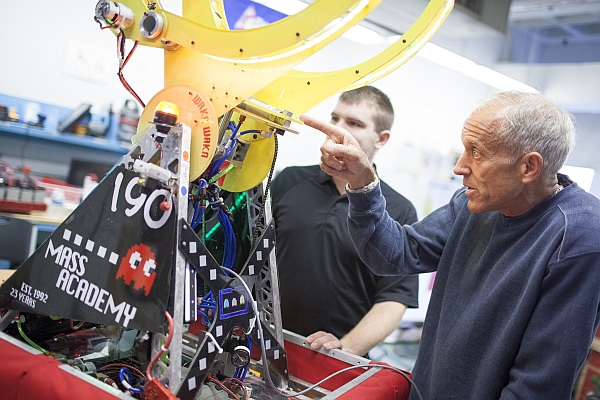 All of these firsts–and more–provide students with boundless opportunities while at WPI.
As a WPI student, you will do much more than study robots – you will build them, interact with them, explore their design and function, and push them to their limits. Only at WPI will you find a hands-on approach that combines expert knowledge with real-world applications.
On your first day of class, you will build and program a robot. With our unique seven-week term system, you can fully immerse yourself in your three courses of the term while learning the most intricate and groundbreaking research in your field. These experiences as a WPI student will help prepare you for your career in robotics and innovation.
Each year, WPI awards a full tuition, four-year undergraduate scholarship and three $20,000 scholarships to a FIRST Robotics Competition or FIRST Tech Challenge student. To advance WPI's commitment to diversifying the STEM field, WPI also awards the FIRST Community Scholarship; the scholarship is a full tuition, four-year undergraduate scholarship to a student who is Native American, African American, Latino American, and/or female.
Be sure to check out the WPI scholarship page to learn more!