FIRST Team Registration Site
We are excited to announce the release of the NEW Team Registration portion of our website, which will replace the existing Team Information Management Systems (TIMS)*. With this change, the need for four separate program Team registration systems goes away – the new team registration is now an extension of firstinspires.org website.
The process will reduce time on administrative activities, resulting in more time for Coaches and Mentors to work with their teams. Features include: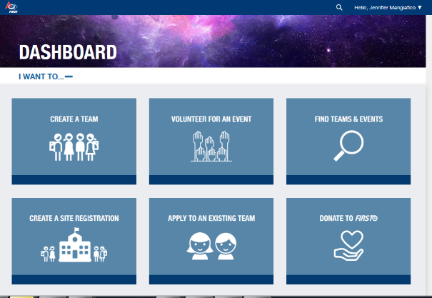 Simple, easy-to-use "wizard" approach to all program registrations;
Reduced data requirements and streamlined entry choices;
Simple dashboard launch point for all registration-related processes that shows the overall status of the user's teams across all four FIRST programs (e.g. If a Coach has a FIRST LEGO League Team and a FIRST Tech Challenge Team, he/she can check the status of each team from one location);
Register, pay for, and manage teams using a common workflow for all four FIRST programs;
Payment and grant processing functionality shows grants awarded and allows user to pay for multiple teams at once; and
Optimized experience for both desktop and smartphone browsers.
The new site will be launched with our FIRST LEGO League season opening on May 10th and then will be available for the opening of the other programs seasons:
FIRST Tech Challenge on May 18th,
FIRST Robotics Competition on May 19th,
FIRST LEGO League Jr. on August 1st.
All existing user accounts will remain the same, and all existing teams will be rolled forward to the new season as we normally do at this time of year and will be accessible from the new site. View example pages from the new site here.
Other FIRST sites are not changing at this time – but stay tuned as we continue our journey to improve the FIRST digital experience!
*for FIRST LEGO League Jr. and FIRST LEGO League teams in North America