6,000+ Teams of Students Tackle New Adventure-Themed Challenge During 2017-18 Season
MANCHESTER, N.H., September 9, 2017 ― FIRST® (For Inspiration and Recognition of Science and Technology), an international, K-12 not-for-profit organization founded to inspire young people's interest and participation in science and technology, launched its 2017-18 FIRST® Tech Challenge season with an online game reveal on September 9. Teams of students and adult mentors gathered at more than 100 international Kickoff events to get a first glimpse of this season's adventure-themed game: FIRST RELIC RECOVERYSM Presented by Qualcomm Incorporated. An estimated 60,000 students on 6,000 teams in 25 countries around the world will participate this season.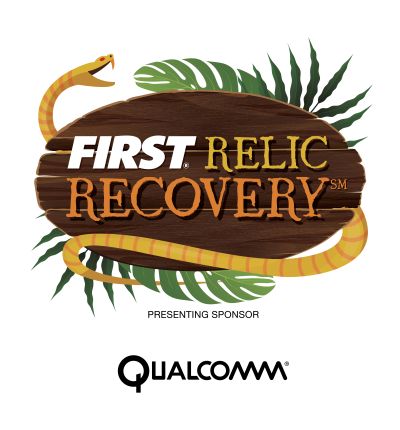 FIRST Strategic Partner Qualcomm returns as the Season Presenting Sponsor for the 2017-18 FIRST Tech Challenge season. With its commitment to teams, via direct funding and time donated by hundreds of employees, Qualcomm is doing its part to bring innovation, collaboration, and STEM education to students all over the world. Qualcomm directly supports events, programs, and thousands of teams globally.
"FIRST is about so much more than robots. In addition to hands-on experience with cutting edge technology, FIRST participants learn leadership and other skills critical to succeed in industries like ours, where brilliant minds need to constantly push the boundaries of what's possible," said Matt Grob, executive vice president of technology for Qualcomm Technologies, Inc. "I am proud of our longstanding relationship with FIRST and excited to return as the FIRST Tech Challenge Season Presenting Sponsor."
FIRST Tech Challenge is a widely accessible robotics program for grades 7 through 12 that promotes project-based learning. Teams design, build, program, and operate small robots – about the size of an average microwave – to compete in a new game each year.
"The true value of FIRST Tech Challenge is in the experience of working as a team to do something you didn't think was possible. It's about self-discovery, team building, and problem solving," said Donald E. Bossi, president of FIRST. "That's why FIRST programs are perfect for educators to use to help their students transfer classroom concepts to real-world applications and prepare them for the future. That's also why 200 colleges, universities and other providers make $50 million in scholarships available to FIRST students."
In the 2017-18 game, FIRST RELIC RECOVERY, teams work in an alliance to go on a robot adventure. The goal is to score more points than the opposing alliance during 150 seconds of game play that includes autonomous and driver-controlled periods. Teams score points by navigating to specific parts of the 12x12-foot playing field, retrieving opponent-colored jewels from platforms, scoring square "glyphs" into grid-shaped cryptoboxes, creating cipher patterns with the glyphs, moving "relics" to a "recovery zone," and parking on "balancing stones."
"We're excited for FIRST Tech Challenge teams to dig in to RELIC RECOVERY," said Ken Johnson, director of FIRST Tech Challenge. "This year, we're introducing the REV Robotics Expansion Hub to streamline wiring and give teams more options in how they build their robots, all while reducing team cost. Combined with the capability of the Android operating system and the Qualcomm® Snapdragon™ processor at the heart of the control system, teams can build truly innovative designs."
FIRST Tech Challenge programs use a proven formula to engage student interest in science, technology, engineering, and math (STEM) and boost self-confidence. 86 percent of participants have an increased interest in doing well in school, 87 percent are more interested in going to college, and 92 percent experience an increase in their leadership skills.
Need-based grants supported by generous sponsors are now available for new and returning FIRST Tech Challenge teams participating in the 2017-18 season. Learn more about team grants.
FIRST Tech Challenge Global Sponsors include Official Program Sponsor Rockwell Collins, Official 3D Augmented Reality/Virtual Reality Sponsor PTC, and Season Presenting Sponsor Qualcomm.

---
About FIRST®
Accomplished inventor
Dean Kamen
founded
FIRST
®
(For Inspiration and Recognition of Science and Technology) in 1989 to inspire an appreciation of science and technology in young people. Based in Manchester, N.H.,
FIRST
designs accessible, innovative programs to build self-confidence, knowledge, and life skills while motivating young people to pursue opportunities in science, technology, and engineering. With support from over 200 of the Fortune 500 companies and more than $50 million in college scholarships, the not-for-profit organization hosts the
FIRST® Robotics Competition
for students in Grades 9-12;
FIRST® Tech Challenge
for Grades 7-12;
FIRST® LEGO® League
for Grades 4-8; and
FIRST® LEGO® League Jr.
for Grades K-4.
Gracious Professionalism
®
is a way of doing things that encourages high-quality work, emphasizes the value of others, and respects individuals and the community. To learn more about
FIRST
, go to
www.firstinspires.org
.
FIRST®, the FIRST® logo, FIRST® Tech Challenge, and RELIC RECOVERYSM are trademarks of For Inspiration and Recognition of Science and Technology (FIRST®). All other trademarks are the property of their respective owners. ©2017 FIRST. All rights reserved.

Qualcomm and Snapdragon are trademarks of Qualcomm Incorporated, registered in the United States and other countries. Qualcomm Snapdragon is a product of Qualcomm Technologies, Inc.