Making a positive impact on society and demonstrating unparalleled financial stewardship summarizes our Fiscal Year 2015. Now in our 26th year, FIRST has grown from 28 U.S.-based teams in the initial competition season to more than 44,000 teams today in over 80 countries, involving 400,000 kids and Volunteers filling over 200,000 roles. Evaluation data tells us that 75 percent of FIRST Alumni are now studying for or working in STEM careers, and female FIRST participants are four times more likely to study STEM subjects due to participation. That's impact with a capital "I." And in terms of financial stewardship, FIRST achieved its tenth consecutive four-star rating from Charity Navigator, certifying our continued commitment to accountability, transparency, and sound fiscal management. This places FIRST in the top 1% of all U.S. charities evaluated by Charity Navigator. Learn more about our impact and stewardship from our 2015 Annual Impact Report and our FIRST Audited Financials below.

Our report on results and progress is available for download. Includes messages from FIRST founder, Board co-chairs, and president; a summary of progress in the FIRST Robotics Competition, FIRST Tech Challenge, FIRST LEGO League, and FIRST LEGO League Jr. programs; FIRST financials; and an acknowledgement and listing of FIRST supporters.
FIRST Audited Financials FY2016
FIRST Financial Statements for Fiscal Years ending June 2016 and 2015 with Independent Auditors' Report.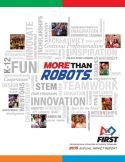 2015 FIRST Annual Impact Report