From Robots to IT: How One FIRST Alum and Mentor Got a New Job at FedEx
Jul 03, 2018
Written by Jason Baker, FedEx
Editor's Note: This post was originally published on the blog of FIRST sponsor FedEx.
If you happened to find yourself at this year's FIRST Championship – the world finals for student robot competitions – here's what you'd see:
Everywhere you look, gobs of excitement and squeals of fun as the smartest kids in the world created and competed in a non-stop festival of technology. The massive event is the culmination of months (sometimes years) of work by students, mentors, and parents. Tens of thousands of students are united by their passion for making the world a better place through technology.
But you get the distinct feeling that this is led by the students, not by the older folks. It represents the very best of what we can become.
FIRST students take pride in Coopertition – a FIRST philosophy that directs students to help and cooperate with each other even as they compete.
Many of these students hold their own patents for devices they have created. Most of them can create a program in minutes. And they all will inspire you.
This year at FIRST Championship a FedEx robot roamed the hallways. It's part of a growing fleet of robots used in our tech repair centers to help carry parts back and forth between technicians, allowing those techs to focus on their complex work, rather than move back and forth through hallways and elevators.
FIRST robots are heavy, and they need to go places, so FedEx donates over $1.5 million in shipping each year to get the kits of parts to each team, and to move the giant finished robot crates to & from FIRST Championship.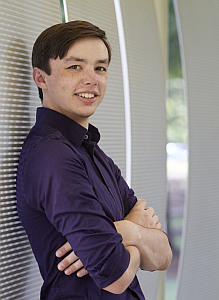 The students took an immediate liking to Commodore and Jason, the two FedEx robots that attended. Selfies and smiles greeted
them each day as FIRST gave them a warm welcome to this robo-palooza.
One FIRST alum and mentor noticed the FedEx bots, and made his way over to the FedEx booth to get a closer look. As Wil McKenney talked to the FedEx team members who operated the robots, one suggested that he apply for one of the open FedEx IT positions.
Wil applied for a software developer position and was hired within weeks!