Afghanistan's First Female Tech CEO on the Importance of Digital Literacy
FIRST Community Spotlight: Roya Mahboob, Mentor, "Afghan Dreamers"
Apr 17, 2018
By FIRST Staff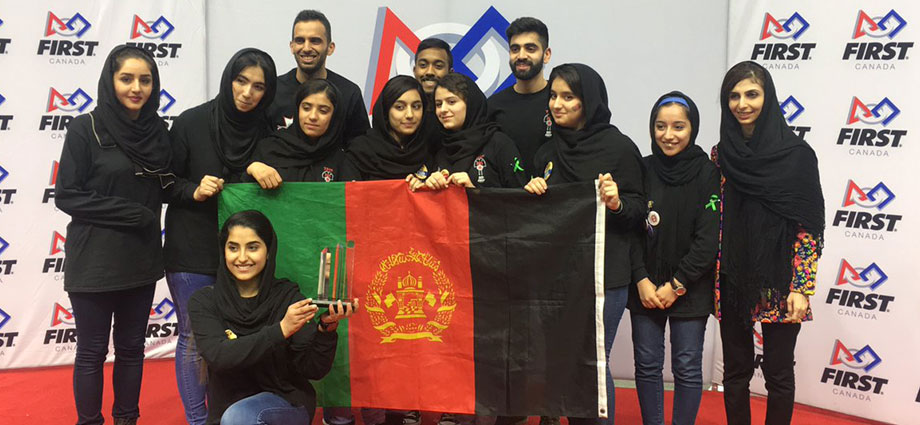 Roya Mahboob is a serial entrepreneur and the CEO and president of the Digital Citizen Fund, a nonprofit with the mission to empower and educate women and children through digital literacy, sustainability and community building in developing countries like Afghanistan, where she was born. Roya, who used her first computer at age 16 (just 10 percent of Afghanistan's population has internet access, according to the Digital Citizen Fund), became Afghanistan's first female tech CEO in 2010, at age 23. In 2013, she was named one of TIME's 100 most influential people in the world for her work building free internet-enabled classrooms in Afghanistan.
Through the Digital Citizen Fund, Roya sponsored and mentored the "Afghan Dreamers," the all-girls Afghan robotics team she formed to represent Afghanistan at FIRST Global. Since then, the team has traveled around the world for competitions and meetings with tech, education, and government leaders. The students hope to take what they've learned to be role models in their country and make it a better place to live.
Most recently, the team has been competing in Canada for the 2018 FIRST Robotics Competition season, winning the District Championship Rookie All Star Award at the FIRST Ontario Provincial Championship over the weekend. The team will compete in Detroit next week at the 2018 FIRST Championship, presented by Qualcomm® Incorporated.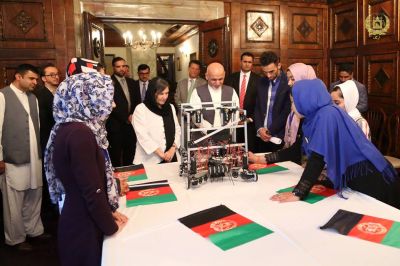 Inspired by her work with the team, Roya is helping to establish Afghanistan's first STEAM high school. We spoke with her to find out more about the Digital Citizen Fund and the impact of the Afghan girls robotics team.
What inspired you to cofound the Digital Citizen Fund?
I started the Digital Citizen Fund in 2012. I saw that the technology and internet had a way of impacting my personal life and my professional life. Becoming a digital citizen has allowed me to travel anywhere in the world, and I can have access to any information I want. It's helped me to extend my business and not be limited by the border of the country. I started the Digital Citizen Fund to help women become digital citizens. The idea was that by helping women learn about technology, social media, coding, gaming, and financial literacy, they will have the digital skills to find a job and become financially independent. So far, we have helped almost 12,000 students enroll in our programs. Many of them don't know what a computer looks like or don't have access. We're building IT training centers inside public schools in Afghanistan and we're teaching girls mostly between ages 12-18.
We also provide financial literacy to teach the kids how to manage money from living at home to starting businesses. That was a game-changing program we started three years ago: We had 100 women start small businesses. Some of the businesses really did succeed. For example, one of our students has more than 25 people work for her. One of our focuses is that, when they start a business, they focus on becoming a social entrepreneur. Giving back to your community is our top priority.
Prime Minister Justin Trudeau meets with The Afghan Dreamers team in Ottawa before they participate in @CANFIRST Robotics Competitions in Toronto and North Bay, Ontario. #girlsinSTEM pic.twitter.com/zGz79bM3eo

— CanadianPM (@CanadianPM) February 28, 2018
You've said that when you help one woman gain skills in financial and digital literacy, it will help her entire family and community.  How have you seen that happen?
When you empower one woman in a country like Afghanistan, she starts to make money, and when she makes money she can help her family. Money is important; it has the power to actually change dramatically how society treats the woman. If she has the money and has provided money in the home, she can talk, she has a voice, so that's very important. Her family members' views will change in time.
The other thing is that when one woman -- with respect of the tradition, with respect of the culture – can make money and provide job opportunities to other people, it makes a role model for other families to follow. We saw it in our programs with many of these girls, especially who began their own startup. Many family members start off with the ideology that girls shouldn't start a business, but later on they get involved in the business and the business grows or becomes a family business.
Some of our students start by helping their father or brother with taxes. For a country that has a conservative society, people think women don't have the ability or she has to get married. If she can help to bring income to the home or help the father or brother or husband in accounting, or designing the website, or helping the business - this is what they expected of the boys. When they see girls can do the same, it gives you change, especially with the fathers.
You're a mentor to the Afghan girls robotics team and many other young women who go through your organization. What advice do you give to young women you mentor?
I always tell them to make an image of who they want to be and that they should dream big, but they have to work very hard. To make their dreams a reality, hard work, passion, and love is necessary.
What impact have you seen the success of the Afghan girls robotics team have?
Everything started at FIRST Global. It was kind of difficult to find teenagers to participate because in a country like Afghanistan, robotics is very new, and few people know how to do it. We did an exam and got 150 students and selected 20. Then we ended up picking fewer students because the most important thing was that we had the family's permission for travel. We started training, and went to the United States.
When we came back, we saw there was a movement started. The impact was much bigger than other projects we've been involved. It's bringing hope and happiness to the Afghan community and it's a means for our leaders to rethink the ability of the youth that was ignored for many years. Afghanistan is a very young population, and more than 50 percent of the population are teenagers. Ignoring them or not providing opportunity or necessary skills so that they can compete in the 21st century is not a good idea.  If you give them the same opportunity to education and technology, they can invent, design, and create things that can change your life and the community. We are going to build the first school of science, technology engineering art and math for talent in Afghanistan.
We have 12 students on the robotics team and we are going to increase the number and also have more students and more girls have the opportunity to go to different places and bring them home to share their knowledge.
Your TIME 100 profile, written by Sheryl Sandberg, says you're working to change the culture by focusing on creating safe spaces for women to learn technology and be employed, while also giving them a platform to tell their stories. Why is that important?
Sharing stories was part of our first project that allowed women to write a blog and be paid in bitcoin.  Many girls can't really share what they have in their mind because it's not acceptable in the family. We decided to give them a platform so they could share their stories. They don't have to use their real name, but they had a chance to share it. We saw a lot of students jumping in to write about what's going on in their hearts or in their schools or whatever they had in their life, and that actually gives them a voice and helps students gain more confidence and share more. It helped them to look at themselves and get more advice and find better solutions for problem they see in their life. Meanwhile, when they read and write more, they're more educated. Many of the girls are very shy at the home and that's how it's supposed to be. Women need to talk and express their feeling. If they can't do it directly, they can write the blog and that helps increase their confidence to talk in the home as well.
---
If you have an inspiring story or piece of wisdom that you've picked up through your experiences in the FIRST community, please reach out to us at inspire@firstinspires.org and inquire about becoming a guest contributor for Inspire.