FIRST Alum Builds Solar Car
FIRST Community Spotlight: Tina Li, FIRST Alum; Stanford Solar Car Project
Oct 23, 2019
Written by FIRST Staff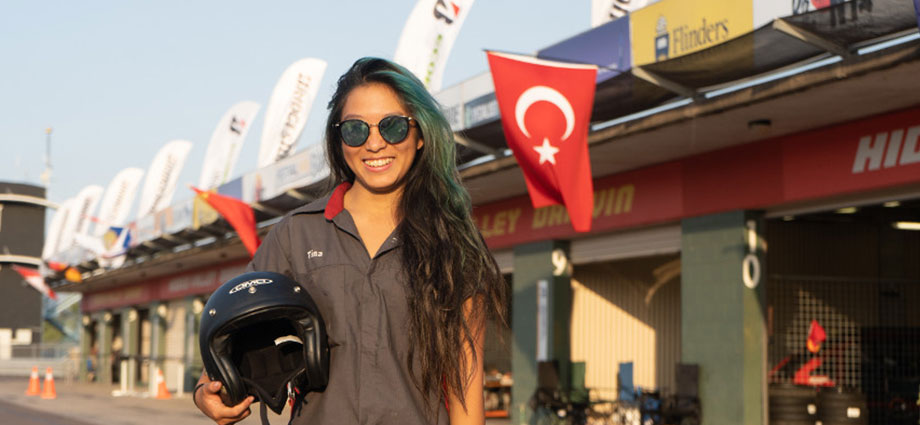 FIRST alumni know the thrill of working on a team, with limited time and resources, to complete an exciting design challenge – and the valuable skills that come from that effort. That's why Tina Li, a FIRST alum studying computer science and mechanical engineering at Stanford University, joined Stanford's World Solar Challenge team. Li and her teammates (including other FIRST alumni) designed and built a solar-powered car the qualified for the prestigious annual race across the Australian Outback: 3,000+ km (or more than 1,800 miles) from Darwin to Adelaide. Li said the experience has shown her how renewable energy and electric cars are the future. "I was honestly amazed at how efficient these cars are," she said.
Unfortunately, Stanford's 2019 World Solar Challenge car, Black Mamba, suffered a battery fire during the race last week. No one was hurt, but the incident ended the race for the team. However, like FIRST, the challenge was about much more than crossing the finish line. From Australia, Li answered questions about what she and her teammates have learned from spending the past several months designing, engineering, building, testing, and transporting a solar car – and how the challenge built on her FIRST experience.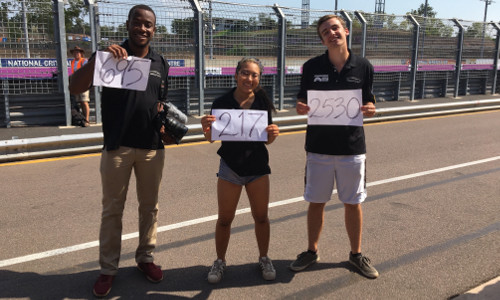 FIRST: What inspired you to join Standard's World Solar Challenge team? How did your FIRST experience influence that?
LI: I joined the Stanford Solar Car Project (SSCP) about two years ago because I wanted to learn more about mechanical engineering and become better at design and manufacturing. In general, the World Solar Challenge is such a unique design competition:  We travel 3,000+ km across the Australian Outback on real roads, carrying a human driver (me sometimes), so the design has to be really well done. I also really missed being on a giant team/family where everyone is working toward a common goal, so SSCP filled that role as well. During FIRST, I mostly did code and electrical, so I want to broaden my horizons in college. 
FIRST: What is your role on the team, and how do the team roles/collaborations compare to FIRST teams? Are there other FIRST alumni on the team?
LI: My role on the team is a mechanical engineer designing the front suspension upright as well as the steered fairings system, which allows the wheels to turn out of the aerobody. I've also helped the embedded code team with telemetry and strategy.  Currently, I'm on race crew this cycle, which means I took a quarter off school to attend the competition and drive the car. The roles on the team are similar to FIRST, with the addition of a battery team and array team. There are FIRST alumni on the team:  Cameron Haynesworth from FIRST Robotics Competition Team 695 and Peter Hansel from FIRST Robotics Competition Team 2530. Honorary member Cross Knight is from FIRST Tech Challenge Team 5257. 
FIRST: What was your biggest takeaway from this experience, heading into the race?
LI: My biggest takeaway is learning how to be scrappy and analyze things quickly with hand calcs and experiments. While we brought tools and supplies with us, we don't have the full machine shop or resources we have at Stanford. When things break or we need to create new things, we have to think outside of the usual engineering methods to make something happen. 
FIRST: What makes Standard's 2019 car, Black Mamba, unique compared to past years'?
LI: Black Mamba is unique because it's the first time we tried a bullet car design that has an asymmetric bubble for the driver. The asymmetry is because we don't want to shade the solar array and the array can be one continuous block.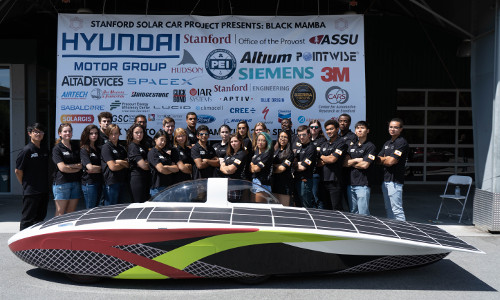 FIRST: What was an unexpected hurdle you experience while building the vehicle, and how did you solve that with your team? Was the problem-solving process similar to anything you encountered during your time in FIRST?
LI: An unexpected hurdle was the design for the steered fairings. Our bullet car doesn't have a channel through the center like a catamaran, so our wheel width is very narrow. For the wheels to turn all the way when cornering, the sides had to open with little doors. However, these doors have to be closed on default during the race, be relatively simple to actuate, and be detachable. This was surprisingly hard to do, and we went through many design iterations with cables and rods and other options before settling on our final design. The final solution involved custom CNC'ed (computer numerical control router) hinges with springs, and the upright has an actuation rod that'll push out the door when the wheels turn. FIRST alum Cross Knight helped significantly in the design and the prototyping and iteration process. This definitely reminded me of the problem solving involved with FIRST. 
FIRST: This year's FIRST theme is all about building sustainable cities for the futures. What insight has your experience given you about the possibilities of solar energy and cleaner vehicles?
LI: It blows my mind that with just the sunlight, we can go a steady 60 kph forever without having to pay for any gas. Sure, it's pretty uncomfortable, and sunshine is a hard requirement, but with increasingly efficient battery technology and solar cells, renewable energy and electric cars are definitely the future in my opinion. 
FIRST: What's one piece of advice you would give to students in FIRST?
LI: Try new things! I started as just a coder in FIRST, then bounced to being a mech. Because of my experiences in both, I'm able to jump between departments easily and learn about every subsystem on the car. 
FIRST: After the Challenge, what's next for you?
LI: I'll be finishing up Stanford, then probably start full time at SpaceX, where I've been interning at the last 2 summers. I'm really excited about their mission of bringing humanity to the stars, and at the end of the day, it's just another exciting design challenge just like FIRST and the World Solar Challenge. 
Read more: FIRST also inspired Li to found a tech camp, Hello World, to help close the gender gap in engineering.
---
If you have an inspiring story or piece of wisdom that you've picked up through your experiences in the FIRST community, please reach out to us at inspire@firstinspires.org and inquire about becoming a guest contributor for Inspire.