An Engineer's Greatest Legacy: Inspiring the Next Generation
In Celebration of Engineers Week
Feb 21, 2020
By Larry Cohen, FIRST President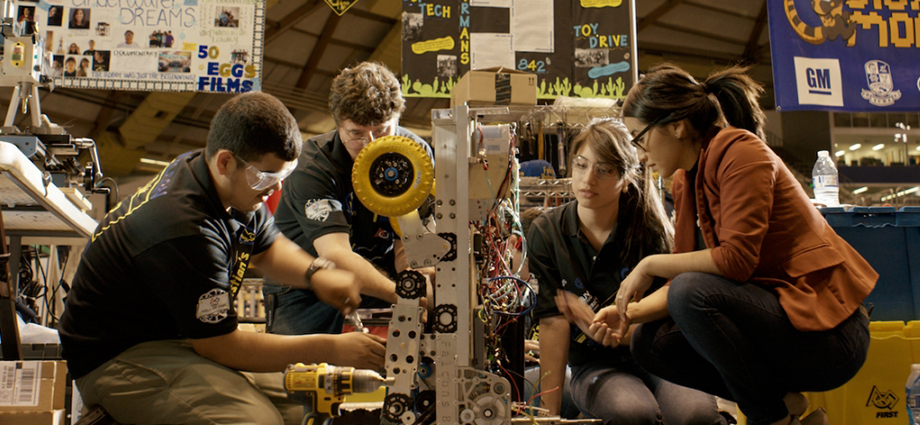 "My greatest invention is helping create thousands of new inventors." – Dean Kamen, founder of FIRST


"The joy of engineering the future belongs to the young. What better time to start dreaming big." –Jeff Bridges, narrator of "Dream Big: Engineering Our World"
My father was a brilliant engineer who inspired my lifelong love of learning, nurtured the values that guide my passion to make the world a better place, and encouraged me to dream big. I have been fortunate to work with teams of engineers, educators, and community leaders on missions that meaningfully change lives and solve great challenges. I've learned that the greatest professional legacy an engineer, educator, or anyone can leave behind is to inspire the next generation of leaders.
In celebrating engineers who build, invent, and shape our world, the 2017 documentary, "Dream Big: Engineering Our World," sponsored by FIRST Strategic Partner Bechtel, takes care to highlight those who inspire the young people who will be the great minds of tomorrow. The movie, which you can stream on Netflix this Engineers Week, features stories of inspiring engineers, including two extraordinary individuals associated with organizations that have inspired me: FIRST, a robotics community preparing young people for the future, and Bridges to Prosperity, an organization that provides isolated communities with access to essential health care, education and economic opportunity by building footbridges over impassable rivers.
STEM educator Fredi Lajvardi has inspired students as a coach and mentor for the FIRST Robotics Competition team at Carl Hayden High School in Phoenix, Arizona. One of those students he inspired is Angelica Hernandez, who says she didn't know what an engineer did until she joined Fredi's robotics club as a student. "I discovered the competitions and the mentoring, both of which I found that I loved," she said. Today, Angelica is an engineer and mentor and credits Fredi with changing her life. Their team, Falcon Robotics, gained fame and grew exponentially as a club after students entered an underwater robotics competition and beat a team from MIT for the top prize. Angelica has often returned to inspire future engineers alongside the teacher who inspired her.

Civil engineer Avery Bang has dedicated her career to eradicating poverty caused by rural isolation. She began as a volunteer for Bridges to Prosperity and is now president and CEO of the nonprofit which has built more than 250 bridges in isolated communities serving over 1 million people in 22 countries. Avery is committed to providing safe access to the world's rural last mile, and she is driven by the belief that isolation is a root cause of poverty and connection is the key first step in helping communities thrive.
Nurturing a Diverse Pipeline of Engineers
As Angelica's experience on Falcon Robotics exemplifies, mentors and educators have an enormous impact on our lives, including our career aspirations and paths. At FIRST our mission is to inspire young people to be science and technology leaders and innovators and prepare them to solve the world's toughest challenges. We believe every student should have access to FIRST programs and the opportunity to pursue careers in engineering and other STEM fields. Mentors and educators are the heart of our programs - caring adults who understand young people's backgrounds and experiences can introduce them to a wide range of career options and provide the encouragement and guidance to help them achieve their dreams.
Through our equity, diversity, and inclusion strategic activities (ED&I), we've found that mentors and educators are key to reaching youth in underserved and underrepresented communities – as important as removing access barriers like transportation and costs. When we survey adults who mentored teams through our ED&I activities, over 89% indicate an increase in STEM interest, engagement, teamwork, and problem solving skills for the participating students.
Together with 300,000 mentors, coaches, volunteers, and sponsors, the FIRST community is inspiring 660,000 youth participants in 100 countries to imagine and build a better future for themselves and their communities. By joining us and mentoring a team or volunteering at an event, you can work side by side with FIRST participants to help develop their leadership and problem-solving skills, their sense of belonging and self-confidence, and inspire them to dream big. Learn more about volunteer opportunities with FIRST.
Building a Better Future Together
We need more engineers and other STEM professionals and advocates nurturing and inspiring our young people. 84% of educators say a visit from an engineer or technical professional helps students learn about engineering careers, yet 74% say their students do not have many opportunities to meet these professionals, according to DiscoverE, the organization behind Engineers Week and its mission to engage students in engineering. To get started, you can lend your expertise to a local student robotics team, volunteer to speak about your career in a local K-12 classroom, or host an engineering activity at a local maker space or library. DiscoverE has some great resources to help you talk to kids about engineering.
---
Subscribe to our blog email digest to get more posts from FIRST President Larry Cohen and others in the FIRST community in your inbox. If there's a topic you'd like to guest contribute or hear about from FIRST leaders, please email inspire@firstinspires.org.