Broncos Star Casey Kreiter on Science and Competition in Football and Robotics
FIRST Community Spotlight: Casey Kreiter, Long Snapper, Denver Broncos
Apr 15, 2019
Written by FIRST Staff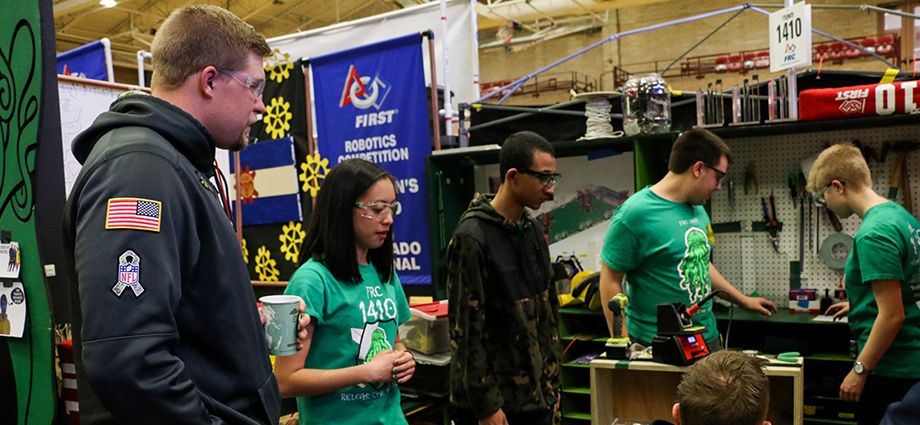 Beginning this week, more than 70,000 people will descend on Houston and Detroit for the Super Bowl of robotics, FIRST Championship, presented by Qualcomm® Incorporated, and you never know who will join us. Our competition events often attract athletes, entertainers, and public figures looking to support STEM education and to be inspired by the energy of young minds in their communities.
Casey Kreiter, a fourth-year long snapper for the Denver Broncos and National Football League Pro Bowler last season, experienced the excitement of our events first-hand when he visited a FIRST Robotics Competition regional at University of Denver in 2017 and spoke to teams as part of the Broncos Tackle STEM initiative. An avid supporter of STEM education and FIRST, Kreiter was studying to be a science teacher before he joined the Broncos. He shared more with us about connections between football and STEM and what makes robotics a great sport to get involved in.

#FIRST30 message from @caseykreiter, long snapper for the @Broncos (and former science teacher). Thanks for helping us celebrate! pic.twitter.com/82GKSFoQWP

— FIRST (@FIRSTweets) March 20, 2019

FIRST: Tell us about your background as a science teacher, and how you went from that to playing professional football for the Denver Broncos.
KREITER: I have always enjoyed science and nature. My father was a biology teacher at my high school and was my first introduction to science education. Sports have also always been a huge part of my life. While I was in college, I got to the point in my educational career where my adviser said you have to choose a major. It just made sense to try and pursue science education. After graduating with a degree in science education, I tried my hand in the NFL. I was cut twice and spent those two seasons not playing but subbing in the Iowa City area. It was actually during a nervous system lesson during the end of my student teaching when the Denver Broncos called and scheduled a workout. I won the job and have been with the Broncos ever since.
FIRST: The skills you learn from STEM education can apply to any career. What STEM concepts or skills come into play in the game of football?
KREITER: I think the biggest STEM skill that translates to my sport, and in my opinion any profession, is the science literacy part. Having to watch film objectively and observe my craft with a critical eye, and then make a plan (experiments) to try and fix a problem is huge. I truly believe that skill was advanced by being in the STEM field for so long. Also, just the raw science that comes in the sport. The physics of the actual snapping movement, using math to calculate snap speeds and distances, and the technological tools we use to evaluate film.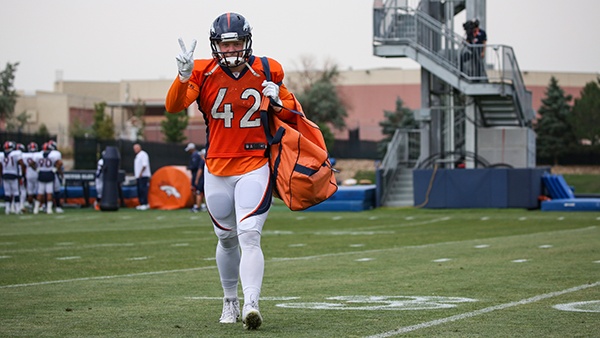 FIRST: Do you ever plan to return to a career in STEM education?
KREITER: I absolutely plan on going back to teaching science. I actually would really like to go back to school and possibly get endorsed in engineering also [so I can] explore STEM a little more than I could teaching just biology/chemistry.
FIRST: You've attended FIRST events and spent time with FIRST teams. What makes robotics a sport?
KREITER: The competitive nature of FIRST is what stood out to me from the jump. Watching the teams put together a plan pre-competition and then do their best to execute was inspiring. Each team member had a role, and everyone had to execute to be successful.
FIRST: What advice do you give kids who, like you, are interested in both STEM and football?
KREITER: I think the important thing for kids who are interested in anything is to not only pursue what they love, but when they are young, be sure to try a multitude of things. You never know what skills you will learn from different experiences and how those skills will benefit you. I would have not made it to this point in my career without STEM.
---
If you have an inspiring story or piece of wisdom that you've picked up through your experiences in the FIRST community, please reach out to us at inspire@firstinspires.org and inquire about becoming a guest contributor for Inspire.