How to Develop Students' Holistic Skills Through FIRST Core Values During Distance Learning
FIRST @ Home Activities for Social-Emotional Learning
Jun 18, 2020
By Libby Simpson, FIRST Director of Education; and Faith Bongiorno, FIRST Education Implementation Specialist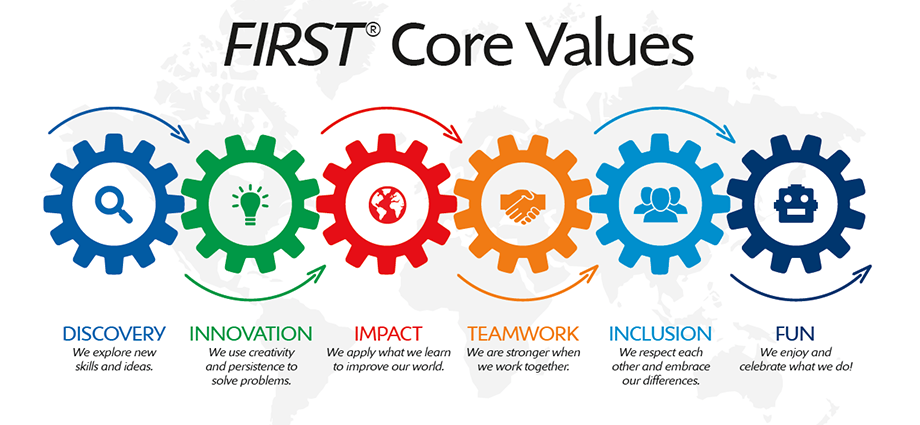 The true value of FIRST is that we are about so much more than robots. At the heart of our community are the FIRST Core Values. As part of the FIRST Education team, we want to shed some light on what that means for educators, parents and students, along with beneficial ways that you can incorporate the methodology of FIRST in your learning environment.
These core values are woven throughout FIRST programs. Participants not only know FIRST Core Values; they're encouraged, judged, and expected to project them in all they do. Our secondary grade level programs are competitive, but unlike in traditional team sports, our teams work hard at coming out victorious over the problem versus their opponents.
Nurturing Development of Holistic Skills
Education today is more than teaching facts and figures. Students bring a variety of emotional baggage with them into the classroom, and school itself is often a web of complex social structure. Participation in FIRST programs builds tools for students to perform within this environment while preparing for future life events, both personal and professional. Student self-awareness and self-management are positive outcomes for those who participant in FIRST programs.
At the heart of the FIRST Core Values are the philosophies of Gracious Professionalism and Coopertition, our embodiment of social, emotional learning. These two concepts embody the practice of working hard at solving a problem, friendly competition, and collaboration towards solutions as part of a team. Coined by the late Dr. Woodie Flowers, whose popular MIT course "Introduction of Design Manufacturing" influenced the development of FIRST Robotics Competition with Dean Kamen in 1992, Gracious Professionalism impacts a student's development in communication, teamwork skills, problem solving, and leadership skills. FIRST students today continue to embody this ethos wholeheartedly. For example, this season, FIRST Robotics Competition team LASER 3284 developed #WalklikeWoodie initiatives to emphasize the importance of being a gracious professional and to honor his memory.
How can educators nurture development of these holistic skills? Integrate core value activities into the pedagogy. This can be accomplished through several pathways, depending of the grade level of the students. For example, simple yet effective team building activities can be explored in the classroom, community engagement efforts create a larger network for students to have meaningful engagement opportunities in their communities, and relationship development with professionals who mentor teams. FIRST programs nurture the development of the whole child instead of the building of one skill set, and this begins with the core values.
Practicing Social-Emotional Learning at Home
In our current environment of safe-at-home and social distancing the emotional toll on students still exists but can look very different. The concepts of what students learn with FIRST still applies, maybe now more than ever. "Work done" is not the same as learning in our current environment; worksheets and online assignment are used to facilitate learning but, in the end, this is not education. FIRST is attempting to break up this tactic with a series of activities that allow students to practice core values, creativity, and allow some control over their learning. Our content series is structured to be clear with students about what they will learn and ask them to keep track of their learning, collect evidence, share learning and reflect on the learning and FIRST Core Values.
Educators, parents, and coaches can create an engaging environment for students by incorporating core values into the daily routine, including during distance learning. We have developed a parent guide to help use this process at home with other academic material. Practice FIRST Core Values at home with your students, child or team using these activities:


FIRST remains committed to continuing our efforts to give students the skills and confidence they need to change the world - today and tomorrow. We'll be sharing more STEM learning and skill development activities that can be easily facilitated from home during distance learning, virtual summer camps, virtual team meetings, and other remote environments over on our FIRST @ Home page.

---
If you have an inspiring story or piece of wisdom that you've picked up through your experiences in the FIRST community, please reach out to us at inspire@firstinspires.org and inquire about becoming a guest contributor for Inspire.