Disney, Lucasfilm, and FIRST Join Forces Once Again to Inspire Young Innovators and Expand Access to STEM Education
Build the Future powered by Star Wars: Force for Change to Spotlight Forces for Good in the FIRST Community
Jan 08, 2022
By FIRST Staff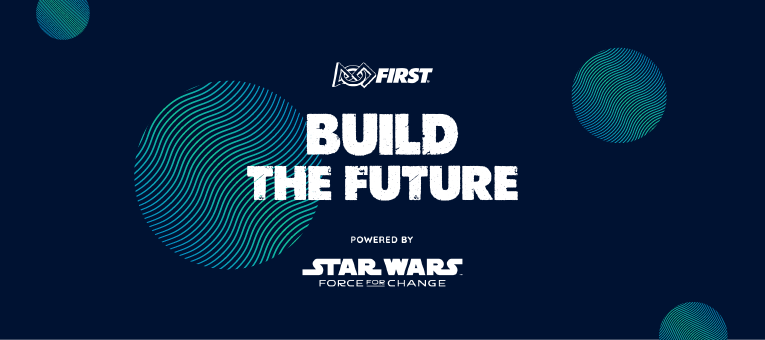 For over three decades, FIRST has been building a movement to introduce millions of young people to STEM (science, technology, engineering, and math), preparing them for the future, developing confidence, and inspiring them to be the leaders of tomorrow. And for more than 20 years, Disney has been a proud supporter of FIRST, providing today's youth with inspiration, access, and opportunity through STEM. This year, Disney and FIRST will continue to bring more hands-on learning opportunities and mentorship to the next generation, empowering them to not only think big, but to develop the skills needed to become tomorrow's heroes, innovators, and forces for good.
As a FIRST Strategic Partner focused on reducing barriers to underrepresented, underserved youth, Disney and Lucasfilm, through the Star Wars: Force for Change philanthropic initiative, provide financial support as well as mentorship and storytelling opportunities to inspire, strengthen, and diversify interest in science and technology careers. Their commitment to providing opportunity to more youth worldwide has expanded, with a new investment now reaching more regions than ever before – including Japan, Philippines, Australia, Chile, Colombia, Mexico, Spain, Brazil, United Kingdom, Turkey, South Africa, and Germany.
In 2020-2021, with funding provided by Disney, FIRST was able to deliver STEM program access to 51,318 students in underserved and underrepresented communities. And although the COVID-19 global pandemic interrupted almost all teams, emerging outcomes show a trend toward gains in STEM interest, leadership skills, sense of belonging and problem solving.
This year, Disney and Lucasfilm are building upon their good work to help FIRST teams share stories of how they are using their FIRST-learned skills, beyond gameplay, to create a better, more inclusive future for everyone.
Today, Disney, Lucasfilm, and FIRST are proud to announce Build the Future powered by Star Wars: Force for Change. Build the Future will give FIRST teams around the world an opportunity to amplify their unique stories as thinkers, innovators, and forces for good and to demonstrate the use of their STEM skills, Gracious Professionalism®, and global citizenship while off the field. The most impactful stories will be featured in an upcoming FIRST multi-media campaign together with Disney and Lucasfilm.
"We're thrilled to be shining a spotlight on FIRST students and their stories through Build the Future," said Lynwen Brennan, Executive Vice President & General Manager at Lucasfilm. "As future technologists, engineers, and changemakers, today's students hold the promise of enacting real change and creating a brighter future for all. Their creative, groundbreaking ideas will help our society confront increasingly complex challenges – from health and hunger to climate and clean water."
"We're grateful to have innovative partners in Disney and Lucasfilm helping to grow our impact," said Chris Moore, chief executive officer of FIRST. "Disney has provided our organization with invaluable financial and creative support for more than two decades. Their call for us all to be "forces for change" combined with our deep commitment to the FIRST Core Values, has inspired our community to build a better future through innovation and inclusion in their hometowns and around the world. With Build the Future, we look forward to sharing our students' incredible ideas and stories."
Watch our Build the Future announcement video below featuring actors from the Star Wars galaxy Hayden Christensen, Ming-Na Wen, and Kelly Marie Tran.
---
If you have an inspiring story or piece of wisdom that you've picked up through your experiences in the FIRST community, please reach out to us at inspire@firstinspires.org and inquire about becoming a guest contributor for Inspire.