Filmmaker Shines Light on Rural High School Robotics Team
FIRST Community Spotlight: Joe Brandmeier, Director / Producer of small town ROBOT
Jan 21, 2019
By Donald E. Bossi, FIRST President
Earlier this month, we kicked off our latest FIRST Robotics Competition season, which means right now, around the world, 3,800 teams of high school students – under guidance of professional mentors – are working hard under deadline to design, build, and code large robots to compete in this year's space-themed game. As president of FIRST, I'm endlessly amazed what our teams can accomplish with their limited resources.
Many of our inspiring teams manage to garner the support of their entire community. People love to rally behind local youth sports team, and robotics teams are no exception. Director Joe Brandmeier found that out when he created a short documentary about FIRST Robotics Competition Team 5172 "Gator Robotics," a high school team from Greenbush, Minnesota. Team 5172 qualified for our international FIRST Championship in Detroit last year with the support of businesses and community members in their rural town (population 719). As Joe puts it, the FIRST students were the "camp fire" the tight-knit community gathered around.
The result of Joe's storytelling is an award-winning short documentary called small town ROBOT, which received the Audience Award, Short Film, after premiering at the Twin Cities Film Fest in October. I'm honored Joe turned his documentary lens toward this deserving FIRST team. Joe answered a few questions about his inspiration for the film.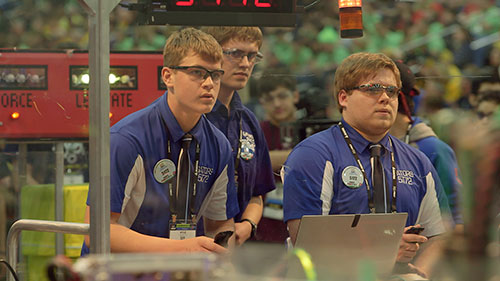 Don: What inspired you to create small town ROBOT?
Joe: I read an article in the Star Tribune (Twin Cities newspaper, where I'm based) and thought it was such a great story. A small town of 719 people in northern Minnesota, inches away from the Canadian border, competing against kids from all over the world – and winning – in such a cool program like FIRST! Kind of a robotic David in a Goliath world arena story.
That Sunday in April (2018), I made some calls up to Greenbush, Minnesota, to a couple of the key players in the article and about a day and a half later, I was in my car – with documentary cameras in hand – on my way north for the 6.5 hour drive.
I met with a few people, just to see if there was a story there – and what the "characters" involved were like. Everywhere I went and everyone I talked to – the story just kept getting better and better. Such passion from the kids, the mentors, and the community.
I ended up staying there for days – which is not normally how I do things when I produce and direct projects. I just followed the energy on this one, which took me all the way to Detroit for the FIRST Championship.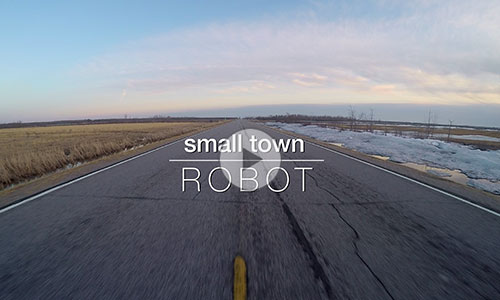 Don: Team 5172 comes from Greenbush, Minnesota – a small, passionate community that really rallies behind the robotics team. What was the impact of that relationship between the team and Greenbush?
Joe: One of the main mentors, Mary Anderson, summed it up best when she said, "Hockey parents hang together, basketball parents hang together, but here, EVERYBODY hangs together, the entire community and that's a cool thing!"
I really believe that – and saw it for my own eyes!  They supported each other: People helped out where they could, business and clubs donated money, and the kids brought a positive spotlight to their community and other kids struggling to find a place they fit in.  They were the "camp fire" people gathered around.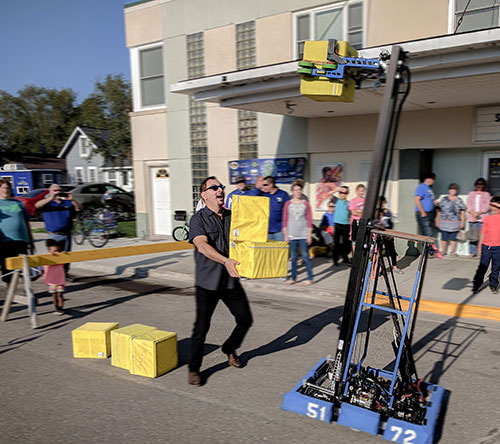 Don: What were you most inspired to learn during the process of creating small town ROBOT?
Joe: I love the fact that FIRST is SO MUCH MORE than competition!  It's about learning how to be a gracious professional, how to compete better, how to work well with others – it's not just about "me me me." By helping others, you help yourself – this was something I heard and saw often.  They were all lessons the graduating kids will take with them in to real life.
Don: What do you hope your audiences take away from watching the documentary (short)?
Joe: We can all learn to be less about "me" and more about helping others, seeing others point of views and figuring out how to work alongside each other in a peaceful, kinder way. Anything is possible when you believe and follow your heart.
---
If you have an inspiring story or piece of wisdom that you've picked up through your experiences in the FIRST community, please reach out to us at inspire@firstinspires.org and inquire about becoming a guest contributor for Inspire.