Get in the Game: Introducing the FIRST Innovation Challenge
Oct 01, 2020
Dear FIRST® Community,
STEM has always been the catalyst for innovation that moves our world forward. Through FIRST, we provide the critical inspiration that young people need to be driven and build a better world. That inspiration comes from our community ethos of Gracious Professionalism®, Coopertition®, and the FIRST Core Values of discovery, innovation, impact, inclusion, teamwork, and fun. This generation of scientists and innovators and the next are key to building a better future, and we must do all we can to prepare them with the inspiration, experiences, and skills they need to be catalysts for change.
Solving challenges through innovation is behind everything we do in the FIRST community. We saw that most recently in how teams across our programs responded to PPE shortages and other challenges presented by the pandemic. We're excited to share a new addition for this 2020/2021 season of FIRST® GAME CHANGERSSM powered by Star Wars: Force for Change: the FIRST Innovation Challenge presented by Qualcomm.
We're thrilled to be partnering with Qualcomm, a long-time FIRST Strategic Partner and champion of the "Invention Age," to expand innovation programming to include all FIRST programs, ensuring all students have a pathway to invention.
In FIRST® Tech Challenge and FIRST® Robotics Competition, teams will have the option to participate in an all-new Innovation Challenge where teams will identify a real-world problem or opportunity related to our season theme and design a solution, build a business model, and deliver a remote pitch to compete for advancement. FIRST® LEGO® League's Innovation Project remains a core part of the existing program. Each program will have its own advancement track, culminating in the Global Innovation Awards, a multi-day experience where students showcase their innovations, participate in workshops and receive mentorship from experts, and compete for awards.
Our FIRST GAME CHANGERS season theme challenges us to revolutionize the traditional world of sports and fitness, innovating the way we play and move to reach our individual physical and mental health goals. More information on the FIRST Innovation Challenge is coming soon; watch future FIRST Tech Challenge and FIRST Robotics Competition program team blasts for more on how to participate.
Competing to advance to the Global Innovation Awards is just one of many ways that teams can engage this season across learning environments.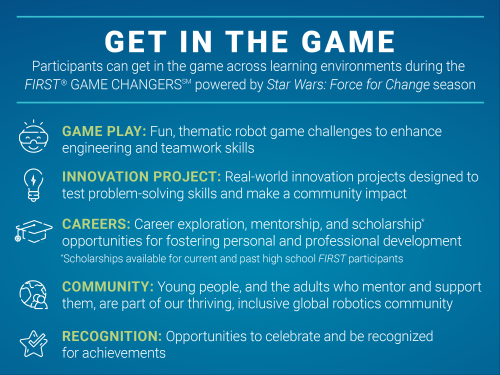 Download FIRST GAME CHANGERS season content
Ready to get in the game this season? Team registration for FIRST LEGO League and FIRST Tech Challenge is now open. Registration for FIRST Robotics Competition will open on Tuesday, October 6. We have implemented several changes to provide every student participant a valuable, enjoyable experience, regardless of learning environment this season.
If you're an adult interested in helping guide our teams through their innovations, check out the FIRST Mentor Network sponsored by NI. If you're interested in sponsoring opportunities like the Innovation Challenge, Mentor Network or other FIRST offerings, please contact Mark Giordono at mgiordono@firstinspires.org and 603.206.2417.
We hope that you will join us as we explore new and exciting ways to deliver our programs with your safety and wellbeing as our top priority. It's time to be GAME CHANGERS.
Your friends at FIRST HQ