Global Teacher Prize Finalist Creates Change With Robotics
FIRST Community Spotlight: Glenn Lee
Feb 27, 2018
By FIRST Staff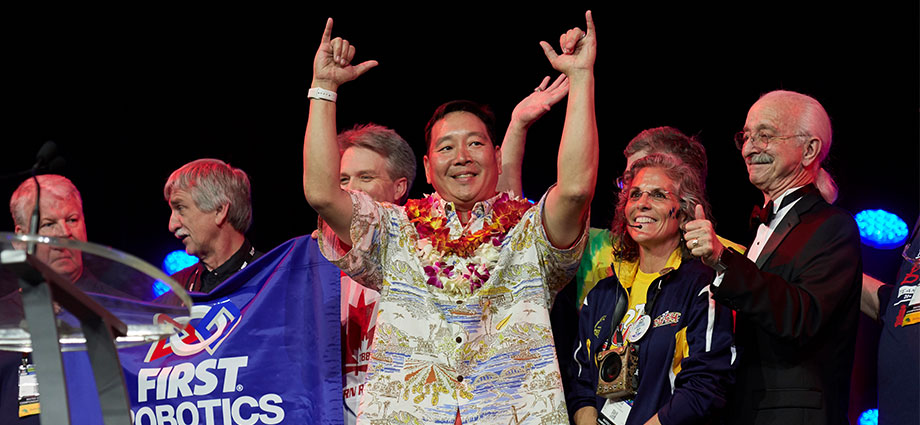 This week at FIRST HQ, we're inspired by a member of our FIRST community in Hawaii: Glenn Lee, teacher and mentor to FIRST Robotics Competition Team 359, the Hawaiian Kids. Recently, Bill Gates announced Glenn among the top ten finalists for the Varkey Foundation Global Teacher Prize 2018, selected from over 30,000 entries, for his pioneering efforts to ignite passion for STEM in his students through robotics. The winner of the $1 million prize will be announced at the Global Education and Skills Forum in Dubai on March 18. Congratulations, Glenn!
A trained electrical engineer, Glenn began teaching at Waialua High and Intermediate School in Waialua, Hawaii, in 1994. In 1999, Glenn co-founded FIRST Robotics Competition Team 359, the first robotics-related program in the state. He believes robotics is a catalyst for opportunity, and has inspired hundreds of students by sharing his knowledge, dedication, and enthusiasm.
At the 2017 FIRST Championship, Glenn received the Woodie Flowers Award, nominated by students, which recognizes mentors who inspire their students to understand the challenges, opportunities, and satisfaction involved in the discipline of engineering and design. Glenn is described by his students as the linchpin for Team 359: He is a small part of the overall function of the team, but also one of the most vital, holding together hundreds of FIRST youth, families, mentors, and colleagues from around the world.
We caught up with Glenn after he was named Global Teacher Prize finalist:
As an engineer-turned-teacher, what inspired you to make that change?
I have a Bachelor of Science degree in Electrical Engineering with a minor in Mathematics from the University of Hawaii at Manoa. After working briefly for eight months at Hawaiian Electric Co. during my senior year in college, I decided to embark on a career change after I graduated. During the summer break months, I used to teach math at middle schools and really enjoyed it. As a result, I made a sudden abrupt career change when the opportunity arose. With no formal student teaching experience nor any formal education training, I went right into the classroom on day one. Four years later, the University of Hawaii and the Department of Education allowed me to participate in an alternative certification program. Today I am a certified Math/Science and CTE Secondary Education teacher and also have a Master's in Business Administration.
As a Global Teacher Prize Finalist, the story of how you launched Hawaii's first organized robotics program in your rural high school is being shared widely. What do you hope people take away from learning your story?
First and foremost, it was a group of us that started the first FIRST Robotics Competition program in Hawaii. Two of us are still with the program today. Our former coordinator retired four years after the program started, and the program ended as a result. After a year of not doing FIRST Robotics Competition, my students bugged me about participating again because they had sorely missed it. With a renewed emphasis on building a foundation that addressed sustainability and incorporating robotics and STEM as a career pathway in our school curriculum, I took over as lead program coordinator and teacher and continue to do so 15 years later. Participation in FIRST Robotics Competition requires teamwork between students, the school, parents, mentors and the community. It also requires funding, especially for us here in Hawaii as we have participated in several competitions throughout the United States over the years, as well as other countries.

Working towards a strong foundation is critical in having a successful program and experiencing success in competitions. For our rural community with little to no resources, we have established strong partnerships with the community, businesses, foundations, and via grant opportunities.

What advice do you give new STEM teachers or robotics mentors about inspiring students?
Lead by example. Students are inspired by those who push them to learn and experience new things beyond their comfort level. The hardest working person in any robotics program starts with leadership, which sets the tone for everyone else, including mentors and volunteers. Our approach has also been to trust each other in ensuring student success. Having everyone with differentiated roles creates a learning environment that encourages responsibility, commitment, and teamwork.
---
If you have an inspiring story or piece of wisdom that you've picked up through your experiences in the FIRST community, please reach out to us at inspire@firstinspires.org and inquire about becoming a guest contributor for Inspire.