Growing the Next Generation of "Philanthroteens"
Jul 01, 2016
by FIRST Staff

As adults, the way to make the biggest impact on the world is to cultivate something that will outlive us. In order to ensure that we're making the future a better place to live, we should focus on cultivating the next generation of Philanthroteens.
No, we didn't make that term up (but we wish we did) –it's stated in a 2011 piece in the Huffington Post penned by Laura Arrillage-Andreessen, Founder of Stanford Center on Civil Society. As part of the blog series Giving 2.0, Arrillage-Andreeseen stresses the importance of raising giving children, and notes that volunteerism amongst teenagers has actually doubled since 1989 according to the corporation for National and Community Service. If we can encourage kids to start their philanthropic journey at a young age, imagine the ripple effect when these kids grow into young adults creating both nonprofit and for-profit companies with humanitarian missions.
So, how do we grow the next wave of Philanthroteens? The first step is to engage kids in something they can get invested in – whether it's educating them about a cause they relate to, or presenting them with a problem that needs to be solved. The next – and perhaps most important – steps are to help them recognize that they have a voice; their voice matters; and they can use their voice to make a difference.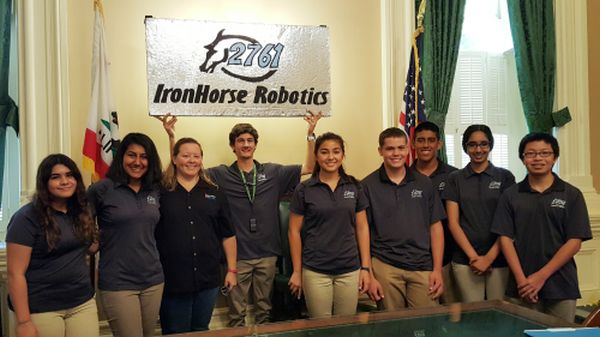 According to blogger and author, Beth Kanter, Gen Z (young people born between the late '90s and today) "…are the next generation of donors" and they "are not afraid to stand up for what is right."
At FIRST, we are seeing many Philanthroteens emerge from our community – and it's thrilling to see them make waves and subsequently, real change. Most recently, members of FIRST Robotics Competition Team 2761 "IronHorse Robotics" from Clovis North High School took it upon themselves to inject STEM awareness into their agriculture and sports-focused city just north of Fresno, California. The team successfully petitioned the Clovis City Council to proclaim an official "Clovis Robot Day," which the team used to help bring awareness to STEM, holding activities and speaking to Council members about why their STEM programs need more funding.
These budding Philanthroteens didn't stop there – the team went on to obtain two other proclamations from neighboring offices, and "Fresno Robot Day" and "Madera Robot Day" were born. Encouraged by this string of successes, the team then appealed to State Assemblyman, Jim Patterson of the 23rd Assembly District. As a direct result of the team's efforts, June 27 is now designated as "California Robotics Technology Day." On June 27, 2016, the team displayed their robot at the state capital before the Assembly began, and demonstrated their robot for the members, appealing to them to push for more STEM funding in their schools.
Note that the team will not receive/doesn't expect special treatment, they are just a group of kids who really believe in FIRST  and felt compelled to make a difference by championing their cause; to create change that will have a lasting effect on their community.
By creating opportunities for altruism, we help today's young people connect to issues within their community, develop leadership and communication skills, and ultimately see that you don't have to be a 'grown up' to enact change or solve a problem. The more we can empower these Philanthroteens, the better we can all feel about what the world will look like when they are at the helm.
Photo Credit: Stephanie Jauregui, Coach/Alum, FIRST Robotics Competition Team 2761 "IronHorse Robotics."
---
If you have an inspiring story or piece of wisdom that you've picked up through your experiences in the FIRST community, please reach out to us at inspire@firstinspires.org and inquire about becoming a guest contributor for Inspire.