How to Encourage Youth to Pursue Manufacturing, Middle-Skills Careers
Taking Responsibility for Tomorrow's Workforce
May 29, 2019
By Donald E. Bossi, FIRST President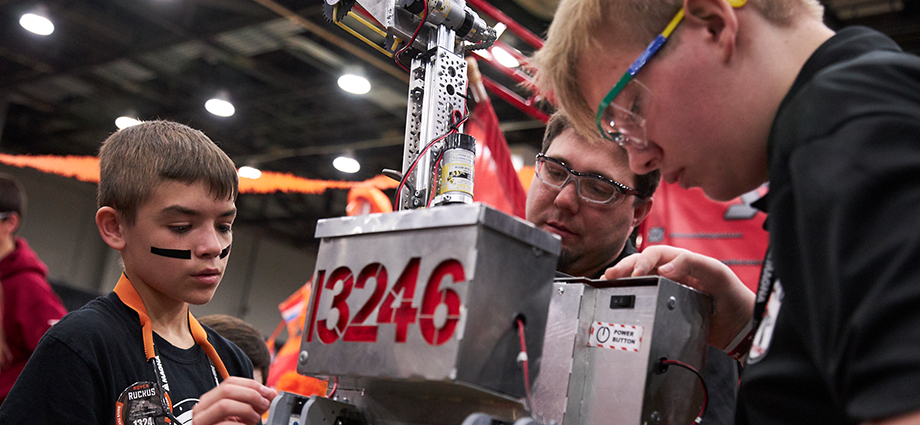 Editor's Note: This article originally appeared on Industry Today.
Internet of Things. Advanced robotics. Automation. Artificial intelligence. The workforce as we know it continues to change, and it's now moving faster than employers can address. As technology continues to permeate industries spanning the U.S. economy, skills gaps exist across the board. Are we doing enough to upskill, educate and train workers appropriately? While certain jobs require higher levels of education than in decades past, there remains robust appetite for professionals to fill jobs in the middle of the labor market – and yet, these workers are disappearing: A recent study from Deloitte and the Manufacturing Institute found the skills gap may leave 2.4 million manufacturing positions unfilled between 2018-2028, creating $2.5 trillion of unrealized economic impact.
What's to blame? There's much debate among economists, but signs point to a lack of interest among students in pursuing manufacturing careers, potentially due to insufficient awareness of what these careers entail in the 21st century among students and their parents, counselors and mentors. Instead, there is an overwhelming emphasis on earning four-year college degrees. Though degrees are instrumental to advancing education and critical for certain careers, they aren't the only path to meaningful work – and rising tuition costs can make them prohibitive for many.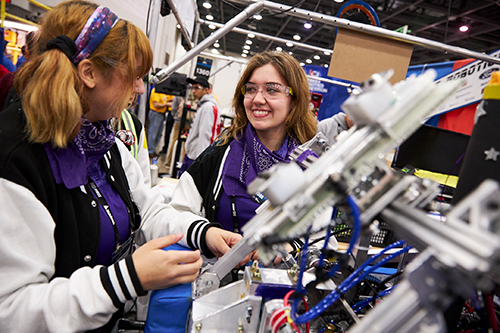 However, opportunities abound in "middle skills" careers (including manufacturing, machinery operation, inspection, electronics and more), which require more than a high school education but less than a four-year college degree. What's more, these careers are more advanced, safer and smarter than they once were, requiring a whole range of skills, from advanced technology and digital literacy to problem solving and teamwork.
As older workers transition into retirement and the pace of technology increases, now is the time to help youth – and the adults who guide them – realize the potential of a career in manufacturing. The business community must step up to generate awareness about the possibilities these careers provide, debunk common misconceptions and provide the training, education and guidance students need to be successful.
The first step is in helping students understand what middle skills are and what a potential career could look like. Mentorship is key. I lead a global nonprofit, FIRST, that is helping make these connections. We foster students' interest in STEM fields through robotics competitions. This work involves engaging many corporate partners – from Magna and 3M to Rockwell Automation and Qualcomm – to support local teams with mentorship, resources and other support as kids ages 6-18 embark on months-long robotics challenges. This access to working professionals helps students understand what careers look like, learn about the required training and envision themselves in these positions. We also find many of their parents get involved too, such as by volunteering or attending competition events, which we've even hosted inside manufacturing plants.
Mentorship, especially when coupled with hands-on experience, equips students with valuable STEM skills relevant to manufacturing and engineering, and the work is paying off: Students who engage in FIRST programs are three times more likely to show interest in STEM careers, and more than 75 percent go into a STEM field as a student or professional.
Through targeted learning opportunities, mentorship and robust partnerships, the business community can and must play an active role in encouraging youth to pursue manufacturing and other middle skills careers. Half the U.S. job market constitutes middle skills-reliant jobs, and without taking proactive measures to address the industry's needs, we will continue to see the U.S. lose jobs to nations that are taking these steps. With careful investment and guidance, we can help students understand the opportunities that the manufacturing industry presents and create pathways to success for students nationwide.
Follow Don Bossi on LinkedIn and Twitter for more on workforce development, STEM education, innovation, and more.
---
If you have an inspiring story or piece of wisdom that you've picked up through your experiences in the FIRST community, please reach out to us at inspire@firstinspires.org and inquire about becoming a guest contributor for Inspire.