How Working in Space Taught Me to See Home Differently
A Former Astronaut on the Importance of Collaboration, Technology, and New Perspectives
Oct 04, 2018
Her Excellency the Right Honourable Julie Payette, Governor General of Canada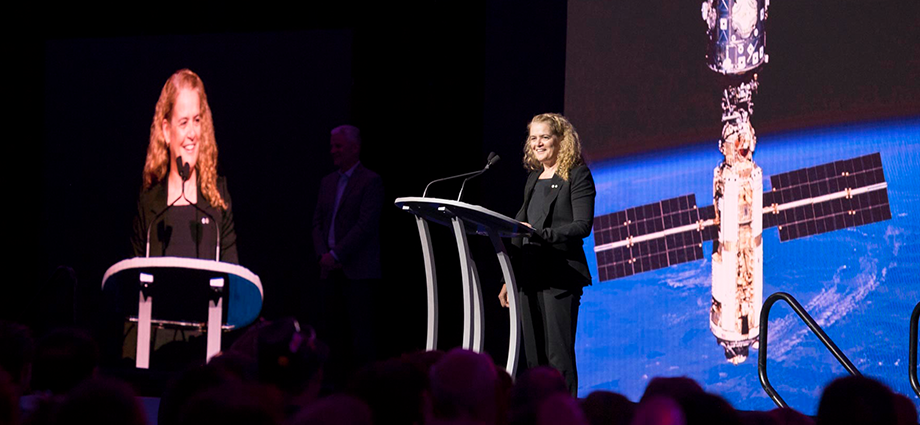 We should never lose the idea that sometimes we need to take a step back – sometimes we need to get out of our comfort zone – and that's what FIRST allows all of those kids to do when they come together for this championship. It allows them to see things differently, and to see home in a much better way. The sky is not the limit. — Julie Payette, Governor General of Canada
Editor's Note: Before becoming Canada's 29th Governor General, Her Excellency the Right Honourable Julie Payette was an astronaut who twice flew into space and spent time aboard the International Space Station. A longtime supporter of FIRST in the province of Québec, Governor General Payette addressed FIRST supporters and shared her story at a recent FIRST Championship event in Detroit, Michigan. To inspire you, we're sharing a condensed version of her speech below.
"I am a friend of FIRST. For many years, I have been working with other FIRST supporters in the province of Québec to bring this incredible story to our schools, our kids, our teachers and our mentors.
What you do right here at FIRST is extraordinarily important. It's not just about robotics. It's not just about science. It's about people. It's about collaborating. It's about making things happen. It's about forming teams, mentoring teams, and sharing your experiences. Whether you are a volunteer, a donor, a sponsor, a supporter, a participant, a parent, or a teacher, you make a difference. Together, we use the incredible world of science and technology to make a difference, and we prepare for the future in so many different ways.
I have been assigned to be Governor General of Canada. It's a role that I take very seriously. For 21 years I lived in Houston, Texas and was part of the NASA Astronaut Corps. I had the privilege of flying two missions in space—both to construct the International Space Station.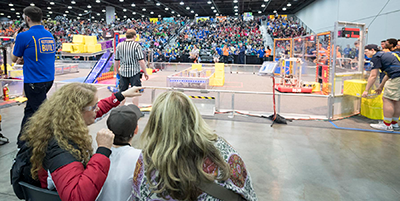 On my first mission, in 1999, there were only two modules of the International Space Station in orbit. We were the first group ever to do a manual docking at the space station. One module was made in the outskirts of Moscow. It was called Zarya; it means 'the dawn of time'. The top module was made in the United States. It was called Unity, and it was a node to which we would attach many other modules much later.
What was amazing was that we constructed the beginnings of a space station up there with two countries that don't necessarily agree all the time, but that decided to put resources, people, heart and brains together. That's exactly what our kids are doing in the FIRST Championship arena – and that is extraordinary.
So little by little, as you plant the seeds, you do great things. We started with two modules that met in space in 1999, and today we have a space laboratory orbiting the earth with six people on board: three Americans, two Russians, one Japanese. Those groups change all the time. That is what you accomplish when you decide to put differences aside – to cherish and embrace difference, in fact – and work together.
In space, we use technology as a tool. Not because it's replacing us. We use it to build things. There's a robotic arm onboard the International Space Station called Canadarm2. We use it to assemble the International Space Station and to carry folks around to do repairs and change spare parts. That requires some skill, but we never do anything alone – just like our FIRST teams working together here. There's not just one operator, there's a whole team.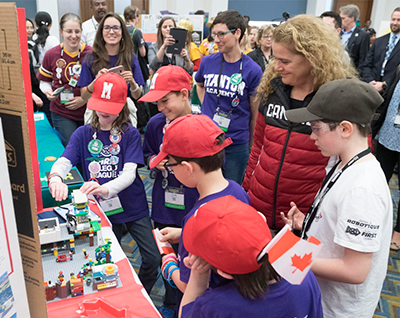 We never work alone in space. There are always two of us at the controls, as well as a whole team behind us that makes it happen. FIRST is so very similar to real life in this way, and that's why it is so important. It gives us an amazing perspective. It gives those kids – not only the kids, but the adults, too – a different perspective. Aren't we energized when we come here?
We see things differently. We go around the Earth on the International Space Station every hour-and-a-half. We see the Sun set and the Sun rise every 45 minutes, which means 16 times every day we see that thin blue line that makes the difference between the temperatures here on this planet and the vacuum of space. It's called the atmosphere of Earth, and it's about 60 miles high; that's all we've got. You become a bit more conscious of things.
We get to experience something fabulous, just like our kids right now participating in FIRST. It's full of folks trying to compete in a fair, open, tolerant and collaborative way—it's unbelievable. Those kids will experience what it is to work at the forefront of knowledge and discovery, spending time in this environment that's a little different from home, learning from others. That perspective is so important.
We should never lose the idea that sometimes we need to take a step back – sometimes we need to get out of our comfort zone – and that's what FIRST allows all of those kids to do when they come together for this championship. It allows them to see things differently, and to see home in a much better way. The sky is not the limit."
---
If you have an inspiring story or piece of wisdom that you've picked up through your experiences in the FIRST community, please reach out to us at inspire@firstinspires.org and inquire about becoming a guest contributor for Inspire.