Inspire the Future: FIRST Educators Recognition Program Opens for Nominations
Sep 29, 2021
By Libby Simpson, FIRST Director of Education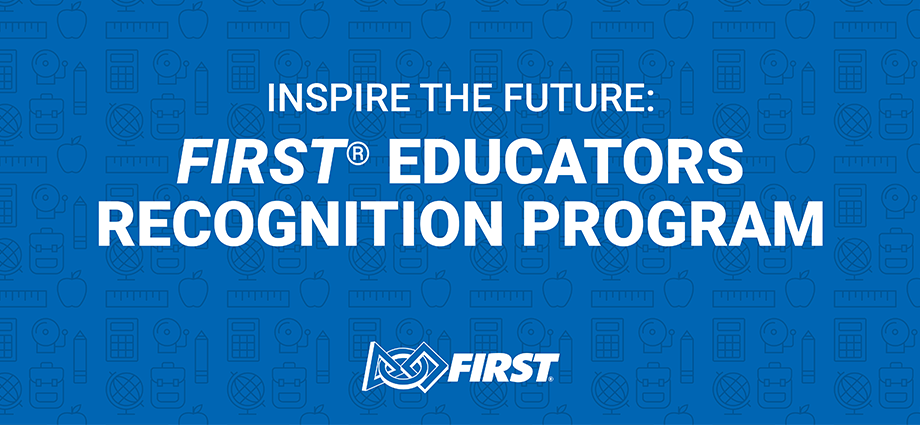 Educators hold the keys that unlock unlimited potential in students. There are inspirational educators throughout history that have taught us all new ideas about ourselves and the universe. Christa McAuliffe was one of those educators. While her life was tragically cut short in the Challenger explosion of 1986, her legacy of inspiration and passion for education continues to touch countless students and adults. As an educator, I proudly embody Christa's statement, "I touch the future, I teach." I believe that every student has a life full of potential ahead of them, just waiting to be unlocked.
The FIRST community is full of dedicated and inspirational teachers who empower each other as much as their students. FIRST educators work in the classroom and after school to mentor and coach students, help organize and volunteer for FIRST events in their schools and communities, and advocate for FIRST programs in their districts. As an accomplished and widely recognized expert in education, Richard DuFour, puts it, "We are what we celebrate, and the use of recognition is a powerful tool for communicating priorities." Here at FIRST, recognition is not only part of our name but core to our ethos. That is why we have introduced the Inspire the Future: FIRST Educators Recognition Program. We are prioritizing the FIRST educators who impact and inspire their learning communities. We could not further the mission of FIRST without them.
About the Program
The FIRST Educators Recognition Program honors our commitment to recognize the outstanding work of educators in the FIRST community. Educators who are recognized will have the opportunity to participate in a "Year of Inspiration." During this tenure, they may:
Serve as a FIRST Educator Ambassador
Participate in thought leadership that will be shared prominently on FIRST digital properties
Have opportunities for media interviews and attend key FIRST events
Collaborate on critical priorities with the FIRST education team
The inaugural cohort opens with the nomination cycle on Sept. 29, 2021, and closes Dec. 17, 2021.
Qualifications
FIRST inspirational educators will be chosen from multiple areas of study and by various age ranges that they teach:
Early Childhood educators
Kindergarten to Grade 1 educators
Grade 2 to Grade 5 educators
Grade 6 to Grade 8 educators
Grade 9 to Grade 12 educators
Selection will be based on the following criteria, educators who:
Are currently employed educators who work directly with students in PreK-12 settings
Demonstrate a history of outstanding commitment to FIRST, particularly for working with students who have been historically underrepresented in STEM
Demonstrate inspiration for engaging students in FIRST and STEM in their region and through their classroom activities
Nominations and Application
Nominations can be completed via this short form.
Anyone can nominate an educator from their community who they feel fits our qualification criteria.
Following the close of nominations, educators will be formally invited to apply. The application will consist of a series of written responses and an optional opportunity to provide a short video along with the application.
FIRST, let's MAKE IT LOUD by nominating the amazing educators in your community!
---
---
If you have an inspiring story or piece of wisdom that you've picked up through your experiences in the FIRST community, please reach out to us at inspire@firstinspires.org and inquire about becoming a guest contributor for Inspire.