Inspiring the Next Generation of Scientists and Engineers: K–12 and Beyond
Aug 30, 2017
By Nancy Boyer, Director of Research & Evaluation, FIRST

The following article was originally published by the IEEE Computer Society in the July 2017 issue of Computer magazine as part of a special issue on challenge-based learning.
A 21st-century workforce requires adaptability, creative problem solving, innovative thinking, and lifelong learning. To prepare future workers, teachers must go beyond traditional lectures and engage students to become critical thinkers and active learners. Active-learning pedagogies include challenged-based learning, in which students take greater responsibility for their education and participate in hands-on activities to create a product or solution that is shared with their peers.
Challenge-based learning has another important benefit. By the time children reach 8th grade, only 20 percent are interested in science, technology, engineering, and math (STEM); this number falls to 16 percent by 12th grade.1 Challenge-based learning raises student interest in these subjects and in STEM careers.2,3
At a time when students tend to disengage from STEM, programs like FIRST (For Inspiration and Recognition of Science and Technology) have a powerful impact in reversing this trend by inspiring youth in grade school and beyond to become science and technology leaders. Founded in 1989, FIRST offers four STEM-based programs for those aged 6–18: FIRST LEGO League Jr., FIRST LEGO League, FIRST Tech Challenge, and FIRST Robotics Competition (see Figure 1). These programs offer project-based, experiential learning to more than 450,000 K–12 students worldwide. Students work in teams with adult coaches and mentors to accomplish a specific science-based or engineering challenge. The programs are held in various settings including schools, youth organizations, universities, and industry. They can be part of a class or conducted as an out-of-school activity.
FIRST programs incorporate numerous strategies to actively engage youth, including hands-on experiences that challenge them to solve relevant, personal, and real problems in innovative and creative ways; development of 21st-century skills through competitions requiring teamwork and collaborative learning; and student-led learning with adult modeling and mentorship (see Figure 2). Infusing all these efforts are the FIRST values of Gracious Professionalism (demonstrating respect for others, being a good sport, and sharing knowledge) and "Coopertition" (competing like crazy but also helping others).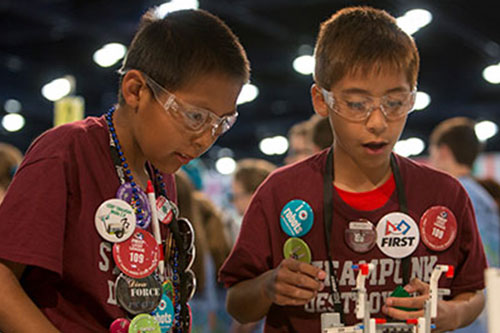 To solve a given challenge, teams explore multiple technologies and methodologies including CAD; 3D printing; Java, C++, LabVIEW, Google Blockly, LEGO MINDSTORMS Ev3, or LEGO WeDo 2.0 coding; Android app development; basic mechanics, electronics, and control theory; Internet research; and website design. Students brainstorm, design, strategize, prototype, iterate, build, test, and evaluate their solution, which, depending on the program, could be a unique robot or simple motorized machine.
For example, FIRST Tech Challenge teams tasked their robots to autonomously navigate around a playing field and perform a variety of complex actions, such as shoot balls into a high goal (see Figure 3). Some teams solved this problem using computer vision technology; for instance, using its Android camera to look at reference images on the field perimeter, a robot could calculate its location on the field and then move to the appropriate spot to complete its automated task (view a video of this at firstinspires.org/computer-vision).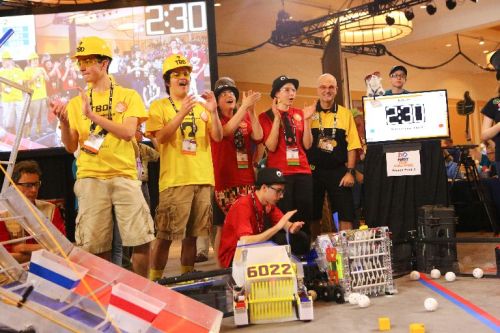 More than 12 years of formal evaluations have demonstrated the positive impact of FIRST programs. Early findings from an ongoing longitudinal study4 indicate that, compared to their peers, students who participate in FIRST are
2.9 times more likely to show interest in STEM,
2.3 times more likely to be interested in a STEM career,
3.7 times more likely to be involved in STEM activity,
2.4 times more likely to show gains in STEM identity, and
2.7 times more likely to show gains in STEM understanding.
These measures are even higher for girls, an important result given the underrepresentation of women in STEM fields.4
In addition to STEM outcomes, FIRST participants develop work and life skills to become the innovators of tomorrow, such as cooperation, experimentation, time management, and communication.5–7 Industry values the role challenge-based learning plays in developing its current and future workforce. Companies like Qualcomm, Rockwell Automation, Rockwell Collins, Boeing, and Google (and government agencies like NASA) not only support FIRST teams but encourage their own employees to be FIRST mentors and coaches. Teachers also facilitate the student-led learning central to FIRST programs (see Figure 4). As a result, learning is not limited to youth participants—adult volunteers strengthen their skills in teamwork, project management, leadership, and communication; gain greater confidence; and experience more job satisfaction.8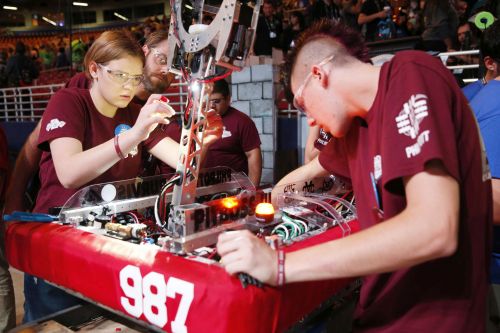 Nancy Boyer is director of research and evaluation at FIRST. She received a PhD in social work and sociology from Boston University. Contact her at nboyer@firstinspires.org.
---
R. Stephens, "Testimony to the House Science and Technology Committee," Subcommittee on Research and Science Education, US House of Representatives, Feb.2010; science.house.gov/sites/republicans.science.house.gov/files/documents/hearings/020410_Stephens.pdf.
S. Freeman et al., "Active Learning Increases Student Performance in Science, Engineering, and Mathematics," Proc. National Academy of Sciences, vol. 111, no. 23, 2014, pp. 8410–8415.
H.L. Gibson and C. Chase, "Longitudinal Impact of an Inquiry–Based Science Program on Middle School Students' Attitudes toward Science," Science Education, vol. 86, no. 5, 2002, pp. 693–705.
A. Melchior et al., FIRST Longitudinal Study: Findings at 36 Month Follow-Up (Year 4 Report), Center for Youth and Communities, Brandeis Univ., Apr.2017; www.firstinspires.org/sites/default/files/uploads/resource_library/impact/first-longitudinal-study-summary-year-4.pdf.
Cross-Program Evaluation of the FIRST Tech Challenge and the FIRST Robotics Competition, Center for Youth and Communities, Brandeis Univ., Sept.2011; www.firstinspires.org/sites/default/files/uploads/resource_library/impact/impact-ftc-frc-cross-program-evaluation-executive-summary-2011.pdf.
Evaluation of the FIRST LEGO League "Senior Solutions" Season (2012–13), Center for Youth and Communities, Brandeis Univ., Dec.2013; www.firstinspires.org/sites/default/files/uploads/resource_library/impact/impact-executive-summary-first-lego-league-impact-study-2012-2013.pdf.
S. Lee et al., Engaging and Activating Young STEM Learners: The Final Evaluation Report for the Junior FIRST LEGO League Evaluation Study, The Research Group, Lawrence Hall of Science, Univ. of California, Berkeley, 2014; www.firstinspires.org/sites/default/files/uploads/resource_library/impact/jrfll-final-report-exescum-11-2014-updated.pdf.
FIRST Robotics Competition Post-season Team Survey, 2016.
Copyright © 2017 IEEE
Citation: Nancy Boyer, "Inspiring the Next Generation of Scientists and Engineers: K-12 and Beyond", Computer, vol. 50, no. 07, pp. 17-19, July 2017, doi:10.1109/MC.2017.204 http://ieeexplore.ieee.org/document/7971876/
---
If you have an inspiring story or piece of wisdom that you've picked up through your experiences in the
FIRST
community, please reach out to us at
inspire@firstinspires.org
and inquire about becoming a guest contributor for Inspire.