4 Lessons from World-Class Engineers at Apple HQ
What 4 Weeks at Apple's Tech Camp Taught Me about Engineering
Dec 16, 2019
By Ishaan Oberoi, FIRST Tech Challenge and Apple Engineering Technology Camp participant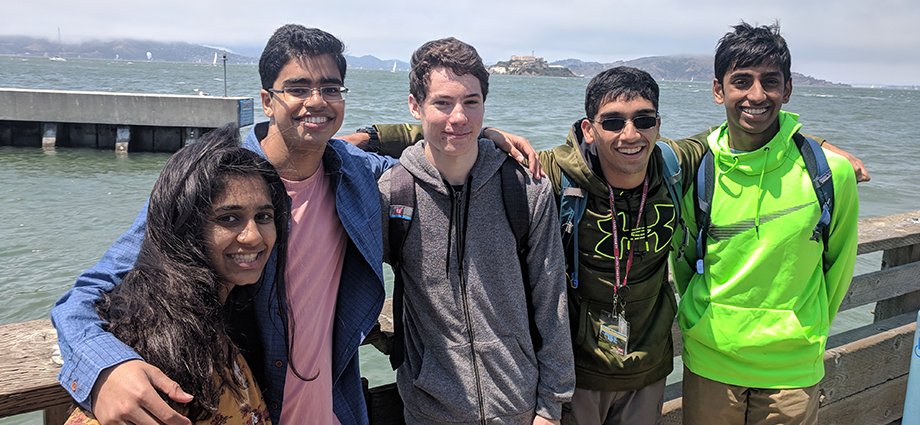 I've been passionate about technology and engineering since I was little. I started a community FIRST® LEGO® League team after checking out the FIRST LEGO League Maryland State Championship in fourth grade with my Dad. I'm now a high school senior in my eighth season as a FIRST® participant and currently team captain of FIRST® Tech Challenge Team 9794 "Wizards.Exe" from Rockville, Maryland (2019 Inspire Award recipients).
It's challenging for high school students to get internships in mechanical engineering, which is why I jumped at the chance to apply for the Apple Engineering Technology Camp (ETC), an incredible summer opportunity at Apple HQ for high school juniors and seniors. You spend four weeks in Silicon Valley learning from one of the best engineering companies in the world how they design products and how to be a better engineer. Apple, a FIRST Strategic Partner, offered FIRST students an opportunity to apply for the experience, and I was among those selected in 2018.
Beyond FIRST Tech Challenge, Apple ETC was my first time seeing how mechanical engineers work in the workplace. I learned about electrical engineering, computer engineering, computer science, and mechanical engineering from Apple engineers. It was a great experience to be surrounded by not just brilliant professionals but brilliant students, including many fellow FIRST participants. Many of the skills I learned in FIRST – CAD (computer-aided design), working as a team, product design – helped me in the camp. I was able to use those skills and improve them, and then bring those takeaways back to my team. Here are just a few:

1. The key to engineering is process.
Apple employees emphasized the importance of making sure everyone on a project team is part of the brainstorming process and has some input on the design direction. I also learned new techniques for industrial design that I brought back to my team; we used them on our robot last season.
2. Keep your communications simple.
Simplicity doesn't just apply to the design process. If your communications are too complex, you will lose your audience. I improved my soft skills – including communicating, presenting, and networking – at the camp. My team has since stripped down our communication tactics to be more successful in the judging room at FIRST Tech Challenge events.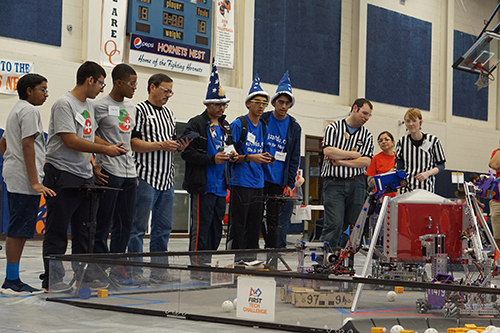 3. You learn a lot more from teaching.
I'm so grateful for all the Apple employees who spent time training and working with us, and I'm sure they gained a lot from the experience as well; in fact, one of the Apple engineers I met has continued to mentor my FIRST team remotely. As my team has taken on younger members, I've also been spending more time teaching them than building the robot. Last season, my team supported over 80 teams, including mentoring 10 teams one and one, and I helped develop curriculum to teach drag-and-drop programming. All of this has helped me realize you learn even more about a subject when you teach it to others; it's an ongoing learning experience.
4. The weather in Silicon Valley is awesome.
This was my first time in California. Beyond getting a taste of what it's like to work in Silicon Valley, my camp mates and I had the opportunity to explore the area. We visited places like Muir Woods, San Francisco, Santa Clara Boardwalk, and local colleges. I also made sure to stop by the Bay Area home base of FIRST Robotics Competition Hall of Fame team the Cheesy Poofs.
This incredible experience further invigorated my passion for engineering and technology – and teaching others. After getting hands-on experience in FIRST and at the Apple ETC, I discovered a specific love for mechanical engineering and plan to major in it in college. I was also able to land an internship this past summer, and I adapted much quicker than a typical intern because of all the skills I learned on my FIRST team. I hope more companies give FIRST students these incredible hands-on opportunities – we will impress you.
Deadline is January 6 at 11:59pm EST.

About Ishaan Oberoi​
Ishaan is a high school senior in his eighth year in FIRST. He is the team captain, outreach lead and robot integrations Lead on FIRST Tech Challenge team Wizards.Exe from Rockville, Maryland. He is a two-time FIRST Tech Challenge Dean's List Award Finalists. He really enjoys teaching people and helping them bring their creations to life. Outside of FIRST, Ishaan is a Boy Scout, swims competitively, and plays the piano. He plans to study mechanical engineering in college.
---
If you have an inspiring story or piece of wisdom that you've picked up through your experiences in the FIRST community, please reach out to us at inspire@firstinspires.org and inquire about becoming a guest contributor for Inspire.