Investing in Employees and Communities, Together
Reflections from Engage for Good
Jun 25, 2019
By Donald E. Bossi, FIRST President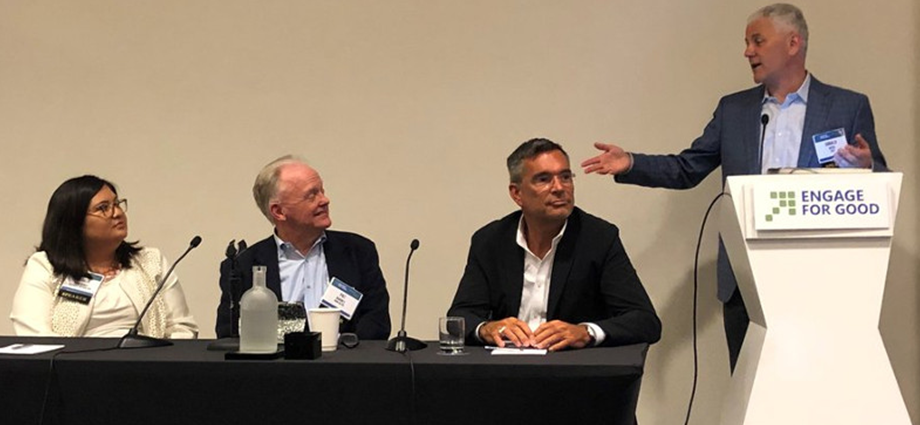 Editor's Note: This article originally appeared on LinkedIn.
Gen-Z to Millennials, today's teens and young adults are increasingly vocal about the issues that matter to them. From gender equality and immigration to sustainability and healthcare, these generations are motivated by purpose and social good, and they expect their employers to do the same: Data show employees are more loyal and think more highly of companies with strong corporate social responsibility (CSR) platforms. But having a strong platform isn't enough; young employees aren't afraid to advocate for themselves in the workplace, and many say they'd stay at their companies longer if investments were made in their careers.
As teens prepare to make important decisions about their futures and Millennials continue to ascend into positions of leadership, companies must not only listen to these groups' values and ideals but find ways to invest in their employees' futures. Not a small task, by any means.
Undeterred by the challenge, best-in-class companies are using their social good initiatives to evaluate employees and identify emerging leaders, all while helping staff support their communities. This was the topic at a recent session I moderated at Engage for Good, an industry-leading conference focused on engaging consumers, employees and companies in social good. Our session, "Leveraging Social Impact for Employee Development and Evaluation," explored the value of making corporate responsibility a piece of your employee engagement strategy; identified best practices, strategies and watch-outs; and outlined how teams can secure organizational buy-in and evolve their programs over time.
Here are a few key takeaways from our insightful panelists:
John Blazey, vice president of Boeing Global Engagement, emphasized how valuable it is to provide opportunities for employees to serve as mentors, not only for their personal growth and professional development, but because their mentorship positively impacts the talent pipeline. According to John, volunteerism is an essential element for a purpose-focused workplace culture, and he highlighted how this specifically resonates with the Millennial generation workforce, which now represents the majority of Boeing's workforce. For companies looking to implement mentorship and volunteer programs, John recommends focusing on evidence-based organizations to make real changes and working with partners to elevate and expand the program to scale, such as Boeing's high-level strategic partnership with FIRST  and its employees' support of FIRST teams such as "The Underdogs," a FIRST Robotics Competition team from Cottonwood High School (Salt Lake City, UT) with numerous refugees on the team.
 
Patricia Contreras, director of global community relations & contributions at Rockwell Automation, underscored how companies can couple their volunteerism to identify emerging leaders and make a beneficial difference in their local community. Patricia shared how Rockwell Automation makes sure its investments in the community align with employee resource groups. Key to Rockwell Automation's success is making employees aware of their impact on creating solutions in the community, such as the company's volunteer recognition program that highlights employees' passion and performance.
 
Pat Barnes, global programs director of STEM & youth education at John Deere, discussed how the company has integrated cause and corporate responsibility throughout its talent acquisition, development and welfare programs. Pat described how a historic company like John Deere has recently evolved after CEO Sam Allen volunteered at a small farm in India in 2011 and started a global volunteer program focused on a higher purpose. Now, the company's Dollars for Doers commitment promises to match any donations and support any employee volunteerism. This allows the company to easily track the citizenship goals of its employees and take action to ensure its business goals are aligned and connect with employees' passions and interests.
Equipped with evidence that the incoming generation of workers are attracted to purpose-focused employers, companies must authentically implement social impact initiatives to attract and retain best-in-class talent. Moreover, companies can leverage these social good programs, like Boeing, Rockwell Automation, and John Deere do, to build talent pipelines, positively impact local communities, and evaluate employees. At FIRST, our industry partners, volunteers and mentors are constantly looking for new ways to engage with the next generation, and I hope the takeaways and best practices John, Patricia, Pat and I shared at Engage for Good are valuable for those looking to successfully integrate mentorship and volunteerism into the workplace.
For more on corporate goodness: Find out why you should encourage your employees to volunteer.
 
Follow Don Bossi on LinkedIn and Twitter for more on workforce development, STEM education, innovation, and more.
---
If you have an inspiring story or piece of wisdom that you've picked up through your experiences in the FIRST community, please reach out to us at inspire@firstinspires.org and inquire about becoming a guest contributor for Inspire.