Shining in our Abilities: Robotics Education for All
Feb 03, 2020
By Danielle Jenkins, Teacher and FIRST Mentor, Mountain View High School, Lawrenceville, GA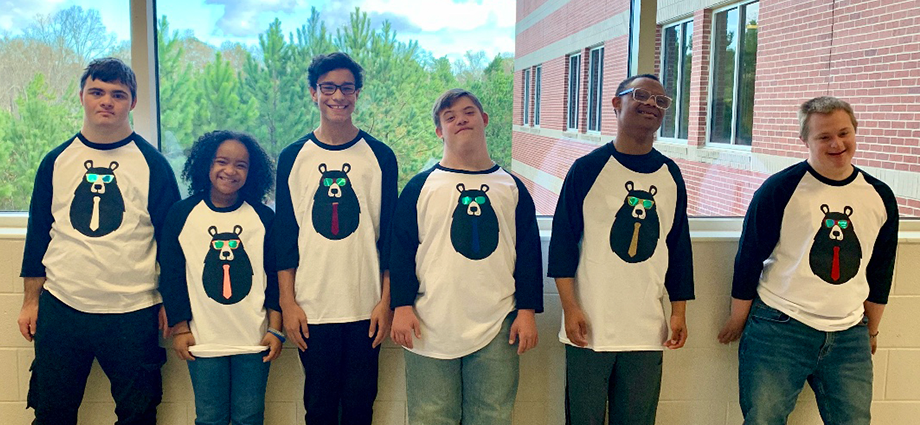 Several years ago, my daughter started my family on our FIRST® adventure when she joined her elementary school's FIRST® LEGO® League team. I was excited to see her learn programming and engineering and expand her communication and teamwork skills. I knew she was part of something truly special when she and her peers felt empowered to change the world. With her team, we have been lucky to attend the FIRST Championship in Houston twice, and each time I left feeling called to bring FIRST programs back to the school where I teach.
When attending the FIRST Championship this past April, I kept seeing things that I wished I could share with my students. As a special education teacher, I am all too aware that my students are often left out of STEM opportunities. I left Houston feeling more inspired than ever and immediately contacted my local FIRST LEGO League partner in Georgia to learn how to start a team for my students and was thrilled with their gracious response. In August, we started Georgia's first FIRST LEGO League team made up entirely of students with intellectual disabilities. These amazing students have been shattering expectations, breaking barriers, and acting as trailblazers every step of the way.
Robotics Education for All
I often say that I have the best job in the world. I teach the most incredible group of students and they inspire me every single day. Most people agree that they are the sweetest, funniest, and most joyful young people they have ever met; however, few people would expect them to be able to fully participate in a robotics program. Through their participation in FIRST LEGO League, these kids have proven that they are more than capable – they are absolutely rocking it! While I have offered support and guidance, they each play an active role in the robot portion of FIRST LEGO League.
With help from some of my FIRST® Robotics Competition students, the team built a simple yet very effective robot. To program their robot, we opened the LEGO® MINDSTORMS® software on our Smartboard and my students quickly grasped the basics and amazed me with their ability to figure out even the more difficult parts. While programming their robot, they have been introduced to complicated math concepts and are now well-versed in things like negative numbers, the concept of greater than/less than, and the reasoning behind increasing/decreasing speed of their robot.
My paraprofessional and I have seen first-hand our students' perseverance. When their robot veers off course or falls off the bridge, our students simply say, "That's OK, try again!" and have never once been frustrated or tried to quit. When asked about their robot, excitement takes over as they point to the motors, explain what they do, and even walk through the programming to explain each individual piece. Their robot, which they affectionately named Awesome Sauce, paired with their phenomenal programming and excellent performance at the table, recently scored 265 points at their regional competition, finishing seventh out of 36 teams in robot performance!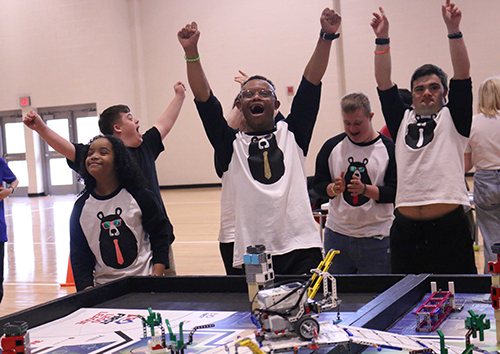 Seeing the Ability before the Disability
FIRST LEGO League has truly changed how people see my students and their abilities – including myself! While preparing for their competition, I must admit that I was a little concerned about the presentation component. Since my students have some difficulties with speech, I was worried that this aspect of FIRST LEGO League would be an obstacle. Once again, my students proved that I had nothing to worry about. We hosted an open house and invited administrators, teachers, parents, and peers to see what they kids have been up to. It was absolutely incredible. They were the talk of the school. In her email to the entire staff, one of our assistant principals put it so well when she encouraged staff to attend: "These beautiful humans will make your heart warm and wow you with their ABILITIES!" Our visitors were blown away.
At their competition, my students not only presented to the judges, but were able to answer questions and clearly explain their Innovation Project and their robot. They participated in a teamwork challenge and demonstrated FIRST Core Values every step of the way. They competed against teams comprised mostly of gifted elementary and middle school students and showed everyone what they are capable of achieving. Once again, my incredible students shattered my every expectation when they were announced as the winners of the top Champion's Award!
Empowering Students to Change the World
One of my favorite things about FIRST is that it truly is so much more than robots. As was the case with my daughter all those years ago, my students feel empowered to change the world. For this year's theme, CITY SHAPERSM, our team was tasked with identifying a problem with a building or public space in our community and come up with a solution.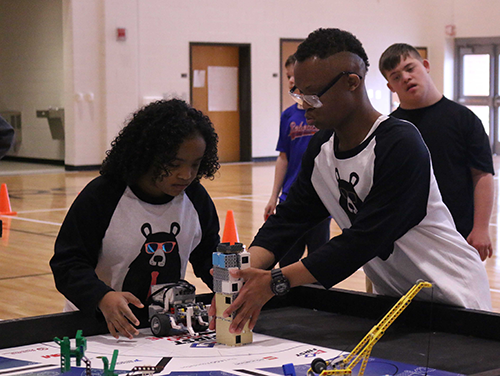 Since my students love the mall, they decided to figure out a way to make it a friendlier option for their peers with autism or other sensory-related difficulties. They approached our local mall with the idea to install a sensory room for individuals who might feel overwhelmed with all the sights, sounds, and smells. The sensory room could provide an escape for individuals on the verge of a meltdown. Additionally, my students created a symbol-based textbook that can be used in the event of an emergency involving an individual who is nonverbal. They have distributed these books to several stores in our community and will be sending them out via email in the coming months. When they presented their ideas to the judges at the competition, the judges admitted that they never even thought about these kinds of struggles faced by individuals with disabilities and were inspired by my students and their desire to help others.
My students are paving the way for other students with disabilities to become more engaged in robotics education. I don't think they realize quite how big their impact has been, but I do know that their confidence levels have sky-rocketed throughout this process. Our school and the local FIRST community have been great supporters, and my students feel like superstars with all of the attention they have received. I cannot wait to see them continue to break barriers and change the world!
Introduce students to robot building and coding and develop teamwork skills with FIRST LEGO League.

About the author:
Danielle Jenkins is a special education teacher and mentor for FIRST Robotics Competition Team 7538 "Metal Mountain" and FIRST LEGO League Team 40635 "The Dancing Bears," both from Mountain View High School in Lawrenceville, Georgia.

---
If you have an inspiring story or piece of wisdom that you've picked up through your experiences in the FIRST community, please reach out to us at inspire@firstinspires.org and inquire about becoming a guest contributor for Inspire.