Small but mighty: Teacher won't let STEM struggles become a cautionary tale
Jun 14, 2016
By Naomi Edwards, Educator, Kettle Falls High School, Washington
It was robot inspection time at our first FIRST® Robotics Competition event of the season in Spokane, Washington. Our rookie team just traveled 100 miles from our small logging town of Kettle Falls, Washington, and were stumbling into the field house dragging totes and a clunky robot. The room was awhirl with robots, carts, and the occasional official-looking person with a hat and clipboard. As we were standing in our designated 10 ft. by 10 ft. "pit" area wondering what to do, one of those official hats came by and asked us: "Team 4980! Where's your Mentor?"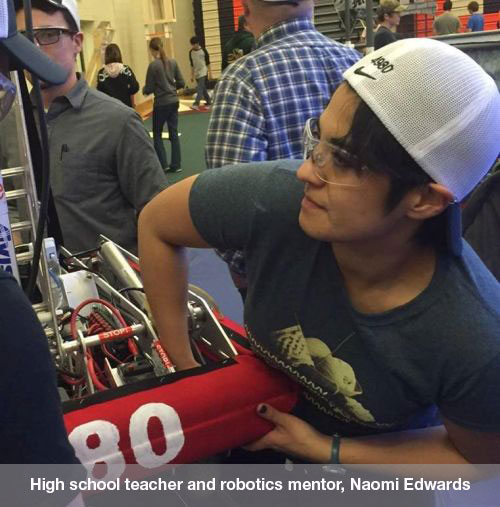 That Mentor is me — all 5'4" of me. My physical appearance tends to make me blend in with my students. It happens all the time; in my own classroom at Kettle Falls High School and especially when traveling with a group of teenagers, most of whom tower over me by a good four inches or more.
While getting mistaken for a high school student may sound flattering, it can get tiresome. Being pegged as a teenager in situations like this harkens back to the uphill battle I fought in my educational and professional life where I had to continually prove myself in fields that were largely dominated by males.

An Unexpected Journey Led to Education
My journey in STEM started unexpectedly as an undergrad at Whitworth College in Spokane, Washington. As a freshman, I was set be a music major but signed up for a computer science class because I had grown up playing MS-DOS command-line computer games, took a BASIC (Beginner's All-purpose Symbolic Instruction Code) programming class in high school and, well, because my boyfriend was in the class. As it turned out, I had quite a knack for programming and I even enjoyed it. Most importantly, I had a couple of professors who encouraged me and took me under their wings.
Four years later with a BS in Computer Science, I was on my way to a master's program at a larger university. Sadly, the collegiality I had experienced at Whitworth was hard to find in this new setting. As the only female in the program, I felt a lack of support. In the end, a series of unfortunate interactions with professors sealed the deal, and I left to pursue a career where I wouldn't have to fight to be taken seriously. This was when I looked into a career as an educator.
After ten years in the education field, becoming a high school teacher has proved a good fit. I found that noticeably fewer people asked why I chose this career or questioned my authority. Coworkers lined up to support me and build me up into a colleague that is respected within our schools and community. It has been my chance to soar and feel respected for my knowledge, work ethic, and professionalism (though I occasionally was still asked for my hall pass by unsuspecting substitutes). It has been a time when I have finally felt like I could stand straight up, all 5'4" of me.

A Source of Motivation and Advice
Despite my personal struggles (or maybe, because of them), I believe it is important to inspire young women's interest in computer science. I see now that during those difficult years I was desperate to have female mentors who showed me that your gender does not diminish your ability to become a leader in a technical field. That's why I mentor today.
I want the young ladies I work with to realize that we don't have to be products of what's around us and that we actually have the ability to shape our world. Women are going to create fields we have never even seen before. We are going to develop scientific theories and then find ways to implement them. We have perspective and passion that make us invaluable members of teams of groundbreaking thinkers.
This is a call to women to step up and take on leadership and mentorship roles within your communities. Awareness is growing but, the numbers of women in STEM fields are still staggeringly low. Find young students of any age and work side by side with them. Encourage them. Take time to mentor young ladies and recognize their accomplishments. Your work won't immediately change everything. I've been in education long enough to realize this work is a test of patience. But, ten years from now, you might find out a few words really hit home and contributed to someone's success.
It has taken me too many years to recognize my value and give it the credit it deserves – this isn't an uncommon struggle amongst women, regardless of age. My hope is that the next generation of girls won't spend so much time questioning their abilities. I hope they get to experience more collegiality and encouragement in their career path of choice.
We have had some seriously impressive women contribute to the fields of science and technology, and the best part is we're not done. While I still suffer from moments of professional shortness, I am encouraged to know I am holding my students up to see even further than I can dream.
Naomi Edwards is a high school mathematics, computer science, and robotics teacher at Kettle Falls High School in Kettle Falls, Washington.
---
If you have an inspiring story or piece of wisdom that you've picked up through your experiences in the FIRST community, please reach out to us at inspire@firstinspires.org and inquire about becoming a guest contributor for Inspire.