Five Quotes to Live By from 2019 FIRST Inspire Gala Honoree, Soledad O'Brien
Oct 10, 2019
By FIRST Staff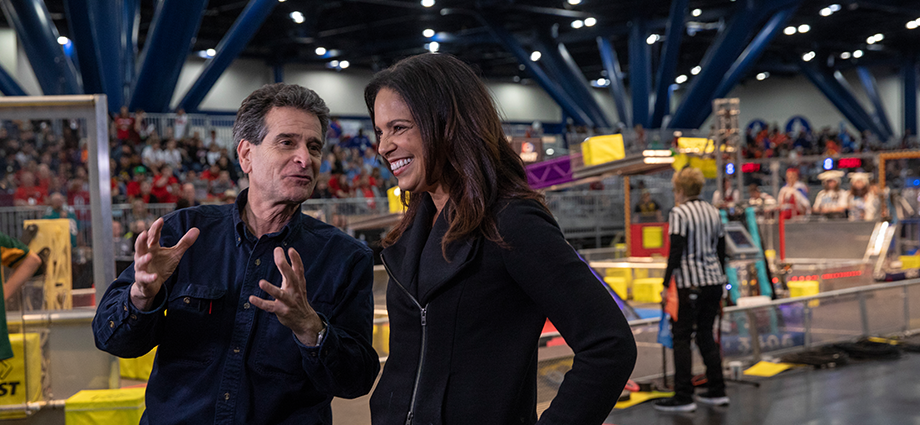 Soledad O'Brien, an award-winning journalist, speaker, author, philanthropist, and founder/CEO of the Starfish Media Group, is a fierce advocate for education. O'Brien and her husband founded the PowHERful Foundation, which helps young women get to and through college. She's also a longtime supporter of FIRST. O'Brien really helped us "make it loud" in 2018 by anchoring a segment about FIRST on HBO's Real Sports with Bryant Gumbel. The 15-minute segment told the story of FIRST and the rise of the sport of competitive robotics in a fresh and exciting way and helped raise awareness amongst new audiences.
Each year, the FIRST Inspire Gala honors a person who has leveraged their influence and/or platform to further the mission of FIRST. At the 2019 gala, FIRST is proud to honor O'Brien. The fifth annual event will be held on November 7, 2019, in New York City. It brings together the nation's most passionate STEM education supporters to celebrate the ways in which FIRST inspires young people to realize their potential to reach new heights, find a sense of belonging, and prepare for the future.
As we look forward to honoring O'Brien at this year's gala, we're sharing five of her most inspirational quotes.
As much as I hate saying it, the cliché about life being a journey is true. When you allow it to be, you get to enjoy it a lot more. I think a lot of these students — and me too, probably — like to know, "Why?" Young people just want an answer. "What should I be studying? What will make me happy? Will there will be jobs in 10 years?" I say, "I don't know. Figure out your passion."
 
The world is very wide and if you dig a little deeper, every community has lots of stories to tell and issues to debate — not just the two or three or four that you might see on the news.
 
Always zig when people expect you to zag. Confound them!
 
There are thousands of inspirational stories waiting to be told about young women who yearn for a great education. They are stories of struggle and stories of success, and they will inspire others to take action and work to change lives.
 
Do not listen to other people's take on the life you should lead. By not listening, you can figure out what your heart is telling you to do.
What's your favorite Soledad O'Brien quote?
Learn more about the 2019 FIRST Inspire Gala here.
---
If you have an inspiring story or piece of wisdom that you've picked up through your experiences in the FIRST community, please reach out to us at inspire@firstinspires.org and inquire about becoming a guest contributor for Inspire.