How My Students Apply Social Good Through FIRST and GoBabyGo!
Building Empathy, Connection, and Innovative Adaptive Technology for Children
Jan 07, 2020
By Gavin Wood, FIRST Robotics Competition Coach & STEAM Director of The Barstow School, Kansas City, Missouri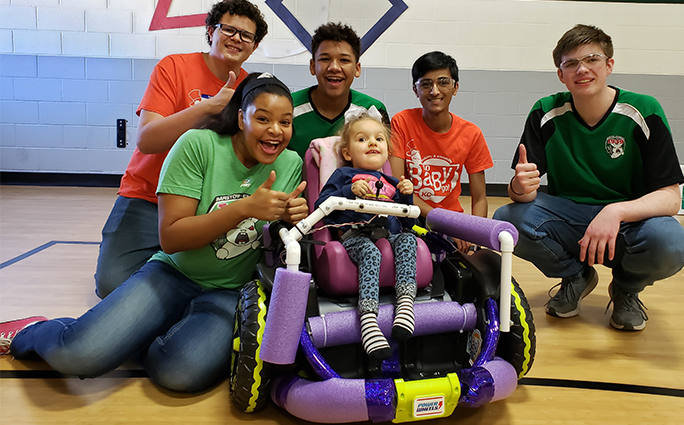 Editor's Note: January is National Mentoring Month, and we're grateful for the hardworking educators, industry professionals, community leaders, parents, and FIRST® alumni who mentor and inspire young people to work together to build a better world through FIRST programs – people like Gavin Wood. Gavin is a STEM educator who inspired his students on FIRST Robotics Competition Team 1939, The KUHNIGITS, to use their empathy, innovative spirits, and passion for STEM to bring the FIRST community together to hack ride-on toy cars into motorized wheelchairs for children with disabilities. He shared more for the Inspire blog.

For the past five years, our robotics team has dedicated our off-season to building cost-effective wheelchair alternatives for children with mobility challenges, including kids with cerebral palsy, spina bifida, and Down syndrome. Instead of $25,000 for a motorized wheelchair for a child who may outgrow it in a year or two, our creations utilize ride-on, motorized toy cars that can be "hacked" into wheelchair alternatives for as little as $300 each with the grassroots organization GoBabyGo. Every holiday season, our team hosts a huge GoBabyGo Community Build and Hackathon for FIRST teams across the Midwest, teaching them how to use their STEM skills to change the lives of children in their communities.
It is an emotional and transformative experience for all involved.
I've watched a tough, mechanical-lead student hold a toddler with visual impairments in his arms, telling her how he incorporated her favorite songs into a piece of adaptive technology he helped design specifically for her.
I've seen a shy computer programming student confidently explain to a professional engineer how he was the first to re-wire and code a Fisher Price WildThing into a joystick-controlled wheelchair for a boy with cerebral palsy, then create and share a how-to manual online so that hundreds of others could replicate this amazing adaptive technology.
I've witnessed my female students become passionate and confident about STEM, once they've translated the power of their ones and zeros into a real-world application for social good.
It's not uncommon for my students' eyes to fill with tears, hearing how the skills they learned from participating on a FIRST team have resulted in Hunter being able to go on a "family bike ride" for the first time; Ivy playing with her sister in their backyard for the first time; or 3-year-old Brooklynn having control over her own mobility for the first time.
Inspired by FIRST to build a better world and brighter future together, we use GoBabyGo to build upon the values of FIRST, both in our community and on a global scale. One life at a time, that authentic, real-world experience becomes a defining moment for my students to realize that they can use their STEM skills to change the world.
GoBabyGo and FIRST: A Perfect Pair for Social Good
My students and I built our first GoBabyGo car in 2015 through a local non-profit, Variety KC Children's Charity, that assists children with special needs. We learned why mobility matters – how it is such a huge factor in the social, emotional, and physical development of children. And yet, there are very few options out there for toddlers and children in the world of assistive technology.
Why? Because it's expensive, both for families, and for the companies who might make assistive technology. For children with disabilities, there are so many factors in each situation – such as hand usage or posture – and children grow so quickly, that it is nearly impossible to mass-produce a product that would help enough people to make it worth a company's investment without carrying a high price tag.
GoBabyGo is part of a grassroots solution that is revolutionizing adaptive and assistive technology, and truly creating an empowering movement for those with disabilities of all kinds. It encourages those with Maker skills to utilize 3-D printing, Arduinos, coding, engineering – all of the same skills we use to make a robot to compete in FIRST – to hack a toy into a motorized mobility device that's also fun for children to engage with.
When I saw the enthusiastic and emotional reaction from my students as they presented their adapted Lightning McQueen car to a little boy with spina bifida, a lightbulb went off: This is the perfect outreach for FIRST students. It is a self-rewarding experience that not only gives them a hands-on way to use their STEM skills, but also teaches user-centered design, empathy, and the character development so engrained in FIRST.
As I brainstormed with my students, the idea grew. We realized that there are thousands of high school teams who participate in FIRST, with students who are eager like us to make an impact, and thousands of kids who could benefit from these devices. What if we created a way for these two groups to get together and provided the tools to make it happen?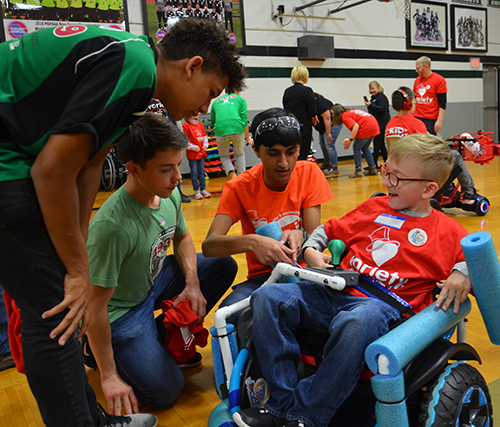 Our team met with the founder of GoBabyGo, Dr. Cole Galloway from the University of Delaware, about taking the lead to develop partnerships between FIRST teams and GoBabyGo chapters worldwide. Months later, in 2016, we posted our WildThing how-to manual on Instructables, which quickly gained over 10,000 views. In 2017, our team launched an online web forum called GoBabyGo Connect, allowing FIRST teams, GoBabyGo Chapters, and families in need to access our manuals, share their own manuals and ideas, and communicate with one another. Currently we have 150+ active users from as far away as Israel and New Zealand, and our how-to manuals now have a combined 20,000+ views worldwide. Our team presented workshops for the National Science Teaching Association and held a "how-to" workshop at the FIRST Championship in Houston last year, encouraging others to get involved in GoBabyGo.
We realized too that there were children with challenges beyond mobility, so we created a GoBabyGo Hackathon, where FIRST teams are partnered with children with visual impairments and other medical issues that require customized one-of-a-kind solutions and challenged teams to design a mobility device adapted for each child's needs. This year, our team converted a Hoverboard into a mobility device for a pre-teen with autism and balance challenges.
Over the past three years, our annual GoBabyGo - FIRST Community Build has brought more than 20 FIRST teams together to modify 78 cars for children with disabilities. FIRST teams across the Midwest have taken part, including FIRST® Robotics Competition teams, FIRST® Tech Challenge teams, and, for the first time this year, a middle school FIRST® LEGO® League team.

Each car that these teams made was carefully modified for a specific child based on their needs, whether that was replacing a foot pedal with a big button on a steering wheel, or creating additional supports with PVC, pool noodles, kickboards, and harnesses, or completely gutting and re-wiring a car to be controlled by a joystick. The students then use their creativity to design the aesthetics of the car based on what each child loves, whether it's Dory from Finding Nemo, or Star Wars, or simply their favorite color. The students give away their innovation to the child themselves, and work with their family and physical therapist to make any additional adaptations to custom-fit the car for their child.
That's when the magic truly happens.
Every time we do this, I have to admit, I get emotional. I look around the gym, trying to catch as many of these magical moments between the high school students and the children as possible, each instance when a face lights up with joy and realization. As an educator, it is easy to get burned out, especially right before winter break. So, I'm never sure who benefits more.
The families receiving this technology for their children?
The students, who are learning something so much more than they could in a classroom?
Or the teachers, including me, who are inspired by FIRST and GoBabyGo! to remember why we became educators in the first place – to change lives.

How to Get Involved in These Inspiring Organizations
A few days ago, I was grading papers at my desk when my phone rang. It was a retired gentleman from Cleveland, Ohio, who said he saw a story about our event on his local news station. He wanted to thank me, he said. He wished that he had learned these sorts of things when he was in high school … it would have changed his life, just as he knows it changes my students' lives.
I thanked him for taking the time to call, especially during the week of Thanksgiving. Yep, I thought. FIRST and GoBabyGo are exactly what I wish I'd learned in high school as well, and I'm thankful that these organizations exist to inspire my students and me.
To learn more about GoBabyGo and how your students or FIRST team can get involved, check out these resources:
To read more about how the KUHNIGITS and others in the FIRST community are using their skills to build a better world, read the 2019 FIRST Annual Report.

About the author:
Gavin Wood has been a STEM educator for 17 years and holds a Masters in Education. As STEAM Director for The Barstow School in Kansas City and Head Coach of FIRST Robotics Competition Team 1939, The Kuhnigits. Wood designs curriculum and teaches classes that reinforce user-centered design and the "empathy" part of the Engineering Design process. His focus on engineering for social good, design-thinking, and developing an ecosystem of innovation with his students has earned him numerous recognitions, including the FIRST Woodie Flowers Finalist Award, the International Technology & Engineering Educators Association (ITEEA) Teacher Excellence Award, and the Lawrence W. Prakken Professional Cooperation Award. To make it easier for more STEM programs to incorporate adaptive technology projects into their curriculum, Wood collaborated with ITEEA to design an "Educators Toolkit" for REACH Challenge, an Adaptive & Assistive Technology design-thinking project.
---
If you have an inspiring story or piece of wisdom that you've picked up through your experiences in the FIRST community, please reach out to us at inspire@firstinspires.org and inquire about becoming a guest contributor for Inspire.