How One Teacher Guided His Students to Give Back with a Design Thinking Challenge
FIRST Community Spotlight: Peter Graven and SFROBOTICS
Mar 20, 2018
By FIRST Staff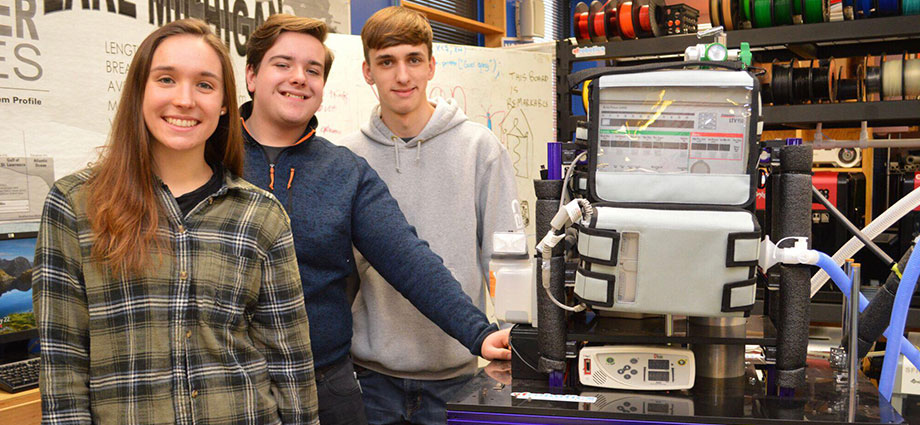 SFROBOTICS students with Vivian's robot (Photo by Jennifer Kresse)
Peter Graven, an eighth-grade science teacher at Deer Creek Intermediate School in St. Francis, Wisconsin, leads SFROBOTICS, the robotics program for his school district. Inspired to engage his students to be innovators who ignite change in the world, Peter started the "ONEIGHTY" initiative that encourages them to take on STEM-based projects that give back.
In 2016, a local TV reporter approached Peter was with what he calls the "ultimate design thinking challenge" for his high schoolers: A young girl named Vivian, who has a congenital neurological disorder, was learning to walk, but she was held back by her life-sustaining medical equipment. Could the students build a robotic medical cart?
They accepted the challenge, naming it "Project Fullplae" – with the goal of enabling Vivian to "play fully" by creating a robot that would carry her equipment and follow her around. Building from their FIRST Tech Challenge experience, the students (Alex Reid, Jacob Bednarski, Colton Feirer, Georgia Hancock, Josh Wendlick, Ryan Putnam, and Alec Stys) met with Vivian's family, gathered requirements, sourced donations and expertise, and worked afterschool for more than a year on version 1, which is remote-controlled by her parents and has required some modifications after testing on the carpet in Vivian's home. They are also working towards version 2 and the sensors needed to make it fully autonomous so it avoids obstacles yet stays with the energetic three-year-old.

Read more about Vivian's story from TMJ4.
For more on SFROBOTICS, tune in on the FIRST Twitch Channel Friday, March 30, at 11 a.m. ET, as Twitch Partner DeeJay Knight meets with the students and coaches. Below, Peter shares insight on how he guides students in design thinking and overcoming failures and the benefits of mentoring student teams:
You called Project Fullplae the "ultimate design thinking challenge." What did your students learn from the design and build process and from collaborating with Vivian's family?
The challenge of developing an autonomous cart to move and respond to obstacles as well as keep in a five-foot contact with Vivian is more complex than the robots we build for FIRST Tech Challenge. Students have to research, reach out and collaborate with individuals who can guide them in the process. As for working with Vivian and her family, the project puts a "client" as the focus. It's not a competition, but an end product that will change lives. The students have learned to listen to the family for their ideas, talk about options, as well as experience the joy in seeing the progress in the cart's development and the joy from a family who, in their wildest dreams, didn't think something like this could be done for them.
As a teacher and robotics coach, what are your strategies for encouraging and guiding design thinking in students?
First, I stress it's a process and that very few hit the homerun right away, failures are okay, and we are learning more every day to find success in the project. As high school students, they are working on a project that could be equivalent to an undergraduate senior project. I stress to my team to continue learning, ask questions, search our resources, and never quit. It can get hard and frustrating, but we're not going to quit on Vivian.
What's the origin behind ONEIGHTY?
ONEIGHTY is what we started calling our work outside of robotics competitions that develop a giveback both locally and globally. It is where we look to engage students to be innovators to ignite change in their world, from our work with Limbforge to design, print, and build 3D-printed assistive hand devices to our work with Vivian. The projects change the focus to giving back and using what we know and can do to help others, from sending 3D-printed devices to Iceland and Belgium to helping Vivian locally in the Milwaukee area.
How long have you coached a FIRST Tech Challenge team and why did you start a team?
This is my 5th season as a FIRST Tech Challenge coach. Prior to moving to FIRST Tech Challenge, we had a number of FIRST LEGO League teams that had a core group of 8th graders looking for a new challenge. We were looking for challenge and after looking at VEX and FIRST Tech Challenge, a natural progression within FIRST made the most sense. Mentoring is a lot of fun. I get to ask questions, rarely give answers, and get to direct students into solving problems for themselves/the team. It's a joy to watch students grow, learn, and give back by mentoring and teaching the next generation of FIRST Tech Challenge members.
What was your experiencing with launching the FIRST Tech Challenge program at St. Francis?
The experience has been great! We had a number of local teams willing to lift us up when things got too challenging, whether it was in programming or understanding the mechanics behind a lift system. The level of support from the community and school district has been great, from financial support to help in manufacturing custom parts. The challenges come and go each season, from keeping faithful to an engineering notebook to getting stuck in the design process. It's challenging at times (some days, it might be like "herding cats" to get things accomplished), but I keep asking questions and pushing in hope the students conquer those challenges by self-discovery.
What advice and encouragement can you offer to educators interested in starting a FIRST Tech Challenge team?
Just do it. The benefits outweigh the reasons not to do it. I love the fact that I can help make a difference in the lives of students and watch them grow up in their career decisions, whether it's in STEM or not.
---
If you have an inspiring story or piece of wisdom that you've picked up through your experiences in the FIRST community, please reach out to us at inspire@firstinspires.org and inquire about becoming a guest contributor for Inspire.