To Build Next-Gen STEM Leaders, Universities and Industry Must Collaborate
Apr 24, 2018
By Donald E. Bossi, president of FIRST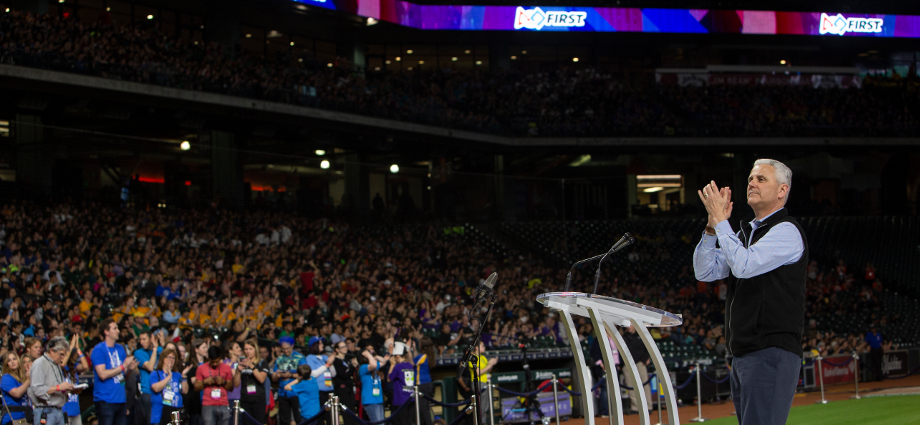 Editor's Note: This post was originally published on eCampus News.
As more industries become reliant on tech-savvy talent, the disconnect between students' STEM education and hiring managers' expectations is becoming increasingly challenging. As companies continue to evolve their hiring requirements to include more of these in-demand skills, creating opportunities to help all students be prepared to fill these roles is imperative. There are many ways in which educators and business leaders can partner to improve outcomes for our students, but what's important is that we do so now.
This was the subject of a panel at the recent SXSW EDU event in Austin, which I was fortunate to moderate. As the president of FIRST, a global nonprofit that inspires K-12 students to build a lifelong love of learning and engagement in STEM through robotics challenges, I get to witness the intelligence, drive and creativity our kids bring to the table every day. With help from Erica Fessia, Qualcomm's director of community engagement, and Jay Flores, Rockwell Automation's global STEM ambassador, our SXSW EDU panel took a look at the current professional landscape, the skills students will need to fill the jobs of tomorrow and how we as business leaders can help get them there. While our conversation focused on K-12, the same takeaways are applicable to university leaders:
Teach students to adapt to a fast-changing world.
Educators, school systems, universities and businesses alike are facing increasing challenges as they work to keep up with an evolving world. As Jay put it, "It's a scary concept that our kids' college textbooks might be obsolete by the time they graduate." It's impossible to train kids perfectly for their future jobs because there's a good chance those jobs don't exist today. Instead, we need to teach our students the foundational elements of what makes a good professional – the hard STEM skills, but also the teamwork, problem-solving and curiosity they'll need to make their ideas reality – and empower them to create their own opportunities.
Create relevancy to facilitate understanding and application of STEM concepts.
The world of work is changing, and helping young adults make connections in the classroom to the real world is key. During our panel, Erica phrased it as, "It's not necessarily a skills gap, but a gap in how we bridge classroom learning and real-world application." Mentorship from industry professionals is a crucial way to facilitate this; universities should seek opportunities to create relationships with local companies and professionals, whether it's through guest lectures, offsite field trips or other opportunities. By equipping students with the hard and soft STEM skills they'll need and show them how they apply to existing jobs, they'll be better-enabled to explore the jobs they may want, or want to create, to solve the problems that matter.
Partner with local companies to provide maximum exposure.
Even corporate philanthropic investments are supported by strategies that map back to what's good for businesses, so universities need to take advantage and seek opportunities to factor themselves into the equation. Seek internship opportunities, access to laboratory equipment and build space, or explore dedicated scholarships for your university's student body. At FIRST, we've found universities and other organizations are eager to partner with us to create scholarships for FIRST participants pursuing STEM education. Companies welcome opportunities for employee engagement, tech integration and talent pipelining, so look for local companies' corporate responsibility or philanthropy leads – these are the folks to target as you work to start those conversations.
The sooner we expose kids to hands-on, real-world STEM learning opportunities, the better chance we have at fueling their interest in pursuing careers in the field. In a rapidly-changing world, the one constant is that all students, regardless of the field they elect to pursue, will need a solid STEM foundation to find professional success.
Don Bossi is the president of the global nonprofit FIRST and has more than 20 years of experience as a successful technology executive. Don is eager to develop the next generation of innovators and has made it his mission to help educators empower kids to reach their full potential, making hands-on STEM programs more widely available to underserved students across the country and around the world.
---
If you have an inspiring story or piece of wisdom that you've picked up through your experiences in the FIRST community, please reach out to us at inspire@firstinspires.org and inquire about becoming a guest contributor for Inspire.