Welcome, Larry Cohen
Outgoing FIRST President Don Bossi shares his reflections and welcomes the next president of FIRST, technology leader Lawrence Cohen.
Dec 03, 2019
By Don Bossi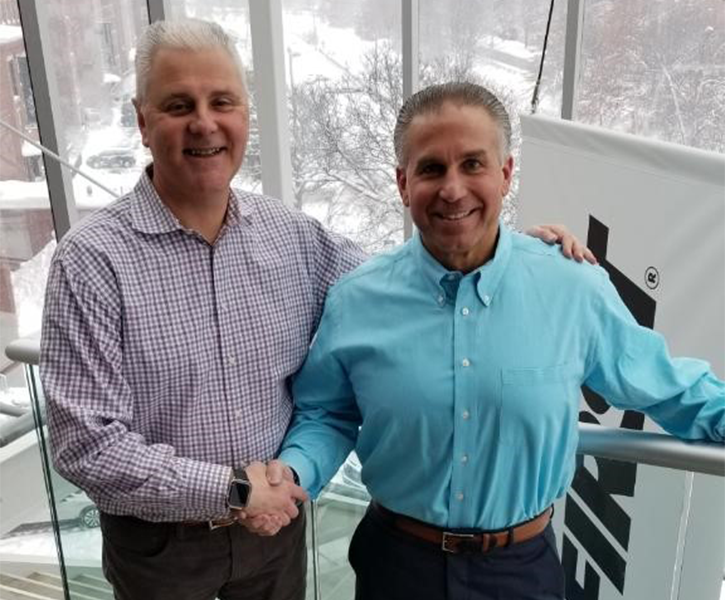 Dear FIRST Community,
As recently announced by the FIRST Board of Directors, I'm excited to welcome technology leader Lawrence Cohen as my successor and the next President of FIRST, effective today.
I first met Larry six years ago while visiting his AllianceBernstein (AB) office in midtown Manhattan, where he was Partner and Global Head of Operations and Technology at the asset-management and research firm. In one of the most expensive commercial real-estate markets in the United States, Larry and his team had cleared away IT equipment from the center of a server room to create and equip a build space for an AB-sponsored team, FIRST Robotics Competition Team 3419, The RoHawks, because the team's school didn't have sufficient space.
Larry is an outstanding leader, a dedicated supporter – most recently serving on the Board of Directors for NYC FIRST – and a fantastic choice to lead FIRST to even greater heights. You can learn more about him in the press release announcing the appointment. I have worked with the Board on a management-transition plan that will ensure a seamless handoff.
I will always be part of the FIRST community. But as I wrap up my time at FIRST headquarters, I want to share some final reflections on my six-and-a-half years leading this organization. Personally, I will miss working so closely with our incredible FIRST staff and partner community – people who are deeply passionate about the mission that Dean Kamen set for FIRST 30 years ago and who are eager to continue advancing that mission. I'm so grateful for all they've done and continue to do to serve FIRST.
As President of FIRST, I've met the greatest people from all corners of the world – especially our kids and the amazing FIRST alumni who continue to be a part of our community. At a FIRST event in Rochester, New York, earlier this year, I had the pleasure of meeting two alumni who participated as students in the very first competition in 1992. They're both still actively involved in FIRST, helping to ensure this opportunity is available to the generations that come after them.
I've also learned that together, the FIRST community can do anything. We've made great strides in bringing companies, education systems, and nonprofits together to invest in their communities, develop the future workforce, and ensure everyone can succeed. These efforts and many others have more than doubled the number of FIRST teams we serve over the past six years, and our rigorous longitudinal impact study is helping us ensure our programs are having a lasting, positive impact on participants across all demographic groups.
Of course, there's still so much to do to make our programs more widely available and accessible to students everywhere. I'm thrilled that Larry is here to carry on this work and that he has a truly wonderful global community behind him to help lead us forward.
Thank you, FIRST Community!
Sincerely,
Don
P.S. Today is Giving Tuesday, a global day of philanthropy. If you'd like to further support the work needed in 2020 and beyond to make our programs available everywhere, consider donating to the FIRST mission.
---
If you have an inspiring story or piece of wisdom that you've picked up through your experiences in the FIRST community, please reach out to us at inspire@firstinspires.org and inquire about becoming a guest contributor for Inspire.