Where STEM Skills and Soft Skills Meet
Oct 24, 2016
by Michelle Unser, STEM Outreach Lead, Caterpillar Inc.

Last week, our internal communications team got a frantic request for help, from an engineer who has to give a presentation at an upcoming conference but is terrified of public speaking. (Requests like this—and others related to writing—come in fairly often.) The team provided training for him, of course, but the situation made me think that if he'd been exposed to environments when he was younger that had helped him develop public speaking skills, he wouldn't be panicking today.
Let me be clear: At Caterpillar, we know the value of a great engineer or technologist's technical skill set. Quite frankly, our company wouldn't exist without our global technical community's deep expertise. With the STEM skills our team members bring to the table, we build the technology that empowers our customers to succeed and helps to build a better world. But success in a STEM career relies on so much more than technical expertise. Good hiring managers at technology companies are looking for more than the ability to develop a great algorithm or create a new product design; they're also looking for team members with emotional intelligence and the soft skills that go along with it: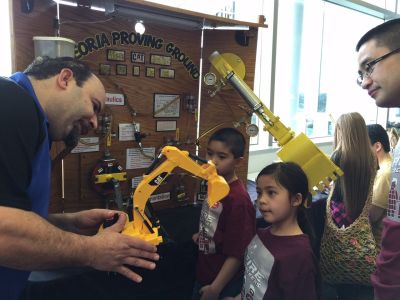 communicating clearly (in the written and spoken word)
collaboration/teamwork
accountability
time management
decision making
leadership
problem solving
absorbing constructive criticism
flexibility/adaptation to change
empathy
Those of us in the work force already know that the earlier you learn soft skills, the easier your professional life will be on many levels. But besides school, where can our young, future innovators learn these skills? One of the places where STEM and soft skills meet are competitions. Caterpillar both sponsors and takes part in many STEM-related competitions for children and young adults from Kindergarten through college. Our Caterpillar volunteers/team coaches see soft-skill development in action prior to, and at, every competition.
For example, one of our FIRST® team Coaches, Bryan, shared with me a story about a freshman on his competition design team who was quiet and shy but a hard worker and a fast learner. He explained, "The student earned her way onto our pit crew as the only freshman to do so, but she was petrified when judges came to talk about the robot. Over time, I watched her self-confidence begin grow. Just two years later, as a junior, she led the pit crew in presenting to the judges and also trained new pit crew members on how to interact with the judges. Now in her senior year, she's the team captain and arguably the best public speaker on the team."
Joe, another Caterpillar coach of seven years, told me this about teamwork and accountability: "I've seen students go from blaming either the builders or the programmers for problems to 'Let's work together to figure out this problem.'"
I could give you countless examples, but the bottom line is that these competitions help to lay the groundwork for a future STEM work force that has the perfect balance of technical skill and emotional intelligence. Preparing for competitions provides real-life experience that develops engineers who have an understanding beyond books and classes. Giving students these hands-on experiences grows their grasp of the complexities of technical projects while learning to work together, communicate well, and develop the other critical soft skills that will make them successful far into the future. Learn more about STEM initiatives at Caterpillar Inc. here.
Photo: Caterpillar employee, Abdul Maoued, demonstrates how hydraulics work in an excavator to FIRST LEGO League students and their Coach.
Michelle has a passion for igniting the spirit of exploration and innovation in young people, so she's perfectly suited for her role as Caterpillar's corporate STEM Outreach Lead. In 2015, she was named Volunteer of the Year at the Central Illinois FIRST® Robotics Competition Regional. Michelle has a BS in Computer Engineering from the University of Illinois at Urbana-Champaign.
---
If you have an inspiring story or piece of wisdom that you've picked up through your experiences in the FIRST community, please reach out to us at inspire@firstinspires.org and inquire about becoming a guest contributor for Inspire.