Work Hard, Don't Give Up: Lessons Learned on the Road to FIRST Championship
How We Qualified for the FIRST LEGO League World Festival
Apr 10, 2018
By James and Josephine McGill, Coaches, FIRST LEGO League Team 25108 "Brainiac Maniacs," Houston, Texas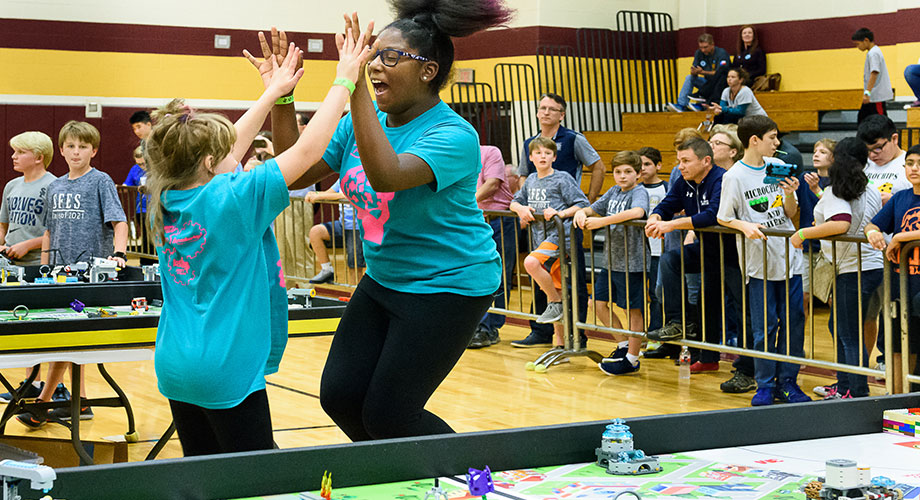 Editor's Note: Over the next two weeks, 1,400 FIRST teams from all over the world will descend on the cities of Houston and Detroit for the 2018 FIRST Championship Presented by Qualcomm® Incorporated. The "Brainiac Maniacs," a FIRST LEGO League team from Katy, Texas, will be one of those teams competing and celebrating their season at FIRST Championship. Below, the team's coach, James McGill, shares the journey this team of rookies took – and the obstacles they overcame – to earn a spot at this life-changing event.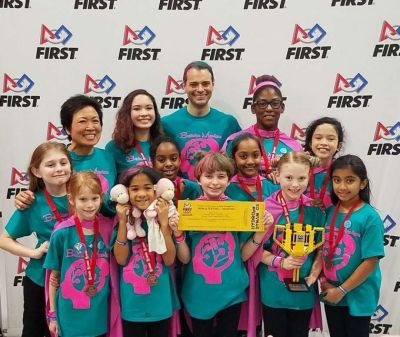 The school gym echoed with the sound of cheering as the Brainiac Maniacs received the first place Champion's Award at the FIRST LEGO League South Regional Championship in Katy, Texas. Out of more than 35,000 FIRST LEGO League teams globally, the Brainiac Maniacs are one of only 108 teams going to the FIRST LEGO League World Festival at FIRST Championship in Houston. As a coach and a parent to one of the girls, I couldn't be prouder of the journey this team took to get there.
Who We Are
My wife and I are coaches for the Brainiac Maniacs, a "rookie" FIRST LEGO League team sponsored by the Girl Scouts of San Jacinto County in Texas. The team is composed of 10 girls, ages 8-10, with diverse backgrounds. Even more inspiring is that all but one of the girls (my youngest daughter Ava) had not been in robotics before. They learned while competing against older and more experienced teams. The team's passion, knowledge, determination, and just plain joy carried the day.
This season's FIRST LEGO League theme, which guides team projects, was HYDRO DYNAMICSSM, which focuses on ways to improve the human water cycle. The Brainiac Maniacs identified a real-world problem – that most people over-water their lawns by 30 percent to 300 percent – and showed their innovation by creating Water Wizard, an app combined with automatic and manual lawn watering solutions that helps reduce lawn over-watering. Based on the team's 500+ survey responses, Water Wizard could save more than 300,000 gallons a week per home. That's enough to provide water to 140 homes!
The team also has a great time participating in the FIRST parody song video challenge and learned how to work together to make the song and about the hard work in creating a video.
Our Event Experience
At FIRST LEGO League competition events, teams are scored based on their robot performance, project, and demonstration of Core Values. During the team's local qualifying event in December, the judging portion of the competition went smoothly. But the first robot game match was very challenging. Due to a gyroscope malfunction, their robot didn't work, and the team scored a 0. Our hearts ached for them knowing they had worked so hard, and there were more than a few teams (from some adults as well). However, the real spirit of FIRST shown through as it was great to see so many people console them, including their parents, tournament officials and other many teams!
We pep-talked the team to make the best of the next two matches. Instead of folding, the team rebounded, fixed the robot, and figured how to deal with the problem if it happened again. Their second match went much better and placed them third out of 24 teams.
For the last match, the two team members who had competed with the malfunction stepped up to the game table with fire in their eyes and their excellent run lifted the team to first place for robot performance! Combined with first place for project research, they earned a spot in the Regional Championship. Several teams came over to congratulate them, and a few even asked them to demonstrate their robot and give them some advice!
The Brainiac Maniacs prepared even harder for their next event by improving their robot, programs, and presentations over six weeks, but they encountered more obstacles. The day before the Regional Championship, some of the programs stopped working. The students saw that one wheel was wobbling, so they took the robot apart and found that some of the parts had cracked and warped due to significant use over six months. They replaced them and it mostly fixed the problem.
At the Regional Championship, they placed eighth out of 60 teams in robot performance as there was still some variability. During the judging sessions, the judges were very impressed by their in-depth knowledge, support for one another and just plain grit! At the award ceremony, the suspense built, and the Brainiac Maniacs were announced as the winner of the First Place Champion's Award and the team going to the FIRST Championship!
A few weeks later, with the Brainiac Maniacs cheering them on over the live stream, my oldest daughter Kyna's FIRST Robotics Competition team, Team 624 "CRyptonite", qualified for the FIRST Robotics Competition Championship. Kyna was a former Brainiac Maniac who moved into FIRST Robotics Competition and mentored the current Brainiac Maniacs. I am the very proud parent of two daughters going to the international FIRST Championship!
Our Lessons Learned
The Brainiac Maniacs learned a few important lessons along their journey, which we'll take with us to FIRST Championship and beyond:
1 - Things happen. Take time to process, but don't let it keep you down!
2 - Hard work pays off, if not by winning, then by learning and doing!
3 - Focus on doing well in all areas, not just excellence in one!
4 - Work together as team and support one another!
5 - Winning is sweet, but it's not everything. Having FUN is!
We hope this inspires you to persevere and shows you girls can do anything they put their minds to!
FIRST Championship is FREE and open to the public. You can also tune-in to our livestream on the FIRST Twitch Channel.
About the Coaches
Josephine McGill is a long-time FIRST supporter, with more than 6 years of coaching experience. The Brainiac Maniacs have been a consistently high-performing team, having gone to the regional championship for 5 years in a row. She is committed to bringing opportunities to girls from all backgrounds.
James McGill is the Vice President of Software Engagement in the Digital Plant business of Schneider Electric. He has a Masters in Chemical Engineering and an MBA. He has two daughters aged 15 and 10 and volunteers in a number of activities including FIRST, Destination Imagination, Girl Scouts, Mensa and others. Schneider Electric also sponsors several FIRST teams and has written about the Brainiac Maniacs in their blog.
---
If you have an inspiring story or piece of wisdom that you've picked up through your experiences in the FIRST community, please reach out to us at inspire@firstinspires.org and inquire about becoming a guest contributor for Inspire.