Back To Search
Each season, FIRST Robotics Competition teams receive Kits of Parts (KoP). The KoP is not designed to be a "bolt together" solution to play the game, but is a starting point, containing mostly donated components from Suppliers across multiple industries. For technical information about some of those components, visit the Screensteps repository.
FIRST Robotics Competition Suppliers are an incredibly supportive group who are proud to be involved in the hardest fun you'll ever have! Be sure to thank them when you see them at our events!
Please note, the information on this page is staged for the upcoming 2021 GAME CHANGERSSM season. Archived Kit of Parts information season is here.
The KoP System consists of three parts, available to teams through a variety of sources: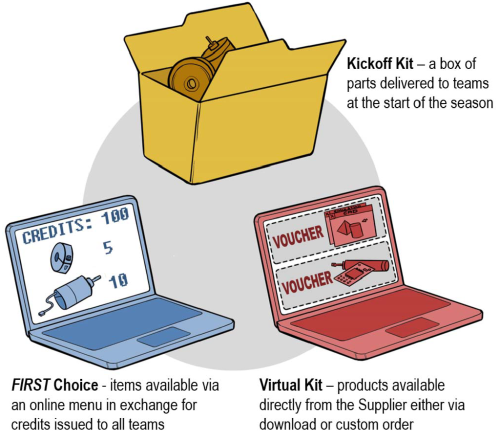 Kit of Parts Timeline: 2021 Season

Key KOP Deadlines
All deadlines are noon, Eastern.
---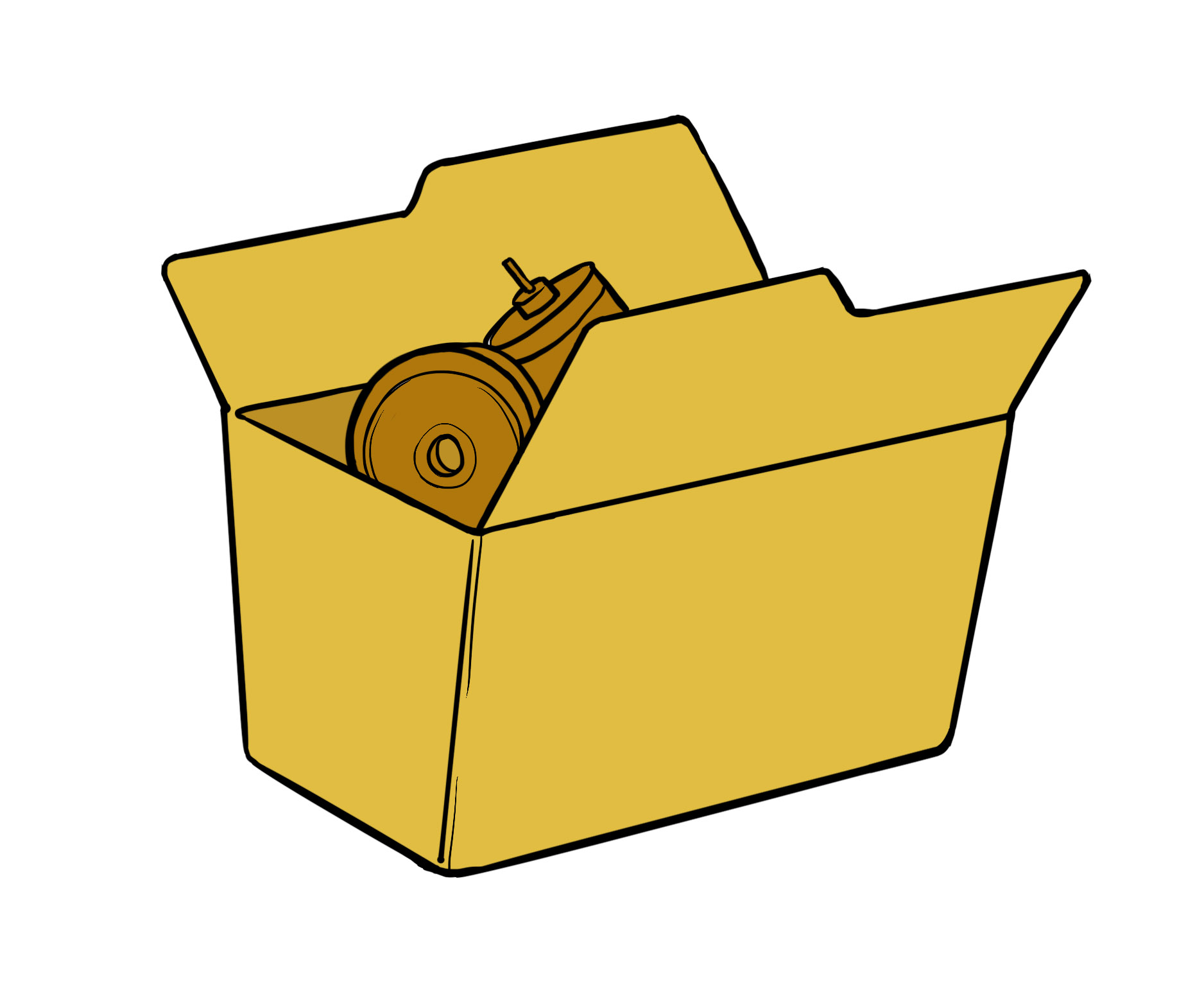 Kickoff Kit Detail
A box of parts delivered to teams at the start of the season...
The Kickoff Kit consists of items that we pack in totes (mostly in totes, there are typically exceptions for late or big items) and distributed to all teams.
There are two permutations of this: one set of items that go to all teams and a second set of items that goes to 1st year, aka "rookie," teams. Details are below, and exact contents are listed in checklists, linked accordingly.
Every team gets the "Everyone Box" (V2, Feb. 16, 2021). It's 18 in. x 12 in. x 12 in. and weighs 25 lbs.
Rookie teams also receive the following:
Missing or Damaged Kickoff Kit Items
One of the first things you do when you receive your Kickoff Kit is to check its contents against the Checklists linked above. If anything is missing or damaged 1) we're so sorry! and 2) you need to let us know and we'll make it right.
The process we use to get information from you is built into the registration system and available starting today. Please know and understand that we will not process requests that don't use this system.
Kits are shipped on a rolling basis this year, so it's not appropriate to issue a single due date for missing/damaged parts reports. Instead, the due date is specific to your team and is five business days from your Kickoff Kit delivery date (e.g. FedEx tracking says your kit was delivered on December 15, your report must be submitted on or before December 22).
To report anything missing or damaged:
Your Lead Coach/Mentor 1 or 2 logs in to your team's account.
Click on the "Payments and Product" drop down menu and select "Order Replacement Parts"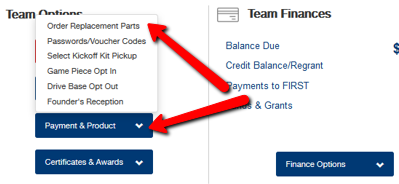 Enter the shipping information for where you'd like the replacement parts sent.
Use the "Subkit Container" filter to navigate to the parts you need to report.
Click the "Add" button for the item that's missing/damaged.
Specify the quantity missing/damaged, include an explanation, and click "Save." The list will auto save when you add an item, so you can come back to it later.
Once your list is complete, hit "Submit Request." You can only submit once, and you must Submit within five business days of receiving your Kickoff Kit.
---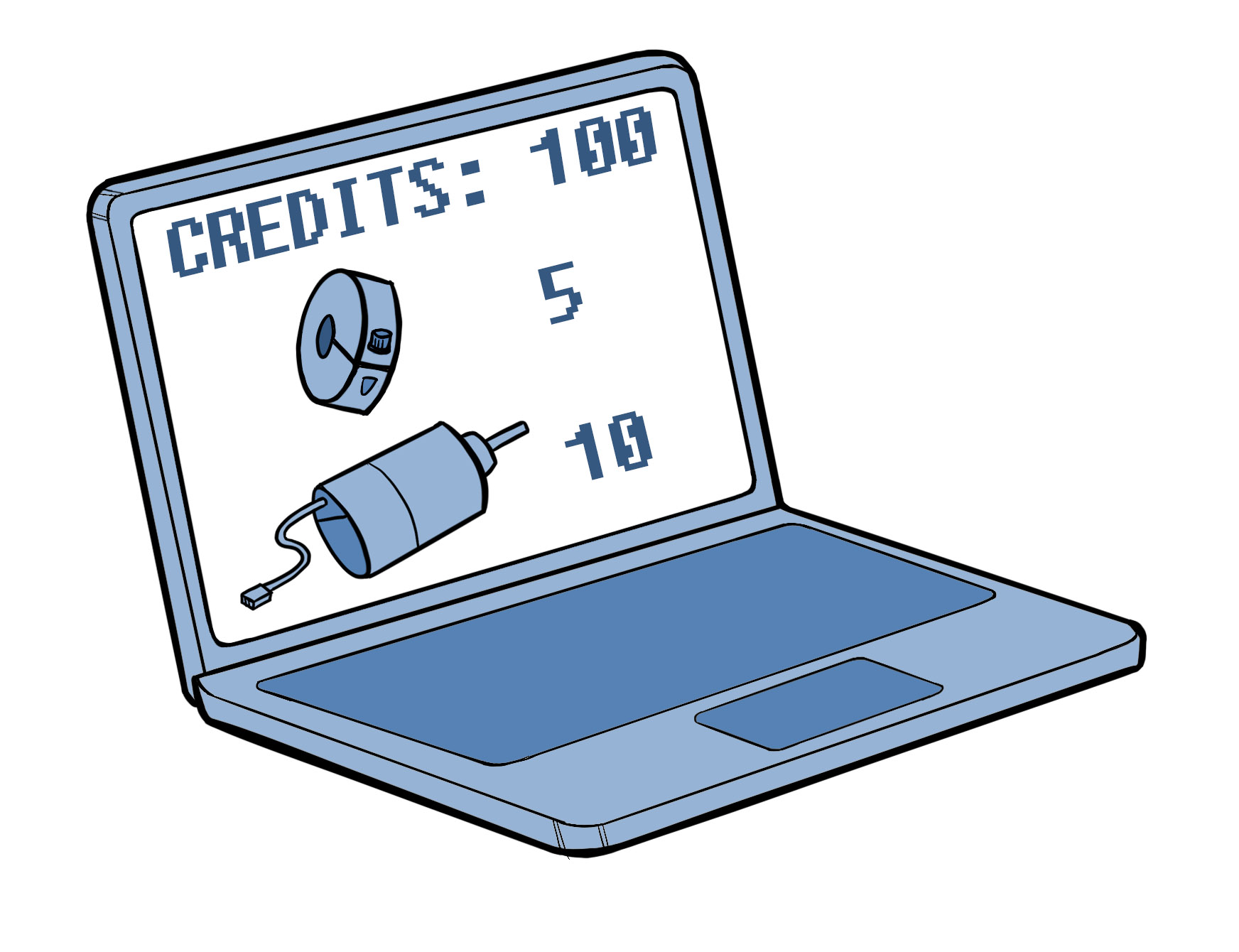 FIRST Choice Detail
Items available via an online menu in exchange for credits issued to all teams...
Teams get items from FIRST Choice using either the Priority List system or via a traditional "open" ordering process.
Key dates are listed in the timeline above and embedded in the flowchart below.
FIRST Choice Flowchart:
Priority Lists
FIRST and AndyMark use a priority list system to invite teams to indicate what they'd like and distribute items in a way that doesn't result in a mad cyber rush to get to high value inventory that a typical first-come, first-serve model does.
Here's how it works:
Each team makes a list & updates shipping detail. A team creates a Priority List (a prioritized list of FIRST Choice items that a team would like) in their FIRST Choice account, and the lists are locked at a specific time/date (see timeline above). Shipping charges will apply (you'll see an initial authorization charge, amount varies depending on the shipping method chosen, but it's not actually a charge to the card; once the order is packed and shipped, the actual charge will be applied to the card on file), and a billing address, a shipping address, and credit card information must be provided before creating your Priority List. Additional charges may apply for international teams, for which the team is responsible, and AndyMark will address on a case by case basis.

Login information for the FIRST Choice site will be posted in each team's registration account on Kickoff day and will be viewable by lead mentors 1 and 2 (look for "FIRST Choice credentials" in the "Current Passwords/Voucher Codes" menu).
Only teams who have registered as 2021 event participants or have secured payment will have access to their login information, and thus only those teams will be able to create and submit a Priority List.
Priority Lists will be created using (and only accepted via) the Priority List feature on the FIRST Choice site.
Priority Lists are saved each time the user adds an item to their Priority List or clicks "Update" on the Priority List View after making edits (letting teams add, subtract, and reprioritize items until the deadline).
Upon the deadline, any existing Priority Lists are locked, processed, and no additional changes may be made (we strongly encourage you complete your list at least a day before the due date to avoid unexpected delays or surprises).
If you feel overwhelmed by the options, there are sample lists like "pneumatics" or "vision" available for quick selection. You can select a sample list for your priority list – or use it to get started and edit/customize as you see fit. There are options on each list to Add to your current list or clear your existing list and start fresh, so use caution when clicking.
Any priority list submitted by a team that has not secured 2021 payment with FIRST by noon (eastern time), Thursday, Jan. 21, 2021 will be discarded before lists are ported in to the auto draft system (please anticipate at least one business day for registration payment to be processed and the updated status to be relayed to AndyMark).

AndyMark randomly ranks lists. After lists are locked, each list with at least one item is assigned a random rank (the order in which individual teams complete their Priority Lists before the deadline does not affect their rank).
Items are assigned. In rank order, AndyMark's auto draft system queries the team's highest priority item and, provided the team has the credits and FIRST Choice has the inventory, issue the item to the team. This applies to each Priority List line item as ranked. If the team doesn't have enough Credits to cover the entire amount (but at least one) or FIRST Choice inventory doesn't have the entire quantity (but at least one), the team will get as many as their credits/FIRST Choice inventory allow. If credits or inventory can't cover one, it will move on to the next ranked item so the team is not skipped for that round. Once the draft system gets to the last ranked Priority List, the draft system will query that last Priority List's next item and work its way back up the ranks (for Teams that know how we've done Alliance Selection in the past, this serpentine process probably seems familiar). This draft continues until inventory's gone or Priority Lists are exhausted. Inventory is then updated for the next phase of FIRST Choice. We will not publicly publish teams' Priority Lists, the assigned rankings, or final order contents.
AndyMark ships your order!
Open Ordering
The open ordering phase of FIRST Choice is a traditional first-come, first-serve ordering process. Teams add items to their carts and check-out using credits remaining after the priority list phases.
Still not sure how this all looks? Hopefully How to FIRST Choice can help...
.
---
Virtual Kit Detail
The 2021 Virtual Kit Catalog (printed copy in each Kickoff Kit and online here, one-page checklist is here) includes details about almost all Virtual Kit items confirmed as of fall, 2020 (note, this page gets updated so it takes precedence for any differences between here and the content in the voucher book).
Product Donation Vouchers
Consider using for...
Thank you...
for...
which expires on...

Other
Armabot

RS7 encoder

Apr 30, 21

Add to Calendar

♦

AutomationDirect

$35.00

Aug 31, 21

Add to Calendar

♦

♦

♦

♦

♦

♦

Clippard

$20.00

Dec 21, 21

Add to Calendar

♦

Digi-Key Electronics

$50.00

Sep 30, 21

Add to Calendar

♦

♦

♦

♦

electronic components

Innovation First/Vex

$50.00

May 31, 21

Add to Calendar

♦

♦

♦

♦

♦

♦

Next Gen Robots

motor heatsink

May 31, 21

Add to Calendar

♦

heatsinking

REV Robotics

$50.00

Jun 30, 21

Add to Calendar

♦

♦

♦

♦

♦

♦

RoboPromo

8 iron on FIRST logos

May 1, 21

Add to Calendar

bumpers

Swyft Robotics

10 x ½in. hex bearings

Apr 30, 21

Add to Calendar

♦

any ½ in. hex shaft

TE Connectivity

$25.00

Sep 30, 21

Add to Calendar

♦

♦

♦

♦

♦

♦

Vulcan Spring

6 constant force springs

Dec 31, 21

Add to Calendar

springs
Adobe
Altium
Amazon Web Services
Armabot
Autodesk
AutomationDirect.com
Clippard
Digi-Key Electronics
DriveWorks Ltd
Mastercam
MathWorks
Software license to over 50 products, including:

MATLAB, Simulink, Stateflow, Simscape, MATLAB Coder, Robotics System Toolbox, Navigation Toolbox, Control System Toolbox, Signal Processing Toolbox, Computer Vision Toolbox, Sensor Fusion and Tracking Toolbox and more

Links to free, 2-hour online courses to get started with MATLAB and Simulink
Tutorials, videos, and examples for students participating in robotics competitions
Next Gen Robots
NI
PTC
REV Robotics
Siemens
SolidProfessor
SOLIDWORKS
Swyft Robotics
TE Connectivity