Back To Search
The Dean's List Award began in 2010 to celebrate outstanding student leaders whose passion for and effectiveness at attaining FIRST ideals is exemplary. In an effort to recognize the leadership and dedication of the FIRST most outstanding FRC students, the Kamen family sponsors this award for the selected top students.
The students who earn FIRST Dean's List Award status as a Semi-Finalist, Finalist or Winner, will be great examples of student leaders who have led their teams and communities to increased awareness for FIRST and its mission all the while achieving personal technical expertise and accomplishment. It is the intention of FIRST that they will continue on, post-award, as great leaders of the ever growing FIRST student alumni community and as advocates of FIRST.
Students are nominated by their team mentors. Celebrate your Team's top 1 or 2 student leaders by nomination them for the FIRST Dean's List Award. Details available on the Awards page. Additional resources can be found here.
Criteria for selection of the FIRST Dean's List shall include, but not be limited to:
Demonstrated leadership and commitment to the FIRST Core Values
Interest in and passion for a long term commitment to FIRST
Overall individual contribution to their team
Technical expertise and passion
Entrepreneurship and creativity
Ability to motivate and lead fellow team members
Effectiveness at increasing awareness of FIRST in their school and community
2019 Winners
Photo Coming Soon!
| | | |
| --- | --- | --- |
| Team | Name | Location |
| 931 | Chibale Anwisye | Saint Louis, MO, USA |
| 1718 | Paige Drob | Armada, MI, USA |
| 5740 | Thomas Franco | Cranberry Township, PA, USA |
| 1073 | Cameron Hallett | Hollis, NH, USA |
| 5016 | Abigail Holmes | Huntington, NY, USA |
| 6579 | Nicola Pang | Helensburgh, New South Wales, Australia |
| 4322 | Jacob Rodriguez | Orange, CA, USA |
| 115 | Divya Satrawada | Cupertino, CA, USA |
| 4946 | Param Upadhyay | Bolton, Ontario, Canada |
| 3574 | Lauren Vitellaro | Seattle, WA, USA |

2018 Winners
Absent from photo: Grace Lam
| | | |
| --- | --- | --- |
| Team | Name | Location |
| 2468 | Joseph Asfouri | Austin, TX, USA |
| 118 | Reed Blanchard | League City, TX, USA |
| 1418 | Erik Boesen | Falls Church, VA, USA |
| 135 | McKenna Hillsdon-Smith | Mishewaka, IN, USA |
| 1868 | Grace Lam | Mountain View, CA, USA |
| 1261 | Natalie Luong | Suwanee, GA, USA |
| 6024 | Aarushi Majumder | Mumbai, Maharashtra, India |
| 1506 | Gabrielle Malson | Flint, MI, USA |
| 4384 | Sanket Nayak | Troy, MI, USA |
| 1660 | Malachi Patrick | New York, NY, USA |
2017 Winners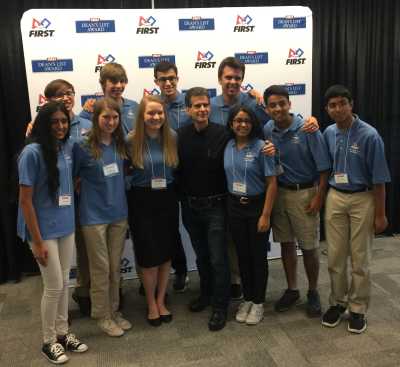 | | | |
| --- | --- | --- |
| Team | Name | Location |
| 5627 | Xavier Balladarez | San Diego, CA, USA |
| 1325 | Tanreet Dhaliwal | Mississauga, ON, Canada |
| 5811 | Jared Dunn | Dayton, OH, USA |
| 5511 | Sreekar Mantena | Cary, NC, USA |
| 8 | Simran Pujji | Palo Alto, CA, USA |
| 1165 | Zachary Rolfness | Cave Creek, AZ, USA |
| 226 | Dikshant Sharma | Troy, MI, USA |
| 2723 | Maddie Smith | Oklahoma City, OK, USA |
| 5806 | Benjamin Spector | Pelham, NY, USA |
| 4087 | Rebekah Travis | New Orleans, LA, USA |
2016 Winners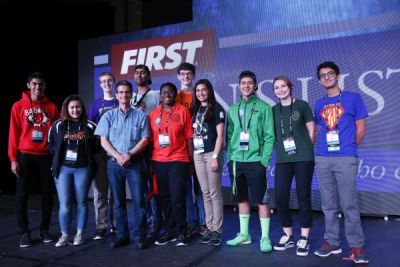 | | | |
| --- | --- | --- |
| Team | Name | Location |
| 846 | Shikhar Jagadeesh | San Jose, CA |
| 3284 | Brenden Babour | Camdenton, MO |
| 3250 | Autumn Luna | Sacramento, CA |
| 180 | Shantanu Jakhete | Stuart, FL |
| 3061 | Brandon John | Naperville, IL |
| 1241 | Shaqeeb Momen | Mississauga, Ontario, Canada |
| 5830 | Chenelle Foster | Lanham, MD |
| 3494 | Zarya deSouza | Bloomington, IN |
| 503 | Mitchel Huang | Novi, MI |
| 118 | Jessa Westheimer | League City, TX |
See also: Recording of the Dean's List Award Presentation
---
2015 Winners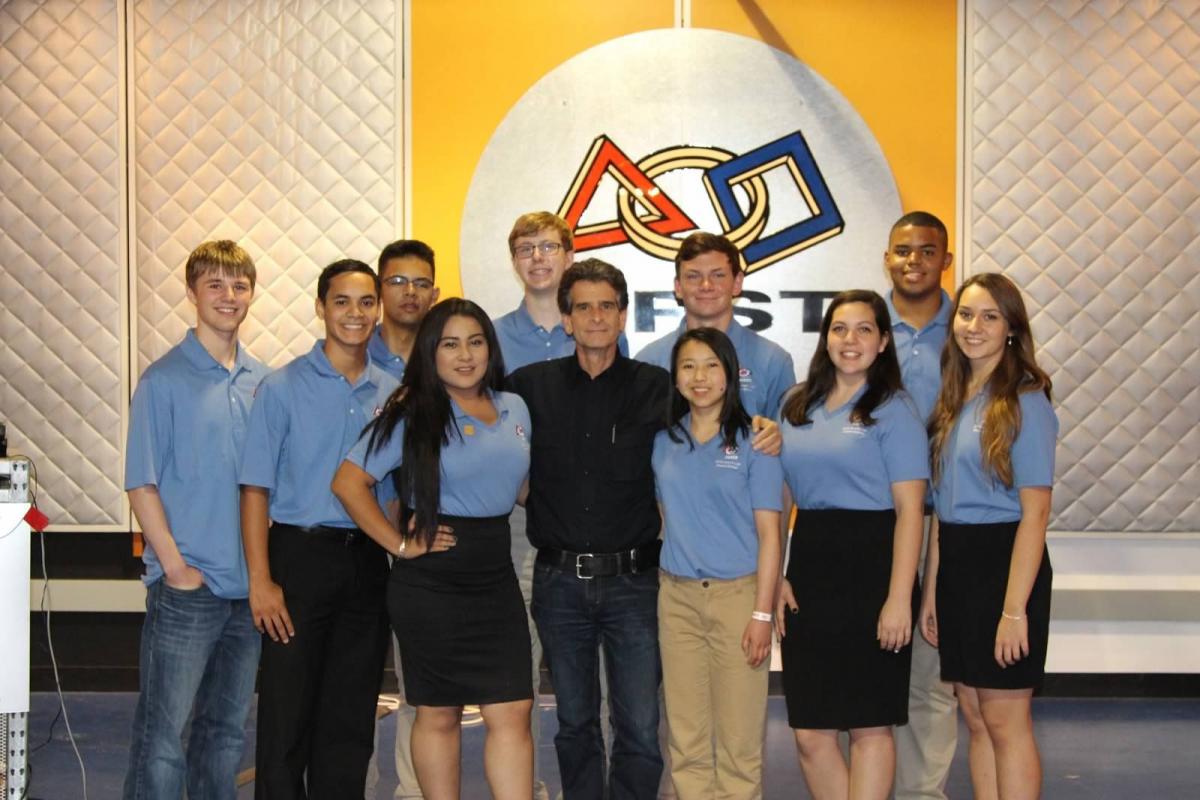 | | | |
| --- | --- | --- |
| Team | Name | Location |
| 3990 | Emilie Dufour | Montreal, Quebec, Canada |
| 830 | David Earle | Ann Arbor, MI |
| 4964 | Cynthia Erenas | Los Angeles, CA |
| 1684 | Alyssa Garcia | Lapeer, MI |
| 125 | Camilo Gonzalez | Boston, MA |
| 4118 | Logan Hickox | Gainesville, FL |
| 1629 | Alexandra Miller | McHenry, MD |
| 4013 | Sebastian Orellana | Orlando, FL |
| 1912 | Ben Rowley | Slidell, LA |
| 2980 | Michael Uttmark | Oak Harbor, WA |
---
2014 Winners
FRC Team #
Name
Location
2486
Kinney Anderson
Flagstaff, AZ
1671
Callie Carbajal
Clovis, CA
2471
Bryce Croucher
Camas, WA
1923
Michael Foley
Plainsboro, NJ
1311
Alec Kumpf
Marietta, GA
1912
Alexander Lew
Slidell, LA
2177
Madeleine Logeais
Mendota Heights, MN
3504
Simran Parwani
Pittsburgh, PA
27
Camron Razdar
Clarkston, MI
4201
Anthony Stuart
Hawthorne, CA

2013 Winners

FRC Team #
Name
Location
4476
Kaley Bibic
Kingston, ON, Canada
1533
Ephraim Bililign
Greensboro, NC
359
William Blaser
Waialua, HI
3504
Naoka Gunawardena
Wexford, PA
4159
Orfi Harlev
San Francisco, CA
3547
Kathryn Hite
Temperance, MI
2093
Kristina Landen
Oregon City, OR
2834
Kristen Law
West Bloomfield, MI
589
Isabel Martos-Repath
La Crescenta, CA
704
Joshua Thomas
Grand Prairie, TX

2012 Winners

FRC Team #
Name
Location
3059
Ikechukwu Chima
Yonkers, NY
1540
Marina Dimitrov
Vancouver, WA
128
Chase Douglass
Columbus, OH
1058
Tristan Evarts
Londonderry, NH
3138
Danielle Gehron
Vandalia, OH
3196
David Gomez
Cornelius, NC
1912
Rachel Holladay
Slidell, LA
2996
Jasmine Kemble
Colorado Springs, CO
842
John Rangel
Phoenix, AZ
704
Matthew Ricks
Grand Prairie, TX

2011 Winners

FRC Team #
Name
Location
1334
Nicholas Bandiera
Oakville, Ontario, Canada
1985
Luther Banner
Florrisant, MO
228
Tina Dutra
Meriden, CT
2543
Santiago Garza
Chula Vista, CA
1983
Lydia Johnston
Seahurst, WA
2534
JB Ring
Pikesville, MD
135
Michael Schrager
Mishawaka, IN
78
Michael Violet
Middletown, RI
987
Cody Wall
Las Vegas, NV
1868
Christina Wettersten
Palo Alto, CA

2010 Winners

FRC Team #
Name
Location
548
Beth Hadley
Northville, MI
2437
Caitlin Mori
Honolulu, HI
1480
Carlos Pineda
Pearland, TX
1712
Delia Votsch
Armore, PA
1535
Ian Graham
Sault Ste. Marie, ON, Canada
3368
Ingrid Fiedler
Mostar, Bosnia & Hertzegovina
1002
Kyle Fender
Marietta, GA
2614
Luke Scime
Morgantown, WV
3132
Sarah Heimlich
Sydney, NSW, Australia
694
Seth Berg
New York City, NY