Registration Info
All items and registration types may not be available in all countries. If you are from outside the U.S. and Canada please visit our global website www.firstlegoleaguejr.org to connect with your local Partner about what is offered in your region.
What does the registration fee get my team?
This depends on which registration option you choose. All registration options include the items below: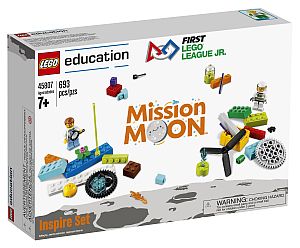 Inspire Set - This LEGO set is created just for FIRST LEGO League Jr. teams and will be used by them to complete their challenge for the season. The Inspire Set includes 700+ LEGO elements, including those needed to create the exclusive Inspire Model.
Challenge Document - This one page document quickly outlines the yearly challenge. This can be accessed online by everyone regardless of which option you choose.
Engineering Notebooks - These notebooks are printed and shipped to teams. They complement the Team Meeting guide and are used to guide team members through the season.
Team Meeting Guide - This is a guide for coaches that gives complete instructions on how to administer the FIRST LEGO League Jr. program. It outlines 12 sessions providing 12-16 hours of guided activities for
teams.
FIRST LEGO League Jr. Season Pass Registrations also include:
Administrator Guide - This guide will help an administrator get the FIRST LEGO League Jr. program up and running, manage their coaches, and put on their own Expo for teams.
*Registration fee does not include shipping and handling, admission to an Expo, nor does it guarantee that there are Partner run Expos in your region. Partner may charge an additional fee to attend their Expos, those fees are set and collected by the Partner.
There are 3 options available when you register.
*all registration fees are non-refundable
Option 1 - Team Registration - $99.00 USD - This registration option is for individual teams of 6 students or less. This option only includes the materials to run the program once with one set of students. more info
FIRST LEGO League Jr. Season Pass
Why stop at one FIRST LEGO League Jr. team when the impact is so outstanding? Reach a greater number of students in a manageable way with the FIRST LEGO League Jr. Season Pass. Available in small and large options, this offering provides the basic tools* you need to administer a successful FIRST LEGO League Jr. program experience – from the first team meeting to participation in an Expo – up to two sessions a season.
*Required WeDo 2.0 Core Set(s) sold separately
Option 2 - FIRST LEGO League Jr. Season Pass Small - $955 USD - more info
Option 3 - FIRST LEGO League Jr. Season Pass Large - $1895 USD - more info​
For best results, we recommend limiting the size of Season Pass teams to 4 students per team.
More information about Pricing and Payment
Questions? Contact us at firstlegoleaguejr@firstinspires.org