Festival of Champions and Four Stars
Jul 13, 2017
Written by Frank Merrick.
Festival of Champions and Broadcast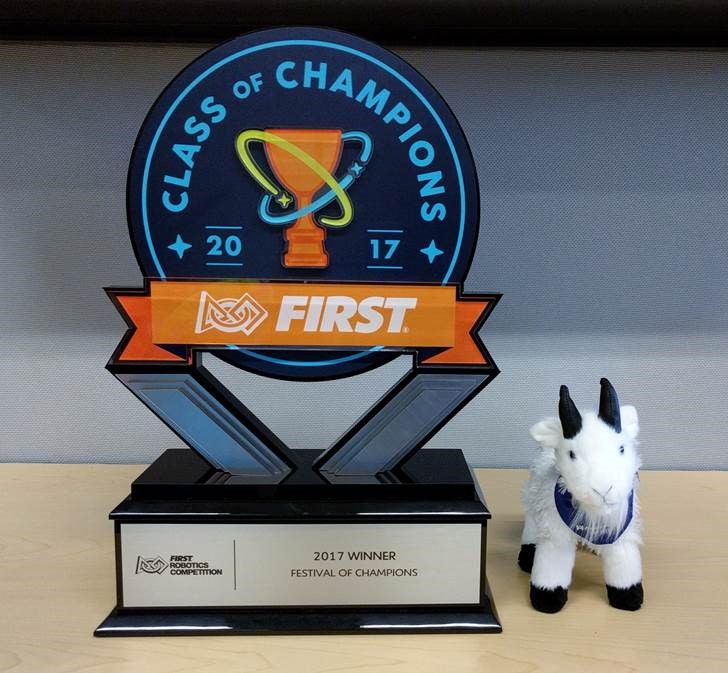 Check out that trophy. Even shinier in person! Goat for scale.
All four teams on the Alliance winning the Festival of Champions will be getting trophies like this to bring home as mementos of their victory. They'll also be getting blue banners. Note that the full, formal name of the event is FIRST Class 2017: Festival of Champions. But you can call it the Festival for short. And, yep, that emblem at the top of the trophy is the official logo of the event.
Also, we have adjusted our event times. For those folks visiting in person, doors to the SNHU Arena will still be opening at 9AM Eastern Time. However, the main event, and the broadcast, won't be starting until 10:30AM. This will give a little more time for the many teams we have in the Pacific Time Zone to get changed out of their jammies and grab a breakfast burrito and coffee before tuning in. The event will be broadcast on Twitch. If things go as planned, we'll be broadcasting on two Twitch channels, one will include cuts between the various cameras and the other will show a static overhead shot. We'll have more details on channel assignment later. Also, the event is currently scheduled to end at 12:45PM Eastern Time, though it may end sooner if we don't need all five rounds for both FIRST Robotics Competition and FIRST Tech Challenge to determine their winners. These are going to be some great matches, I hope you tune in!
Four Stars Again
FIRST doesn't like to blow our own horn but yeah we do sometimes. For the 12th year in a row, we've been given the highest possible rating, four stars, by Charity Navigator, an organization that evaluates thousands of charities with an eye toward helping donors make wise decisions about where their money goes. This 12th consecutive four star rating puts FIRST in the top 1% of all the charities Charity Navigator evaluates. This is good evidence that FIRST, as a nonprofit organization, manages our expenses carefully, is prudent with sponsor donations, and puts the great majority of what we make back into the mission. See the rating letter from Charity Navigator here.
Frank