FIRST Robotics Competition Blog
Giving Back
Nov 28, 2017
Written by Frank Merrick.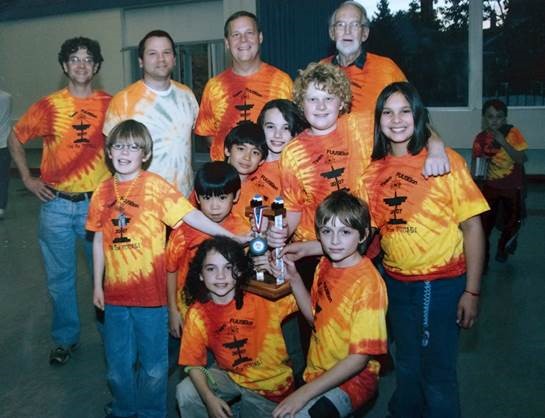 My 2007 FIRST LEGO League Team. I'm not wearing the team t-shirt because I had two teams there, one in orange, one in green and I wanted to wear a shirt with both colors.
FIRST asks a great deal of you. From your team registration fees, to your time, to your personal sacrifices, the list could be very long. We want to say 'thanks' for everything that you invest in our young people and the so-important mission of FIRST!
My hope is, regardless of how much you invest, you see the return on that investment, and that the return you see is greater than the cost. We have some evidence of this. We have statistics that show the good that FIRST does. And we are on track to a record high FIRST Robotics Competition team retention rate for the 2018 season. But probably more important to you is your lived experience with the program. This lived experience is difficult to capture in numbers because of its subjective nature. But I think we all have FIRST moments seared into our memories. Seeing a student get accepted into his/her first choice university. Your first time on a finalist alliance. Watching the faces on your drive team after they pull off a difficult victory. Even seemingly simple moments like your first time having an autonomous routine that can reliably score a point or two. All these little moments add up to something much greater than the term 'High School robotics competition' can possibly capture.
FIRST asks a great deal of me also, but I too get back far more than I invest. FIRST was a critical part of my life years before I became an employee. I will never, ever forget the FIRST moment I had ten years ago when my rookie FIRST LEGO League team won the Champion's Award at our little local event. Such a small thing in the grand scheme, but something that changed me permanently. I am so thankful for all FIRST has done for me. So today, as part of #givingtuesday, I signed up to make a monthly contribution to FIRST. This is my small way of giving back to an organization that I believe in and to which I am fully committed.
I know this is just about the worst possible time to be asking this. Many of you just managed to cover your 2018 season registration fees, and we have lots of teams still working to cover those fees. But I am asking you to consider – just consider – making a contribution directly to FIRST, and if you are comfortable with it, asking your friends and family to do the same. Contributions in any amount can add up to something very meaningful, and help FIRST continue its critical mission in the most effective way possible. As an example of how healthy FIRST finances benefit FRC teams directly, we recently were able to hire two more individuals for our Mechanical Engineering team. These folks were critically needed to support the quality of the program, and these hires would not have been possible without the financial support we get from all our sources, including individual donations.
For more information on this, and to learn the various ways you can help, including how to set up your own fundraising page, see this Inspire Blog by Mark Giordono, FIRST Vice President of Development.
Thank you, thank you, thank you!
Frank