FIRST Robotics Competition Blog
Party Shoes ON!!! and Are You Just Crazy Enough?
Sep 11, 2019
Written by Frank Merrick.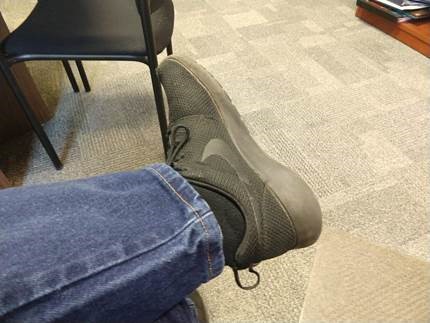 Nothing screams 'PARTY!!!' like plain black sneakers. To me anyway.
I hope everyone is pumped for the INFINITE RECHARGE season Teaser Reveal Thursday, September 12 at 7 PM Eastern Time on Twitch! I'm so excited I already have my party shoes on! We're flying out to Nevada today to get ready for the big show. I'm told we'll actually be broadcasting from one of the generator rooms, which I'm super excited about! Join us for a fun time with FIRST friend Deejay Knight!
Are You Just Crazy Enough?
To work for FIRST Robotics Competition? We've got an opening for a Software Engineer. Check it!. Hey, that's one sure way to find out about the game before Kickoff!
It's going to be a great season!
Frank