FIRST Robotics Competition Blog
How to prepare for the 2020 season now!
Dec 11, 2019
Written by Autodesk Education.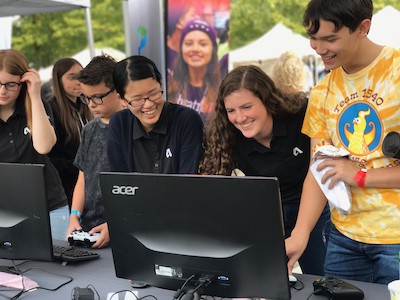 It's that time of year… the FIRST Robotics Competition season is just around the corner. It is so close you can almost hear the tinkling of robot gears. Your parts from last year are all in a row, and you've placed your FIRST Choice order. Your team may find itself with extra time—but alas, the season has not officially started. What can you do to prepare? A lot!
Autodesk is excited to share some tips on how to make the most of the 2020 FIRST Robotics Competition season. Right. Now.
Learn CAD: What's CAD, you might ask? CAD stands for computer-aided design. You may have heard people talk about Autodesk Fusion 360 or Inventor. Those are both professional CAD programs that are available to FIRST teams for free. They give you the ability to design your robot on the computer and see how it would work all together. This upfront work saves a lot of time later by avoiding design issues. The kit of parts is available virtually to make the design process easier. You can start tinkering now with the kit from last year. Plus, Autodesk has an online class for FIRST Robotics to teach you the CAD basics in just a few hours.
Use simulation: Once you've used CAD to design your model, you can reap the many benefits— including simulation on a virtual practice field. Autodesk hired some bright FIRST students to develop an open source robotics simulator, called Synthesis, for FIRST Robotics Competition. Teams can export their robot CAD models through plug-ins for Inventor and Fusion 360 to test their designs in various virtual practice fields with driver practice, robot code emulation, strategy, and more.
Build your own parts: For those times when you run into an issue and can't find the right thing on the market, it is the perfect time to make your own part with CAD and then fabricate it through a technique like 3D printing. You have the virtual kit of parts to build the part around. Also, the FIRST class from Autodesk covers this process in some of the later lessons.
All of the resources referenced above are available to your team without any charge. You just need to invest some of your pre-season time to prepare to use them at kickoff. Let's get ready for INFINITE RECHARGESM!